On 24 June 2013, a truck hit a bus in the northern Gaza Strip carrying participants in a Red Cross summer camp for the children of Palestinian prisoners held in Israeli jails.
It was a horrific accident that caused the injury of 25 children and the death of Tariq al-Sakani, 12, the only child of Ahmad al-Sakani and Shireen al-Atal.
Ahmad had to learn of his son's death in Israeli prison, where he had been since 2002. He had been sentenced to 27 years in prison by an Israeli military court for his alleged role in training Islamic Jihad fighters to carry out armed operations against Israel.
But if the news was tragic to a father, now 41, who had not seen his son since Tariq was 1, it proved devastating to Shireen, 36.
Shireen had graduated from the social work studies department at the Islamic University in Gaza just two months before the accident. Her son's death plunged her into a severe depression, she told The Electronic Intifada. She cut herself off from others and stopped eating.
"I escaped my son's death by avoiding others," Shireen said. "I stayed home most of the time, not talking to anyone. Waking up was a nightmare to me."
As her weight dropped, her family and her husband's family stepped in to help. Eventually, Shireen began to recover. And she began to seriously consider a suggestion from her imprisoned husband: Let's have another baby.
Conjugal visits are not allowed for Palestinian prisoners from the West Bank and Gaza Strip held in Israeli jails. And for families from Gaza, there are practically no visits at all. With a restrictive travel permit regime, those from Gaza may only get to see their relatives every two months, if at all.
Most Palestinian detainees are held in prisons in Israel, contrary to international law, which stipulates that prison sentences handed down by an occupying military power should be served in occupied territory.
New arrivals
But Ahmad had read about a prisoner from Nablus who successfully managed to have some of his sperm smuggled out of prison. Using in vitro fertilization, or IVF, Ammar al-Zaban and his wife Dalal had a baby boy in 2012.
Ahmad suggested to Shireen that they try this way too.
"I never thought I would have to think about such a thing," said Shireen. "But when Tariq died I had no choice. I had counseling for three months to prepare for the IVF."
The family would not say how the sperm was smuggled out of prison. But Shireen told The Electronic Intifada that in all it cost the family $7,000. By the end of 2014, accompanied by her mother as well as her father-in-law, she received IVF treatment at al-Basma fertility center in Gaza City.
On 20 July 2015, Shireen gave birth to twins, a boy and a girl, Mutaz and Sawar.
"When I hugged the twins for the first time, I felt life return to my heart," Shireen said about the births.
She said she was prepared for the hardships of raising two children on her own, but acknowledged that they would miss out with their father not there.
"Whatever I do, I will not be able to compensate my children for not having a father in their lives," Shireen said.
Shireen was also keen to stress that what she and Ahmad had done had a political dimension.
"Smuggling sperm to have children while my husband is in prison is the strongest message from him to his jailer of his love for life and his rejection of all inhuman restrictions."
Numbers
In total, 49 Palestinian prisoners have successfully managed to father children by smuggling sperm out of prison, according to Riad al-Ashqar, a spokesperson for the Palestinian Prisoners Center for Studies.
Of these, 40 are prisoners from the occupied West Bank and nine are from Gaza.
The practice has angered Israel's prison authorities, said al-Ashqar. The prison authorities have tried to put a stop to it by increasing searches of cells and visitors. A number of attempts have been thwarted and various methods – including hiding the sperm in sweet wrappers or cookie boxes – have been uncovered.
But the practice continues and is being seized upon by families of prisoners, like Shireen, as a form of resistance.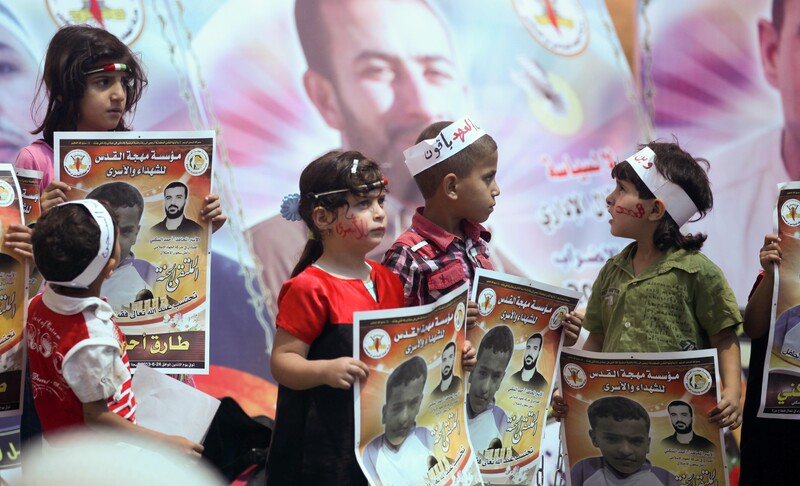 Al-Ashqar said between 30-40 percent of prisoners are married. Fathering children is an important way for them to feel they are carrying on with a life.
And smuggling sperm for IVF treatment is a method more and more are attempting. Salem Abu Khaizaran, head of the Razan fertility center in Nablus, which oversaw the al-Zaban family's treatment, told The Electronic Intifada that the center has frozen sperm from several prisoners ready for when they decide to use them.
The tortuous route to IVF also exposes Israeli double standards: While Palestinian prisoners are not allowed any legal means to have children, Israeli prisoners are not confronted with such restrictions, even some who have committed especially violent killings.
Ami Popper, who in 1990 killed seven Palestinian construction workers, has been allowed to marry three times, father three children and receive prison leave to see family members.
Gaza's first
Tamer al-Zaneen and Hana had not been married two months when Tamer was captured by Israeli troops in 2006 and sentenced to 12 years in prison for membership in Islamic Jihad's military wing.
After Tamer's sentencing, some friends and relatives tried to convince Hana, now 31, that it would be perfectly understandable for her to get a divorce in order to raise a family. She refused. Instead, Hana told The Electronic Intifada, she focused on finishing her education, graduating in Islamic law from the Islamic University in 2009.
When Hana heard about the al-Zaban family's successful effort to have children she started to think about it and discussed the idea with her husband and family. They were all supportive and began raising funds.
As in Shireen's case, they needed to raise $7,000.
"We agreed on how to carry the sperm out of prison. On the designated day, I waited for eight hours until it reached my house," Hana told The Electronic Intifada.
She went directly to the al-Basma center, where the sperm was immediately frozen to keep it viable.
The IVF process succeeded the first time. On 10 January 2014, Hana gave birth to Hasan, the first child of a prisoner in Gaza to be conceived this way.
As such procedures become more common, a certain social protocol is followed, both for legal and societal purposes, Baha al-Ghaleini, head of the al-Basma center, told The Electronic Intifada.
Freedom
On 5 November 2018, Israel released Tamer, now 33. At age 4, Hasan finally met his father.
"When I hugged him the first time, I forgot all the years of torture and suffering," Tamer said.
In fact, he told The Electronic Intifada, his time in prison only got tougher after the Israeli prison authorities learned that he had fathered a child.
"When they found out, I was punished with three weeks solitary confinement. Besides, I was subjected to intensive investigation and they banned any visitors from seeing me. I didn't see my son until I was released."
It was tough, he conceded, but worth it. Not only does he have a son, "I defeated my jailer," Tamer said. "I encourage all prisoners with long sentences to follow my example."
As with Hasan, Israeli authorities have prevented 4-year-old twins Adam and Karam from seeing their father.
Born after an IVF procedure with smuggled sperm from Saleh Khadoura, 40, the twin boys had to wait until March of this year to meet their father for the first time. Before then, Saleh said, Israel had repeatedly refused permission for the children to visit because of the way they were conceived.
But Saleh's 14-year prison sentence ended this year, and he was freed on 7 March.
"Today I feel victorious," Saleh told The Electronic Intifada. "I'm hugging my twins. One day, I'll tell my sons the journey we took to bring them into this world and how we defeated the occupation."
Hamza Abu Eltarabesh is a journalist from Gaza.
Tags