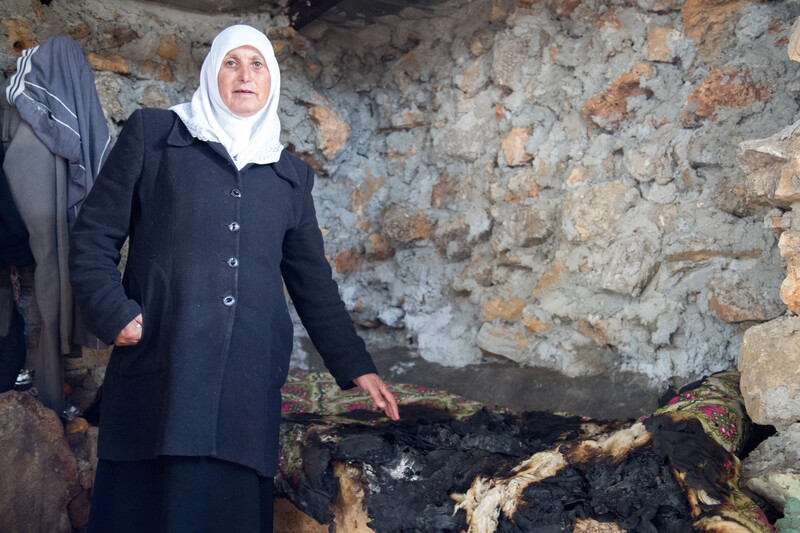 Muhannad Saad Salah is being detained by Israel after daring to protest against attacks on his home.
On 10 March, Salah's home in Shushahla, a small village south of Bethlehem in the occupied West Bank, was set on fire by suspected Israeli settlers.
Salah and his family were not at home at the time. Salah had brought his wife and daughter to stay with relatives in the nearby town of al-Khader after settlers had thrown rocks at their house earlier in the day.
A few days later, Salah and other community activists in al-Khader held a protest against the arson attack. The demonstration was broken up by Israeli forces using tear gas, rubber coated bullets and live ammunition. A 16-year-old boy was shot by the soldiers, with a bullet narrowly missing his heart.
Salah tried to file a formal complaint about the attack on his home. But when he arrived at the Gush Etzion police station, his mother said, he was arrested by Israeli forces for organizing the demonstration. Initially held at the station, he was eventually taken to Ofer, an Israeli military prison in the West Bank, where he remains in detention.
"Protect our land"
Salah's home has been repeatedly attacked by residents of Neve Daniel, a nearby Israeli settlement, his family say.
Settlers have often "come into the village and stolen our water and disturbed the people," said Maysar Salah, Muhannad's mother. "They want to push the whole people to leave."
As well as starting the recent fire, settlers are suspected of spray painting "Death to Arabs" and "Leave" on a stone wall on Salah's property. The arsonists broke into the village through a hole in a razor wire fencing between Shushahla and Neve Daniel.
The fire caused extensive damage.
The Salah family say that Shushahla is located in Area C, a zone comprising more than 60 percent of the West Bank that is under full Israeli control.
While many villagers have left, Muhannad Salah has defied the settler attacks by continuing to live and farm there. "It is our land and we must protect it," his mother said.
The village has suffered enormously since Israel occupied the West Bank in 1967. Hemmed in by Route 60, a highway connecting Israeli settlements, the village's isolation has made it particularly vulnerable.
Settler violence
Many other Palestinians have encountered similar violence from settlers.
The violence has been encouraged by right-wing activists such as Moshe Orbach, who was convicted of sedition last month. Orbach had been arrested in July last year.
His handbook, Kingdom of Evil, provided advice about how to torch a Palestinian home with the family inside. Shortly after his arrest, such an atrocity was carried out in the West Bank village of Duma. An 18-month-old baby, Ali Dawabsha, was killed, with his parents subsequently dying from their injuries.
Earlier this month, the home of another Duma resident, Ibrahim Dawabsha, went on fire, following what appears to have been another attack by settlers. Ibrahim is a relative of Ali and his parents and was a key witness of the attack on their home.
The Israeli authorities seldom take action against the perpetrators of settler violence. In October last year, the Israeli human rights group Yesh Din published an analysis of more than 1,000 complaints filed by Palestinians following violence by Israelis. Almost 92 percent of the files were closed without any indictment being served.
Bryan MacCormack is an organizer, photographer and independent journalist. Website: leftinfocus.net
Tags