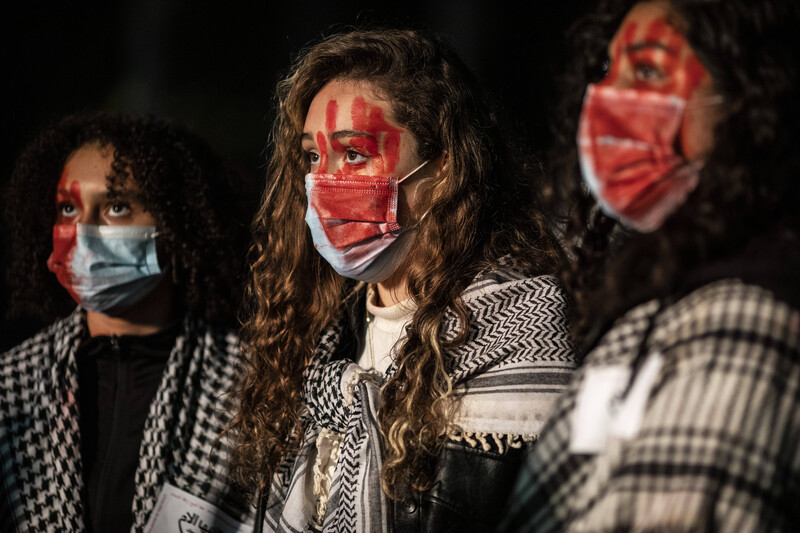 With over 130 murders this year alone, violent crime within Israel's Palestinian community is reaching new levels and grabbing headlines.
But while the murder rate is unprecedented, the crime spree has been a long time in the making.
Much has to be attributed to decades of state policies, specifically over the past 20 years, that have negatively affected various aspects of life for Israel's Palestinian citizens, whether socioeconomic, their marginalization in political life, or with respect to their own national self-identity.
Generations of Palestinian have suffered official discrimination and a shrinking horizon for a better future.
This marginalization – which includes a lack of state funding for various social and educational programs, leaving three times as many Palestinians as Jews in poverty, budget policing in Palestinian areas, and restrictions on expanding living space – goes right back to the founding of the Israeli state during the Nakba 75 years ago.
This period includes the nearly 20 years of martial law imposed on the community from 1948-1966.
This has allowed space for violent criminal gangs. The absence of any engaged police presence has led to a loss of a deterrence, and bloody retaliations between families and between criminal organizations have added to the mix, contributing to a general state of insecurity.
It is from here that 2023's 131 murders have come.
The unlicensed weapon
Many Palestinian community leaders and politicians date the emergence of the spike in violence and crime to the onset of the second intifada in 2000, during which 13 young Palestinian citizens were killed in clashes with police over then Israeli opposition leader Ariel Sharon's visit to al-Aqsa mosque in occupied East Jerusalem.
An Israeli investigation subsequently found that police had used excessive force.
It became clear that the Israeli government – harking back to the first 20 years of Israel's existence, when Palestinian citizens lived under martial law – still considered the Palestinian community a national threat. There were several statements from top Israeli security and intelligence officials to this effect, including from the then head of Israel's domestic intelligence agency, the Shin Bet, Avi Dichter:
"You will pay a high price for the protests. What about you? What about the West Bank and al-Aqsa? There will come a time when you will be left to your own devices."
This alienation from the state – what the legal rights group Adalah describes as the treatment of Palestinian citizens as "enemy aliens" – is still at play today.
As recently as June, Mohammed Barakeh, chairman of the High Follow-Up Committee for Arab Citizens of Israel, an umbrella organization, directly blamed the Israeli government for turning a blind eye.
"The government is responsible for what's happening and is neglectful in combating the rampant crime in Arab communities," Barakeh said.
Organized crime groups were not a notable phenomenon in the Palestinian community prior to 2000. Criminal activities were mainly confined to family feuds.
But the presence of unlicensed firearms in large quantities (estimated in the hundreds of thousands) was also not as prevalent.
Many of these firearms appear to have come from Israeli army bases, a thriving illicit trade acknowledged by Israeli politicians.
Easy access to unlicensed firearms is a major cause of the rise in crime, exacerbated by an ineffectual police presence and social neglect. And the easy access to weapons has intensified family conflicts as well as conflicts between gangs and criminal organizations.
Organized crime
The data indicates that the vast majority of murders in the Palestinian community since 2000 were committed with firearms.
In addition to the widespread presence of unlicensed weapons in large quantities, another significant contributing factor is the police's failure to apprehend criminals in homicide cases within the community. Data shows that only some 20 percent of murders in the Palestinian community have been solved since 2000.
By contrast, within Jewish communities, the success rate in apprehending criminals and solving murders is at over 70 percent.
This disparity demonstrates a double standard in the approach police adopt to the two communities.
An abundance of weapons and a scarcity of police have left criminals aware that if they commit a crime, they are unlikely to face arrest. This in turn has exacerbated the phenomenon of revenge killings, whether between families or gangs. Statistics indicate that approximately 75 percent of homicides are motivated by revenge.
The Israeli government has in effect turned a blind eye to Palestinian criminal organizations, allowing them to flourish in the community and engage in activities such as arms and drug trafficking, as well as black market operations for stolen goods.
A major turning point came in 2003 when there was a concerted effort to dismantle Jewish criminal organizations, which were then considered the most dangerous.
After a campaign that lasted years, the police dealt a significant blow to Jewish criminal organizations. But this left the criminal arena vacant and created a gap for criminal activities that was later filled by Palestinian crime syndicates and gangs.
Today, Palestinian criminal organizations are at a peak, a result of Israeli policies that have effectively granted them control over local authorities and allowed them to impose terror on the streets of certain Palestinian towns.
These crime syndicates have created alternative economic systems for a flourishing black market and to enable money laundering. They've also gained control over the resources of many Palestinian local authorities.
Consequently, criminal organizations have become a significant economic force, threatening anyone who stands in their way. Meanwhile, the Israeli police and successive governments remain spectators, and in the absence of an official deterrent, a power vacuum is created, leading to conflicts over territorial control among these criminal organizations.
Official discrimination
Ultimately, all this is made possible by decades of state policies marginalizing Palestinian citizens, including in the education system, welfare institutions, employment and infrastructure.
The state spends more on Jewish students than on Palestinian students. At the high school level this discrepancy is over $2,000 per student annually.
A staggering 45 percent of Palestinian families live below the official poverty line as opposed to 13 percent for Jewish families.
According to the state comptroller's report for 2022, 29 percent of Palestinian youths neither work nor receive education.
A significant portion of Arab youths do not enter the job market due to a lack of quality employment opportunities, leaving them vulnerable to sliding into a life of crime and violence.
Moreover, the Palestinian community has been clearly marginalized when it comes to budget allocations for youths, such as the creation of sports fields or the creation of public parks. These opportunities are scarce in the Arab community due to limited budgets.
Then there is living space, where a lack of municipal development plans and attendant lack of funding have left Palestinian population centers almost frozen in size, in effect preventing the population from expanding.
Intentions guide actions and results in life, and the intention of Israeli police and governments is not to promote the interests of Israel's Palestinian community.
Rather, official Israeli bodies seem to view the community as a fragmented entity whose crime problem is not a security threat to Israeli Jewish society and therefore not a priority.
One only has to look at the resources expended to recapture six Palestinian prisoners from the occupied West Bank who had escaped from Gilboa Prison.
When crime occurs with Palestinian citizens as victims, there is no comparable level of concern or effort.
Since 1948, the police have shown little interest in addressing the issues of violence and crime in the Palestinian community.
Their primary purpose is to serve the Jewish sector, and that belief is what governs the behavior of both police and state. Genuine progress cannot be achieved without changing the beliefs driving Israeli policies.
Deiaa Haj Yahia is a Palestinian journalist based in Taybeh.