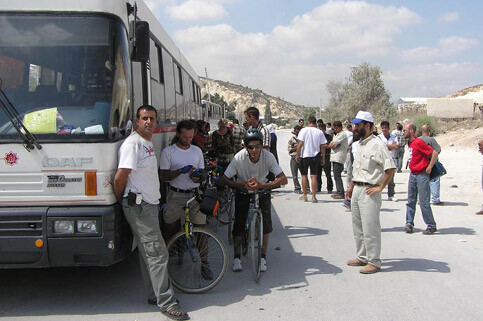 The Peace Cycle has arrived in Palestine on Tuesday, September 22, but have been blocked from passing through the Beit Eba checkpoint at the entrance to the West Bank city of Nablus.
Arriving at the checkpoint at noon, the cyclists waited over two hours awaiting permission to pass. Although the cyclists have been carrying the message of Peace during their entire trip on bikes from London to Jerusalem, the Israeli army does not allow them to move freely within the West Bank. The Team has been rerouted at least 15 miles around Nablus to the village of Howwarah.
The cyclists all traveled from Jordan into Palestine last Tuesday, and despite some delays for searching and questioning, every one of the cyclists managed to cross the border at the Sheikh Hussein Bridge. Loud cheers went up each time another cyclist arrived to join the group, and once all together, they went on to spend the night in Nazareth.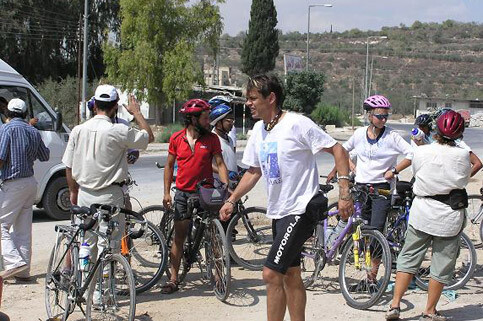 Yesterday the group cycled from Nazareth into Jenin in the West Bank, and spent some time in the refugee camp there. They spend the next few days cycling from Jenin to Tulkarem, Nablus, Birzeit University, Ramallah, Abu Dis, Bethlehem, and to Jerusalem on Tuesday 28th September - the 4th anniversary of the Intifada.
Already the cyclists are receiving an amazing welcome from the Palestinian people. It is important to the cyclists that they meet as many people as possible during their visit, and take with them their message of solidarity in the struggle for justice and peace.
More Information
George Rishmawi, Tel. +970 (0)59 674 995, Nimir Owaineh, Tel. +972 (0)54 629 0969, Nael Abu Ali +970 (0)59 55 55 56.

Related Links