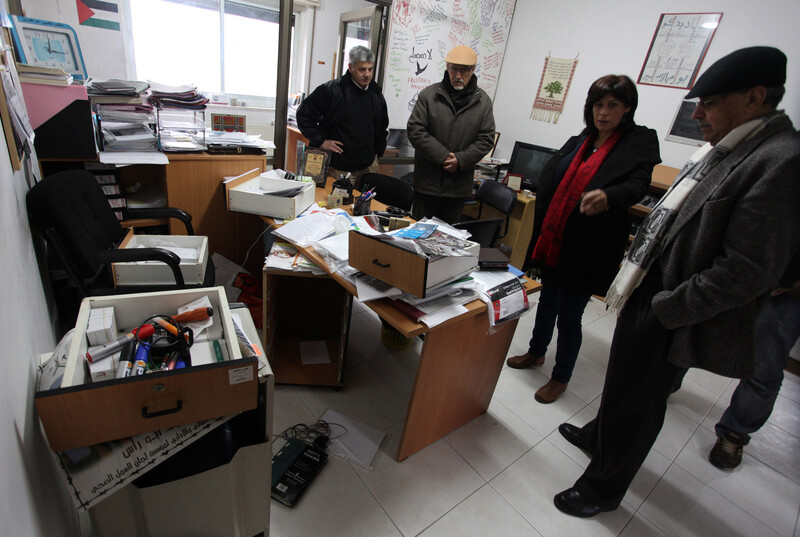 Though most Palestinians in the occupied West Bank are prevented from entering Jerusalem and present-day Israel, Abdullatif Ghaith has been effectively imprisoned in those territories.
Ghaith, a 71-year-old Palestinian resident of occupied East Jerusalem, was informed on 11 September that Israeli authorities had renewed a travel ban that forbids him from traveling to the rest of the West Bank.
"A military order from the head of Israeli forces in the West Bank said I constitute a threat to the safety of Israeli soldiers and security, therefore I'm forbidden from entering or being inside any of the areas they call 'Judea and Samaria,'" he told The Electronic Intifada, referring to the term the Israeli government uses for the West Bank.
This latest travel ban is the fifth consecutive renewal — his first ban was issued on 9 October 2011. The order, according to Ghaith, "can be renewed over and over again."
Ghaith is the chairperson of Addameer, a human rights organization that documents Israel's arrests of Palestinians and abuses of Palestinian political prisoners . Back in 1992, he was also one of the organization's founders.
The ban means that Ghaith is unable to work in Addammer's main office in Ramallah.
Though banning Palestinians from the West Bank is rare, it is not unheard of. This measure is generally reserved for Palestinian residents of Jerusalem or Palestinian citizens of Israel who are freed in prisoner release deals or are influential political and community leaders.
"But I'm the only one I've ever heard of getting five bans in a row and for this long a period of time," Ghaith said.
Ghaith is also forbidden by the Israeli defense ministry from traveling abroad.
"I see these measures as illegal under international law — and I think they're not particularly against me but against the entire Palestinian community and our human rights in general," he added.
Prison "a second home"
As an influential public figure and a longtime human rights defender, Ghaith said that he has been in Israeli prison ten times, and that it "became a second home for me and all Palestinians."
Ghaith also argued that Addameer has been targeted because of the effectiveness of its work in mobilizing support for Palestinian prisoners.
Israel is regularly accused of targeting activists, students and potential leaders in order to preserve its ongoing occupation. Additionally, the Israeli Prison Service has come under fire from human rights groups in recent years for its routine cruelty.
On top of scrupulously documenting arrests and imprisonments, Addameer has played a primary role in raising global awareness for Palestinian political prisoners, particularly when they have gone on hunger strike.
Among those highly publicized prisoner campaigns were the hunger strikes of Khader Adnan, Hana al-Shalabi and Samer Issawi.
"In recent years, there has been a lot of activism surrounding the prisoners' cause and Palestinian institutions have been important for popular activism," said Ghaith. "As this is Addameer's specialty, we have played a leading role.
"Israel is scared of the prisoner solidarity movement because it is a popular movement and takes place at the level of the street," Ghaith remarked, adding that the movement is not confined to any political parties.
Ghaith said that this is demonstrated by the fact that "several organizations working with prisoner issues were shut down in the past because they were accused of working directly with specific political parties."
Work "more difficult"
Ghaith explained that his work has become "much more difficult as a result of the ban. I'm not in the office, able to see the employees, or directly partake in our programs. We have to do phone calls on specific issues, but my work is very limited now. … I also cannot attend meetings and offer my opinion in the same way as before."
Although there is no more than 20 kilometers between Addameer's office in Ramallah and Ghaith's home in the Shuafat area of East Jerusalem, the two are separated by Israel's wall in the West Bank and a number of Israeli military checkpoints.
Though Addameer's offices used to be located in Jerusalem, they had to be moved to Ramallah "due to the fact that Jerusalem is isolated from the rest of Palestine and the heavy workload regarding West Bank prisoners," Ghaith explained.
Ghaith's ban from the West Bank has made even normal office tasks complicated. "For instance, I have to sign the paychecks of our employees. Since I cannot go to Ramallah, they have to send them with one of our employees, who brings them to my house at the end of every month."
Most of Addameer's staff members have identity documents issued by the Palestinian Authority. As a result, they have to apply for Israeli-issued permits to enter Jerusalem and present-day Israel.
"Despite the circumstances that prevent me from leaving Jerusalem or Israel, I won't run out of thoughts or ideas, and this order will not keep me from working on the [prisoners' issues]," Ghaith said.
His ban from the West Bank is just one of several instances that suggest Israel has systematically singled out Addameer in recent years.
"They want to scare"
Ayman Nasser, an Addameer spokesperson and human rights activist, has been imprisoned since Israeli soldiers raided his home on 15 October last year. He has faced a number of charges related to organizing to support prisoner solidarity and attending an annual Palestinian Prisoners' Day event.
In December 2012, Israeli soldiers raided Addameer's office in Ramallah, looting files, computer hard drives, personal laptops and money. "The break-in was proof that they want to scare Addameer and its staff, but … we will continue our work and duties," said Ghaith.
"That was an attempt to find anything that would incriminate us as an institution," he added. "But Addameer works within the boundaries of Israeli, Palestinian and international law, and our financial and administrative reports are transparent and clean."
Furthermore, despite Israel's legal obligation to facilitate access to prisoners, Addameer's lawyers have regularly been banned from meeting with hunger-striking prisoners and those deemed by Israel to be "security" prisoners.
In other instances, a lawyer "goes to visit a prisoner and the Israeli Prison Service lie and say the prisoner isn't available that day," according to Ghaith.
Two weeks ago, Anas Barghouthi, a prominent lawyer and a former Addameer employee, was stopped at a checkpoint and arrested by Israeli soldiers as he traveled between the West Bank cities of Ramallah and Bethlehem.
At the same time, Israel's sweeping arrest campaigns reach every corner of Palestinian society across East Jerusalem and the broader occupied West Bank.
After a sniper shot and killed an Israeli soldier in the occupied city of Hebron recently, more than 5,000 soldiers were deployed to round up men 18 years or older for interrogation — more than 80 people were subsequently arrested, according to Addameer. Some Palestinian campaign groups were also arrested during that wave of repression.
Ghaith also noted that the Palestinian Authority has not offered "any support at all" to institutions under pressure from Israel.
As Israel's crackdown on Palestinian political activists continues, Ghaith called for the world to respect the Palestinian call for boycott, divestment, and sanctions against Israel.
"The boycott [movement] is one of many ways to support Palestinian prisoners and the Palestinian people. It can open doors towards new ways of support. It can also raise people's awareness on how to have solidarity with Palestinian in ways that exceed the boycott itself," Ghaith added.
"The more awareness about Palestinian rights increases, the better our chances for freedom."
Patrick O. Strickland is an independent journalist. His articles have appeared at Al Jazeera English, Truthout and The Electronic Intifada. Follow him on Twitter: @P_Strickland_.
Tags