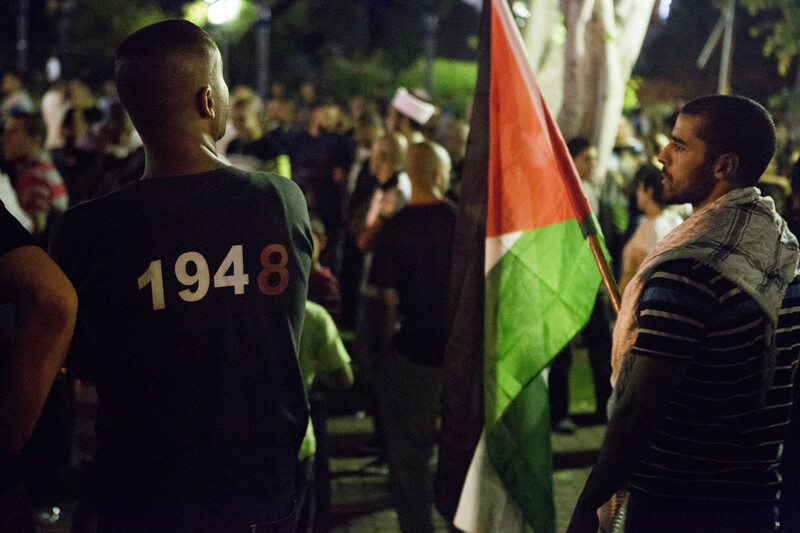 Israel, reputedly the only democracy in the Middle East, is willing to arrest its own citizens for communicating on the Internet.
That was the experience of Samih Jabarin when he recently arranged for Leila Khaled, the Palestinian resistance icon, to address the al-Warsheh cultural center in Haifa — a city in present-day Israel — via Skype.
As soon as Khaled had completed her opening remarks and invited questions from members of the audience, three Israeli secret police officers entered the center unnoticed and quietly escorted Jabarin, its owner, from the building. He was released after interrogation later that night (11 July), but al-Warsheh was closed by police two days later.
Shabak, Israel's secret service (also known as the Shin Bet), had previously tried to pressure Jabarin into canceling the event.
"The Shabak called me that Friday morning [11 July] and demanded that I come to their Haifa offices for interrogation," he told The Electronic Intifada. "I refused because it was dangerous — how could I be sure it wasn't some extremist from Im Tirtzu or another right-wing Zionist group?
"'Okay,' they told me, 'we will have to arrest you tonight,' which they did."
Intimidation
Interrogators "tried to intimidate me by mentioning my one-and-a-half-year-old daughter's name several times, just to show me that they know about my family," he said. He was also warned that he would be punished for arranging a conversation with Khaled, who one of his interrogators called "that scum terrorist."
Although Jabarin has not been charged with any offense, he was threatened with prosecution on numerous different charges. In the past, Palestinian citizens of Israel who visit Arab countries or make contact with Palestinians abroad have faced a draconian charge known as "contact with a foreign agent."
Jabarin said, "We decided to talk to Leila Khaled as a way to break the division" between Palestinians in Israel and those elsewhere. "Her history is important to us and it's part of our history. We aren't content watching videos of her talks online or reading her writing. She's part of our people and we will speak to her if we want," he added.
Best known for her roles in two plane hijackings in 1969 and 1970, Khaled is a member of the Popular Front for the Liberation of Palestine. During her Skype presentation, she told dozens of local Palestinian activists that "you are living under Israeli occupation as well," like Palestinians in the West Bank and Gaza.
"Racist laws"
"You live under the Zionist occupation and its racist laws every day," Khaled added.
Comprising approximately twenty percent of Israel's total population, an estimated 1.7 million Palestinians carry Israeli citizenship and reside in cities, towns and villages across present-day Israel. According to Adalah, a group which advocates for the rights of Palestinians in Israel, they face more than fifty discriminatory laws that stifle their political expression and severely limit their access to state resources, including land.
Jabarin is one of a few hundred Palestinian citizens of Israel to have been arrested since early July. The wave of arrests was the largest targeting the community since October 2000, when Israeli police shot dead thirteen Palestinians in Israel during demonstrations that month.
This month's protests were held in response to the brutal murder of sixteen-year-old Muhammad Abu Khudair in occupied East Jerusalem. Approximately thirty children were among 128 Palestinian citizens of Israel to be imprisoned for longer than a week.
The arrests have continued as Palestinians in Israel stage almost daily protests against Israel's ongoing military assault against the Gaza Strip.
On 18 July, Israeli police officers attacked a Haifa demonstration in solidarity with Gaza, arresting at least 29 people.
Jabarin said that the closure of al-Warsheh is part of a broader crackdown on Palestinian citizens of Israel. "The government is scared of anything that stresses Palestinian identity inside" present-day Israel, he said.
Two well-known figures — the British member of parliament George Galloway and the Pakistani-British author Tariq Ali — had been scheduled to speak via Skype to an audience at al-Warsheh on 18 July. But their talk has been postponed due to the closure.
"Physical separation"
Ilan Pappe, an Israeli historian and author of more than a dozen books, said that Israel's strategy of dividing Palestinians politically, culturally and geographically dates back to the state's establishment in the wake of the ethnic cleansing of Palestine in 1948. An estimated 156,000 Palestinians became citizens of the newly-declared state, many of them internally displaced from their property.
Since Israel occupied the West Bank, including East Jerusalem, and the Gaza Strip during the 1967 War, Palestinians in Israel "are ruled differently than those in the West Bank, than those in Jerusalem and those Gaza," Pappe told The Electronic Intifada.
Israel today "uses a policy of ghettoizing Gaza in order not to have to deal with a Palestinian community inside Israel and the West Bank together with a Palestinian community inside Gaza," he said. "There is a real physical separation."
Yet Pappe argues that widespread access the Internet and the rise of social media have proven a challenge to Israel's policy of fragmenting Palestinians. "The Internet has in many ways undone the geographical and political borders that separate Palestinians," he said.
Samih Jabarin vows to keep on organizing educational and cultural activities, availing of the opportunities afforded by modern technology. "We will open al-Warsheh again even if it means going to prison," Jabarin said. "We know our comrades will continue it. Even if we have to reopen in a different place or under a different name, we are going to keep doing this as long as there's an occupation."
Patrick O. Strickland is an independent journalist and regular contributor to Al Jazeera English, AlterNet and The Electronic Intifada. His website is www.postrickland.com. Follow him on Twitter @P_Strickland_
Tags