Obliterated Families is a newly released multimedia project produced by Anne Paq, a member of the photography collective ActiveStills, and journalist Ala Qandil.

Two years in the making, it profiles ten families from Gaza partially or entirely annihilated during the Israeli bombardment in the summer of 2014.

The first chapter, released early to the press, tells the story of Ibrahim al-Kilani and his family, most of whom held German passports.

Every single member of the family was wiped out as they sought safety from the onslaught, hidden in a friend's office in the middle of Gaza City.

Ibrahim spent the first 20 years of his young adult life in Germany, where he became an architect, married a German woman and had a daughter and a son, before moving back to Gaza when his marriage fell apart.

After returning, he remarried and had five more children. All five children were killed. They ranged in age between between 3 and 11 years old.

Absent from the telling of Ibrahim's life story, both prior to and during his final hours, are the customary statistics and figures, political facts and flashpoint dates that usually accompany the story of Gaza's destruction.

Such figures may strive to show the magnitude of the tragedy, but they also obscure the staggering consequence of each extinguished life.

The deeply reported profiles in Obliterated Families never depart from the perspective of the witness – the surviving family members left in grief, the neighbors who last saw the families alive, the friend who tried to find them safe shelter and sometimes Paq herself.

The video above, produced as part of the project, tells some of these stories.

Journalist Amira Hass and lawyer and author Raja Shehadeh contributed introductions for the project.

In hers, Hass, an Israeli journalist who once lived in Gaza, speaks to that which is mostly absent throughout the project: the parties responsible for the 142 families who lost three or more members – Israeli society and military.

"These were no errors or mistaken personal choices on the part of a pilot or a navigator or a brigade commander. This was policy," Hass writes. It's a policy of killing entire families, perhaps to hit one person, that Hass says Israel has implicitly legitimized in the aftermath.

Half of the ten profiles were released on 9 July, marking the second anniversary of the start of the war. The following five chapters will be released over the course of July and August, each on the day the profiled family was attacked.

The producers of the project intend to keep it alive by allowing updates and information to be added.

Some of Anne Paq's photos profiling Gaza's shattered families have previously been published by The Electronic Intifada.

The Electronic Intifada spoke with Paq, currently in Berlin, about the Obliterated Families project.

Charlotte Silver: How did this project develop?

Anne Paq: It was really an organic process. I started because I was in Gaza during the attack and I was photographing attack after attack, and countless bodies. It was really clear the impact on civilian life in Gaza was horrifying. But it's really hard in this situation to get to the stories of people. So for me it was important to go back. So I went back just a few days after the ceasefire.

The first thing for me was to find some of the families I met during the attack. I went back to the al-Khalili family, for example. I was at al-Shifa hospital when their family's carbonized bodies arrived, but I just had time to take their name and the place where they came from. When I returned, I was able to find the family and meet the survivors.
Or the al-Najjar family: I photographed what happened the day of the attack, just a few hours after. So it was really important to go back and to understand a bit more what happened to these families. Who are they?
I started to have this impulse to go and interview, taking photos of the site of the attack. Trying to find traces of the people, the clothes, photos of photos – which is a very important part of the project. And I talked to them, but I didn't know where it was heading.
So I started with the families I already knew. Then Al Mezan Center for Human Rights pointed me to other families, or other people told me about other cases. In the end it became a huge project. I visited 50 families.
CS: Who was involved with the project, and how did you collaborate with Ala Qandil?
AP: This project involved so many people, as you can see in the credits. I started it with the help of Al Mezan Center for Human Rights in Gaza, which helped me reach out to families. After a while we realized the web documentary format would be the best, and I thought that the text could be a good addition so I asked Ala to come on board.
It's hard when you want to bring something deep – something that is not only focusing on the moment of the attack, which is of course at the core of the documentary, but we wanted to go beyond that and to bring intimate portraits of people and the history of the families, and for this you need a good writer. I was really lucky she joined the project.
So many other people contributed – from translators, to video editors, journalists, photographers – maybe 50 people. It is impossible to name them all here, but this work would have not been possible without the team of Al Mezan Center for Human rights, Jeneen al-Yazouri, Basel al-Yazouri, Ezz Zanoon, Anas Hamra, Walaa Ghussein, Dylan Collins, Dror Dayan, Michal Grosz, Heidi Motola and web designer Aleksander Makowski.
We did it independently. We did it without institutional funding, we had to use a crowdfunding campaign.
CS: What was it about this subject that compelled you to look closer and inspired you to explore the families who lost so many members?
AP: For me it was the most shocking thing to see entire families being buried. The Abu Jame family, for example, we are talking about more than 20 people who were killed, most of them children.
And when you look at the statistics it is one of the most horrifying: 142 families lost three members or more. I wanted people to try a bit more to understand what it means for these families to have lost so many members.
Israel is always trying to argue this is collateral damage, casualties, that there were some terrorists around the house, or one of the members was Hamas. But nothing can justify bombing a house with twenty people inside, when you know there are children.
So I wanted to respond, because if we don't do it, it's giving a green light to Israel to do it again.
CS: How were you able to create relationships so that the families did trust you enough to share so much?
AP: It was really important for me to not go with a crew. I was going by myself with one translator, and I wanted to keep it small. So that they had some space. And try to listen and to ask questions and try to be sensitive to their pain – because you are going to see these families in their most difficult moments.
As a journalist you feel a responsibility to these families who open up and you want to treat them with care and respect.
CS: The project is not fully published; there are still more profiles to come. And you are also hoping to keep it updated. How exactly do you envision that?
Because of the length of the text, we thought it would be difficult for people to take it in all at once. So we decided to release each family on the date of the attack on them. We also hope to have a photo kit to give to people to engage with the subject, so they can organize exhibits in their communities. It was important for me to have some practical things for people to do.
We are talking about developing a podcast, and we would also like to do updates with the families, to go back next year to see how they are doing.
I would like to share with them the result of the work. So one of the things we would like to do is to create a booklet for them with the stories in Arabic. I hope the project stands out as a tribute to these families.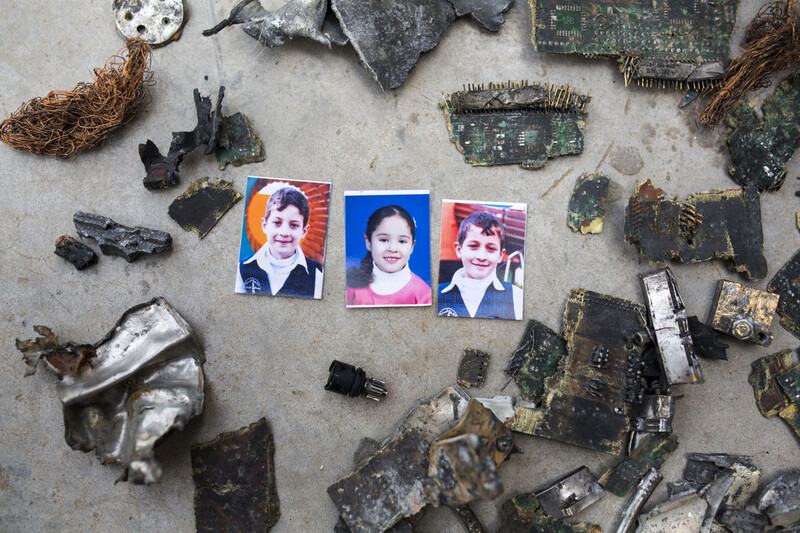 We are reaching some important dates: it will be the tenth year of the siege on Gaza and fifty years of the military occupation. It's also about the complicity of the international community. Six of the seven members of the al-Kilani family who were killed had German passports. And Germany did not voice any protest.
And now we have the Shuhaibar case in France. This sheds light on the complicity of the international companies who keep selling arms to the Israeli military industry, even though they know what they will do with it.
What happened in 2014 is not new. It happened in Operation Cast Lead [in 2008-2009] and Operation Pillar of Defense [in 2012]. We know civilians are overwhelmingly the victims of these attacks. So it was very important for Europeans to hear some of these stories.
Learn more at obliteratedfamilies.com.
Charlotte Silver is a journalist based in San Francisco. Twitter: @CharESilver.
Tags