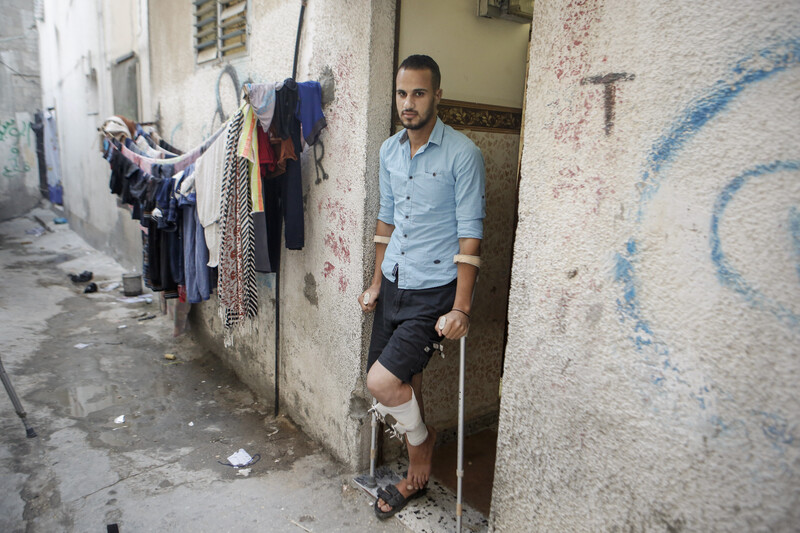 Muhammad Moaz Fayyad finds it hard in the summer heat.
The 33-year-old business administration graduate is unable to move around much during the hot days of August due to intense pain from an injury he received when he was shot during demonstrations at Gaza's boundary with Israel in 2018.
"I used to love the summer," Moaz, as he likes to go by, told The Electronic Intifada. "I used to love the sea, staying up late at the beach, swimming."
He remembers clearly the moment when all that changed.
On 27 July 2018, he had gone to participate in the Great March of Return series of weekly protests that had begun in March of that year. The protests had been organized to demand an end to Israel's economic blockade on Gaza and the right of return of Palestinian refugees.
Some 80 percent of Palestinians in Gaza are refugees, originally from villages, towns and cities in what is now Israel. They or their families fled Zionist militias or were forcibly evicted during the Nakba of 1947-49 that led to the creation of Israel and involved the displacement of approximately 800,000 Palestinians from their lands and homes.
The unarmed protests were met with deadly violence by the Israeli military that included live fire, sniper fire and tear gas attacks. By the time they ended, more than 35,000 people had sustained injuries, some 8,000 of them from live fire.
Of 223 fatalities, nearly 50 were minors.
Moaz said he had participated to express his "anger" at Gaza's situation and the continued denial, after 75 years, of the internationally-sanctioned right of refugees to return.
"We had many hopes for these demonstrations," Moaz said, not just in the effort to highlight the injustice done to Palestinian refugees but also to bring attention to the disastrous state of Gaza's economy.
The UN estimates that Israel's blockade of the coastal strip of land has cost the economy some $17 billion between 2007, when it was dramatically tightened, to 2018.
"I am a university graduate, but without a job. It is deeply hurtful to me that education and a university degree have no value in the Gaza Strip," Moaz said.
During that fateful protest, Moaz had gone to aid an elderly man who had been exposed to tear gas. The man had collapsed near the boundary, according to Moaz, but when he brought him some water he was shot.
"I felt an intense pain in my leg," he said. "Like an electric shock."
He passed out.
Open wounds
Moaz studied business administration at Al Azhar University, where I also studied journalism and public relations. Though he was supposed to finish in 2012, he only graduated in 2013, because he had run short of funds and had had to postpone some semesters, a financial circumstance we shared.
After I graduated in 2014, I happened to meet Moaz again at a cafe that was showing the Argentina v Belgium game at that summer's World Cup. He was working as a waiter there, we reconnected and have stayed in touch since.
Moaz lost that job after the Israeli assault on Gaza that same summer – which started three days after the Argentina game. His family's home in Beach refugee camp was also damaged in the intense bombing during that attack.
The end of the war did not bring Moaz better luck. He drifted from job to job, first working in an electrical store, then at a bookshop.
For six months he worked in one of the ministries, but once that finished, even temporary work dried up.
Then he was injured.
The injury to his lower left leg was caused by an explosive bullet, Moaz said – the "butterfly bullet" that was deployed by the Israeli military during the demonstrations. Part of the bone in the leg shattered, and both an artery and a vein were damaged.
He underwent eight operations, including four for a bacterial infection in the wound, and has needed painkillers ever since. He has trouble walking, needs crutches for support, and staying on his feet for any length of time makes the pain recur.
The injury has had a dramatic effect on a man who used to love playing volleyball in the evenings on Gaza's beach.
Instead of his previous incessant drive to find work and enjoy his downtime, Moaz is now depressed, without energy and dominated by negative thoughts. No time is worse than the summer.
"My injury feels worse, the heat is unbearable, the mosquitoes are everywhere. I hate the season," he told The Electronic Intifada. "Everything about the summer makes me feel worse. And I used to love the summer."
Doctors have told him that he is unable to do hard physical labor, the most readily available work in Gaza, and he has lost any drive to seek other employment.
He is not alone. The brutal Israeli response to the Great March of Return protests caused tens of thousands of injuries.
Among the injured from the Great March of Return protests, 158 needed amputations, 124 of their lower limbs. Four had upper limbs amputated, and 30 patients had fingers and toes amputated, according to Ayman Abu Obaid, head of the surgery department at Nasser hospital in the city of Khan Younis.
The amputations were often caused by subsequent bacterial infections of the type Moaz contracted. According to the ministry of health in Gaza, some 600 of those wounded in the return marches had repeated infections due to germs resistant to treatment.
A report from Doctors Without Borders (MSF) at the end of 2018 found that many of the injured in the protests had infections that prevent healing, a situation compounded by Gaza's lack of adequate medical tools to diagnose bone infections.
"The lack of laboratory capacity in Gaza means it is not possible to adequately test for infections in most patients," the MSF report found. "These are complex and severe injuries that require long and careful follow-up."
Rafiq Abu Shahla, the doctor who treated Moaz, concurred. Gaza is facing a huge problem in treating such infections, which prevent healing and cause recurring pain, he told The Electronic Intifada.
"A large percentage of the wounded from Israeli live fire attacks that I and my colleagues treated in Gaza suffered bacterial infection. Some of the wounded were infected with more than one germ at the same time."
Moaz says he is now in constant pain and has chronic anxiety. The pain gets so severe sometimes that he said he has even had thoughts of suicide.
"The bullets of the occupation do not only kill, injure or leave us disabled. They end our lives and condemn us to suffering only."
Amjad Ayman Yaghi is a journalist based in Gaza.
Tags