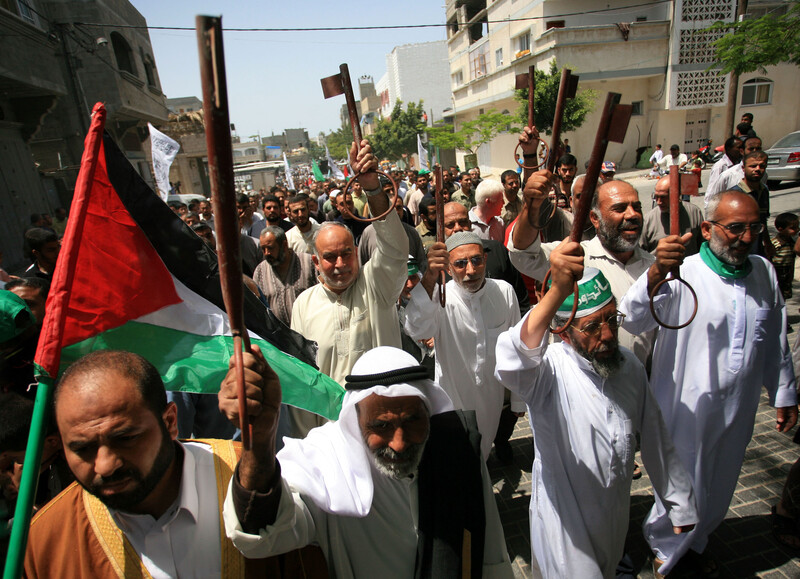 It was the hardest trip that Zeidan Mahmoud Abu Naser has taken in his life.
In May 1948, his village of Beit Jirja was attacked by Zionist gangs. Their vehicles and weapons "were more sophisticated than anything we had," he recalled. He was forced to leave and to seek refuge in Gaza.
"We left behind our crops of wheat. We even left food right in the middle of our home," he said, recalling how he traveled in a donkey-drawn carriage, along with his parents, six brothers and two sisters. The trip took half a day but it was "psychologically devastating," he added.
"We were simple villagers who had nothing to do with organized wars or military activities," he said. Arab soldiers — mainly from Egypt — tried to defend Palestinians. Yet they were besieged and defeated by Zionists in the nearby villages of Falluja and Karatiyya.
Some 750,000 Palestinians were uprooted during the Nakba (catastrophe), the ethnic cleansing that allowed Israel's foundation in the ruins.
"Simple but beautiful"
Now almost 80 years old, this man — also known as Abu Khaled — lives in Jabaliya refugee camp in the northern Gaza Strip. He has vivid recollections of his childhood in Beit Jirja. "Life was very simple but really beautiful," he said.
One evening, he recalls, "I was accompanied by a friend of mine and we both walked down the village, whispering to each other and all of a sudden, we became more than twenty children and we all started playing a game called 'the bone,' which involved throwing an animal bone around. The losing team had to carry the winners on their shoulders and turn around seven times."
Beit Jirja had just one elementary school. Locals used to choose a village chief — mukthar in Arabic. "The mukthar's role was meeting strangers who come over to the village, welcoming government representatives and intervening in family feuds," Abu Khaled said.
Weddings were important community occasions. "People in the village often held their wedding ceremonies in the beginning or in the middle of September. This was due to the fact that harvest season had just ended. When someone wanted to get married, his parents just visited the girl's home and asked her family.
"Surprised"
"One of the best features of these weddings — that are missed nowadays, unfortunately — was the nice attitude of inviting all folks in the village to the wedding party. Even if the parents of a groom were at odds with some others, the parents would go and ask forgiveness and reconciliation from those people before the wedding."
Traditionally, each wedding involved a march around the village with the groom in the middle. "Women were at the back, singing and clapping," he said. Parties would last for three days, while relatives would visit the groom with gifts of money.
Although Beit Jirja is only 15 kilometers from Gaza, Abu Khaled may never see it again.
"My father used to say to us, 'Do not worry, the Arab media says we will soon return.' Yet we have not returned back and I am afraid of dying here in Jabaliya," he said.
Um Khaled, Abu Khaled's 75-year-old wife, recalled that they visited the village in the 1970s.
"We were surprised to see some farm tools still on a sycamore tree that Abu Khaled told me belonged to his father's land," she said.
"I pray to God that I, my husband, my children and grandchildren, will all return back to our homeland. A handful of homegrown wheat is worth more than all the treasures of the world."
Rami Almeghari is a journalist and university lecturer based in the Gaza Strip.
Tags