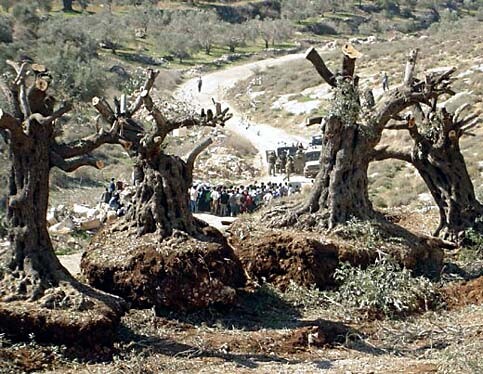 The Israeli army has destroyed hundreds of thousands of Palestinian olive and citrus trees throughout the Occupied West Bank and Gaza Strip in recent years. Yet in a startling admission, a staffer at the Jewish National Fund for Israel (

JNF

) has written that, "it is against Jewish halachic law to uproot fruit bearing trees."

The Jewish National Fund for Israel is a quasi-official Israeli state organization, founded in the early twentieth century to acquire land in Palestine for the Zionist movement. EI co-founder Ali Abunimah sent an e-mail to the JNF website asking, "Could you provide me with statistics on the number of olive and citrus trees destroyed by Israel in recent years?"

Zachary Lerner, of the JNF's "Marketing and Communications" department responded, "Thank you for contacting Jewish National Fund with your inquiry. Please note that it is against Jewish halachic law to uproot fruit bearing trees. Jewish National Fund is committed to caring for the land of Israel."

Lerner's e-mail then detailed some of the JNF's work in "ecology" and concluded with the claim that, "[d]ue to JNF's vital work, Israel has a green lung with parks and forests and is the only country in the world to end the 20th century with more trees than it had at the beginning."

The JNF advertises itself as "the caretaker of the land of Israel, on behalf of its owners-Jewish people everywhere." As such, it provides one of the main mechanisms through which Israel's system of ethnic segregation and discrmination is enforced, because land that the JNF purports to "own," especially land that was forcibly taken from Palestinians, can by JNF statutes only be leased or sold to those Israel recognizes to be Jews.

The JNF has also played a central role in Israel's colonization of Palestinian land after 1967. As the organization enthusiastically recounts on its website, "The Six Day War of 1967 started a fresh page in the history of Israel, and JNF was enlisted to develop new areas for settlement."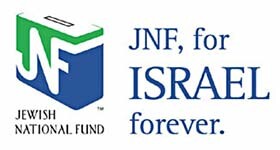 Although the

JNF

's basic mission has since its founding been to change the demographics of Palestine, replacing non-Jews with Jews in as many areas as possible, it markets itself in the United States as a sort of gentle Israeli companion to the Audubon Society, or Friends of the Earth. The

JNF

's American arm is a

US

non-profit corporation which raises about $30 million annually, much of it through its "Trees for Israel" program in which supporters make a donation, and receive a paper certificate on which the

JNF

claims to have planted a tree in Israel in honor of the donor or a named loved one. Buying these certificates (a sort of Zionist indulgence for Jews who wanted to support Israel but felt guilty that they did not want to move there) was long a formative part of the experience of young American Zionists.

Nowhere on its website or in its fundraising literature does the JNF mention that, in fact, Israel has engaged in the massive, systematic destruction of Palestinian fruit-bearing trees, all over the occupied territories, and in parts of Palestine in which Israel was established in 1948.

The Palestinian Ministry of Agriculture reported in February 2002, that in the sixteen months up to 31 January 2001, almost 500,000 olive, citrus, date, almond, banana and other trees were uprooted by the Israeli army in the Occupied West Bank and Gaza Strip ("Palestinian farmers recall pain of losing centuries-old family land," Agence France Presse, 1 March 2002)

In a detailed report on Israel's destruction of homes, land and crops, Israel's B'Tselem human rights organization documented systematic destruction of trees ("Policy of Destruction: House Demolitions and Destruction of Agricultural Land in the Gaza Strip," B'Tselem, February 2002).

Israel's then defense minister, Benjamin Ben-Eliezer admitted in a 29 November 2001 letter to an Israeli member of parliament that in Gaza, in the first few weeks of Israel's violent repression of Palestinian protests that began in September 2000, "[i]n total, some 5,500 dunam (one dunam=one quarter acre) of orchards of all kinds on the Palestinian side were uprooted and 4,500 dunam of planted fields and uncultivated land were destroyed" (cited in B'Tselem report). Ben Eliezer's estimate of the destruction was far less than that documented by human rights organizations and Palestinian farmers who suffered the losses, but at least he admitted the destruction took place.

B'Tselem concluded,

Israel's policy … flagrantly violates international humanitarian law. The demolition of houses and the destruction of agricultural land causes extensive damage to the civilian population, which will bear the consequences for many years to come. Injury of this kind to the civilian population cannot be justified on the grounds of "pressing military necessity," as Israeli officials contend.
Israel's actions constitute collective punishment because these Palestinians were not involved in the combat against Israel even according to Israeli officials. Also, Israel did not give the residents any warning before damaging their property, and thus denied them the opportunity to state their claims before the relevant officials and entities. Despite these violations of international humanitarian law, Israel refuses to compensate the Palestinians whose property it damaged in these actions.
As of June 2003, when Israel accelerated its construction of its separation barrier, almost entirely within the Occupied West Bank, it has uprooted more than 100,000 more trees, according to PENGON (the Palestinian Environmental NGO Network) and the Anti-Apartheid Wall Campaign. In its Weekly Reports, the Palestinian Centre for Human Rights (PCHR) documents the ongoing Israeli destruction of trees and crops, as well as houses and other civilian property. As of early 2003, PCHR estimated that ten percent of Gaza's arable land had been destroyed by Israel since September 2000.
The policy of deliberate destruction of trees by Israel has a long history. Meron Benvenisti, a former Israeli deputy mayor of Jerusalem, and prolific author, recounted the systematic destruction of citrus and olive groves left behind by their expelled Palestinian caretakers and owners in the years immediately after Israel was founded in 1948. Benvenisti wrote:

The destruction of hundreds of thousands of dunams of fruit-bearing trees does not fit Israel's self-image as a society that knows how to "make the desert bloom." And the contention that the green Arab landscape had been destroyed because of the necessity of adapting the crops to the agricultural practices of the Jews only underscores the conclusion that it was not the war that had caused this devastation, but rather the disappearance of the specific human community that had shaped the landscape in accordance with its needs and preferences. ("Sacred Landscape," Berkeley: University of California Press, 2000; p. 165)
The Jewish National Fund has played an essential role, first in acquiring already inhabited land from its Palestinian owners, and afterwards in attempting to conceal the disappearance of this human community by creating "parks" on the ruins of ethnically-cleansed villages. Benvenisti notes that "[i]t is ironic that the JNF, which took such an active part in the destruction of the Arab landscape, is energetically involved in the preservation of its remnants. The greenery, buildings, and agricultural equipment, it seems, merit proper maintenance, but of course there is no mention of the uprooted villagers; the landscape has been sanitized." (Benvenisti, p.169)
It takes an extraordinary amount of sanitization, and indeed self-delusion, for staff at the Jewish National Fund for Israel to declare that destroying trees is a violation of sacred Jewish law, while feigning ignorance that each and every day Israel lays waste to the land and its people and at the same time claims to act in the name of Jews all over the world.
Ali Abunimah is a co-founder of The Electronic Intifada