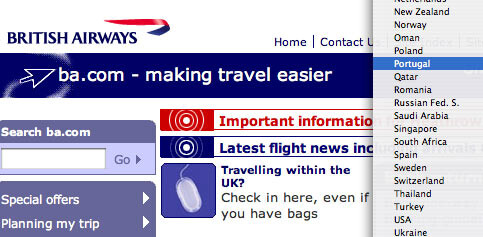 I'm fairly certain I exist.

Descartes tells me so, and before him, Ibn Sina. And when my son drags me out of bed to play with him in the pre-dawn hours, I really know I do.

So you can imagine how distraught I was when my existence was cast into serious doubt by a major airline.

After booking a flight online with British Airways out of Cairo (the nearest accessible airport for Palestinians here, eight hours and a border crossing away from Gaza), I attempted to enter my "passenger details", including country of citizenship and residence.

Most people wouldn't give this a second thought. But being the owner of a Palestinian Authority passport (which one can acquire only on the basis of an Israeli-issued ID card), I have become accustomed to dealing with Kafkaesque complications in routine matters.

And sure enough, in the drop-down menu of countries, I found the British Indian Ocean Territory, the Isle of Man and even Tuvalu - but no Palestine.

Now, I understand "Palestine" does not exist on any western maps, so I would have settled for Palestinian territories (though Palestinian bantustans may be more appropriate), Gaza Strip and West Bank or even Palestinian Authority, as my "pursuant to the Oslo accord"-issued passport states.

But none of these options existed. And neither, it seemed, did I.

I was confused. Where in the world is Laila El-Haddad if not in Palestine, I thought? Certainly not in Israel (as one of many customer relations representatives casually suggested).

I sent an email of complaint to BA humbly suggesting that they amend the omission. Several days later, the reply came: "We are unable to assist you with your query via email … please call your general enquiries department on ba.com, then select your country from the drop-down list."

Frustrated, I sent a follow-up email and was told to contact my "nearest general enquiries department" (if I was to take that literally, that would be Tel Aviv). Instead, I opted for customer relations in the UK, whose web support told me there was no guarantee I would ever get a definite answer.

I relayed the tale to my friend, whose own status as an east Jerusalemite is even more precarious than mine as a post-disengagement Gazan. "Could it be," she posited, "that there is no definite answer because we aren't considered definite people?"

I'll leave that for British Airways to answer.

Freelance journalist and blogger Laila El-Haddad lives in Gaza City. Laila's blog, Raising Yousuf, is named after her two-year-old son. This article first appeared on the Guardian News Blog.