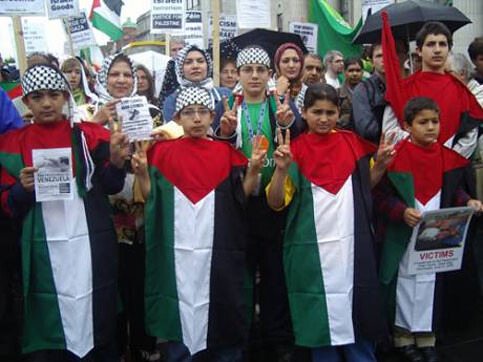 Last Saturday in Dublin, despite the spitting and occasionally pouring rain, over 500 people marched to protest Israeli war crimes in Gaza. The rally was called by the Ireland Palestine Solidarity campaign, and was the culmination of a week of condemnation of Israeli actions.
Speakers included the Palestinian representative in Ireland, Hikmat Ajurri, as well as a representative from the Palestinian community, who thanked so many people for coming out and showing solidarity with the Palestinian people.
On the political front, the deputy Lord Mayor of Dublin, Aodhan O Riordan from Labour, Mary Lou McDonald from Sinn Fein and Kieran Allen from the SWP all spoke. The focus of their comments was on the disgrace and double standards behind the Irish government's sanctions against Palestine and the democratically elected Palestinian government. It was pointed out that the Israeli assault on Gaza is not about rescuing soldiers but about overthrowing a democratically elected government.
The march got a supportive reaction from passers-by, showing the popularity of the Palestinian cause among ordinary Irish people.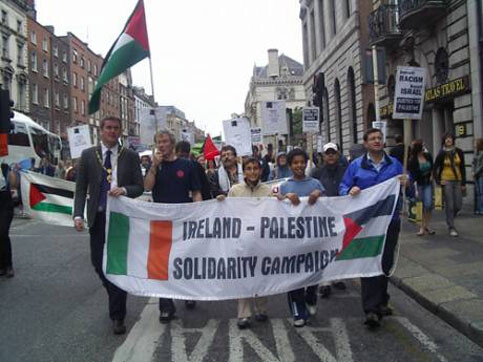 On Wednesday, the Labour Party introduced a motion in the Senate calling for EU sanctions on Palestine to be lifted and suggesting instead that Israel was the party which needed to be boycotted. The motion, unfortunately, was defeated under pressure from the Department of Foreign Affairs, insisting that Ireland stick to the EU line.
This was followed by a press conference on Thursday, attended by elected representatives from Ireland's major political parties. The representatives condemned Israel's escalation of the crisis in Palestine, including their jailing of Palestinian elected representatives and commended the IPSC demonstration. The foreign affairs spokespeople of Ireland's two main opposition parties - Bernard Allen from Fine Gael and Michael D. Higgins from Labour- reiterated their parties' opposition to the sanctions against Palestine.
In addition, Aoife Daly from Amnesty International attacked 'Israeli war crimes in Gaza'. She pointed out that 'Gaza is verging on a humanitarian catastrophe and it is very clear that this targeting of the civilian infrastructure of Gaza is a deliberate collective punishment of ordinary Palestinian people. What Israel is doing is a war crime.'
Related Links