Khader al-Saidi lost his eyesight and sense of smell when Israeli navy forces fired rubber-coated steel bullets at his face while he was fishing in the sea off Gaza.
The 32-year-old was silent at first when The Electronic Intifada came to interview him.
His father, Marwan, had already cautioned that Khader may halt the interview at any moment.
Marwan filled the silence. He spoke of the family's long history of making a living from fishing, of how his grandfathers used to fish the sea before him and how the 60-year-old's own sons had followed in his footsteps.
Fishing is an integral part of Gaza's culture, nutrition and economy. Israel's routine attacks on fishers in Gaza continue to devastate the industry.
Also in the room was Khader's friend and fishing companion, Muhammad Abu Riyala, 36, who also spoke about the dangers of fishing outside Gaza.
After a while, though, Khader broke his silence.
"We, fishermen, can't work in any place but the sea," he said. "I'm like the fish. If I leave the sea, I die."
The black night
This was Khader's way to start talking about the attack that left him blind, an attack that took place on what he has since been calling "the black night."
On 20 February 2019, Khader left Gaza's port on his boat with his cousin Muhammad.
The pair headed to the south toward the coast off Khan Younis, Khader said, in the southern area of the territory. They had been working there for two months after Israel had expanded the fishing zone to 12 nautical miles.
At around 10 pm, as Khader and Muhammad were pulling their fishing nets from the water at an area, he said, of approximately nine nautical miles out from the coast, five Israeli navy boats began approaching them.
Without warning, the Israeli soldiers opened fire. They tried to escape but Israeli navy boats surrounded them quickly. Then the soldiers began firing rubber-coated steel bullets towards the two fishermen – 15 according to one count – injuring Muhammad in his chest and stomach, and Khader in his back, leg, chest and face.
Bribery
When Khader woke up, he found himself shackled by his hands and legs to a hospital bed.
Khader and his cousin had both been detained and taken to Barzilai Medical Center in southern Israel.
"I tried to open my eyes, but to no avail. Everything was black. I started screaming until a doctor came," Khader said.
"With broken Arabic, he told me that they removed my right eye, and that in the coming hours I would have surgery in my left eye."
This was Khader's fifth arrest since he started fishing at 12 years old.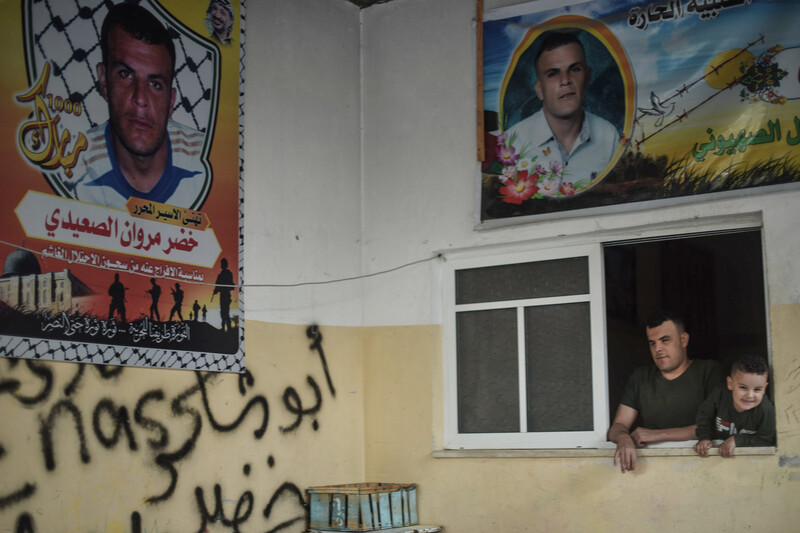 His last arrest lasted a year, he said, and included 37 days in solitary confinement. He was released in April 2018.
When Israel detains Gaza fishers, according to the Palestinian Fishermen Syndicate in Gaza, they confiscate their boats and fishing equipment.
Thus the past two years have cost Khader some $28,000.
When Khader woke up after the second surgery, the doctor informed him that the operation had failed.
The Israeli military then offered him, he said, $100,000. It was hush money so he wouldn't file a lawsuit.
"Despite losing my sight, and in addition to the financial losses, I never considered saying yes. I refused immediately," Khader said.
He has filed suit through the Palestinian Center for Human Rights. A researcher there told The Electronic Intifada that Khader's case has been submitted to an Israeli court, but there has been no response so far.
Nizar Ayyash, head of the fishers' syndicate, said that "the majority of fishers arrested by Israel were within the agreed fishing area. In detention, the fishermen are subjected to torture and other cruel and degrading psychological treatment."
In October 2019, Al Mezan, a human rights group in Gaza, found that Israel had committed 1,034 violations against fishers since 2015, using live ammunition a majority of the time.
The fact sheet affirmed Ayyash's assertion that the majority of violations took place within the limits Israel imposes for fishing.
Humiliating release
Israel released Khader after holding him for four days at the hospital.
Two people accompanied Khader to Erez, the military checkpoint separating Gaza and Israel, and left him alone at the entrance with a document instructing him to return to the hospital for medical review on 11 March 2019.
"I didn't know what to do or where to go. I've just lost my sight. I started crying and calling people to help me. Within minutes, a merchant returning to Gaza came to help me," Khader said.
The merchant asked a driver to transfer Khader to the Palestinian side of the checkpoint. Khader then asked the driver to call his friend Abu Riyala.
Khader and Abu Riyala have been friends for 15 years. They worked together and shared losses caused by Israel; in May that year, Israeli navy forces confiscated Abu Riyala's $300,000 boat. In 2015, Israel shot and killed his brother, Tawfiq, in his boat.
"I'll never forget my friend returning to Gaza. His face was puffy and there was blood on his nose and chest," said Abu Riyala, who supports a family of 17.
"I took Khader to the hospital immediately. They told us that the bones around his right eye were destroyed and the inner parts of the eye and the retina are removed."
"Security rejection"
On 11 March 2019, as Khader was preparing himself to travel back for his surgery to reconnect the severed nerve in his left eye, Marwan received a text message telling him that his son has been refused for security reasons.
"The hospital determined a new date for the surgery: May 2019," Khader said.
"Before the second date, I had the chance to travel to Egypt with my father."
There, Khader had a glass eye implanted in his right eye socket, while doctors informed him that there was no chance he could regain sight in his left eye.
"I went to the doctors to examine my nose as well. The upper area of my nose is totally damaged but doctors told me that I might restore my sense of smell with time."
Khader returned from Egypt depressed. He wasn't sleeping and had no appetite.
"My family stood by me. They tried to reassure me by telling me that there's still hope when I travel to Israel by the end of May," he said.
"When the second date for the surgery came, I received another security rejection. We submitted eight requests after that, with the same result every time."
After seven months of Israeli procrastination, Khader was permitted to travel to the Rabin Medical Center in Petah Tikva, a city east of Tel Aviv, with his mother.
"Doctors told me that there's no treatment for my case, and maybe if I return to Israel after four years they might have advanced treatment for me."
"Seeing and smelling my children"
By the end of the four-hour interview with The Electronic Intifada, Khader's wife Hadil, 25, came with their three children: Muhammad, Hashim, and Inas.
Inas, 3, jumped to her father's lap and asked him to see a scratch on her leg. Khader took a deep breath and told his daughter that she'll be okay.
"I feel there's hope, we have to wait," Hadil said, putting her hands on Khader's shoulder.
Khader interrupted her, however.
"I'm done, Israel destroyed my life. I'm still young but I lost everything that made me happy: the sea, and seeing and smelling my children. It seems impossible to have this again."
Recently, Hadil started learning how to embroider to make a living to support her family.
Khader's story is one among 4,000 fishermen working in Gaza, supporting 70,000 family members, all of whom are subjected to Israeli blockade and violations against this sector.
Economic expert Maher al-Tabah said that "if Israel released the blockade on the fishing sector, this would elevate Gaza's economy by 27 percent and Palestine's economy by 9 percent."
Hamza Abu Eltarabesh is a journalist from Gaza.
Tags