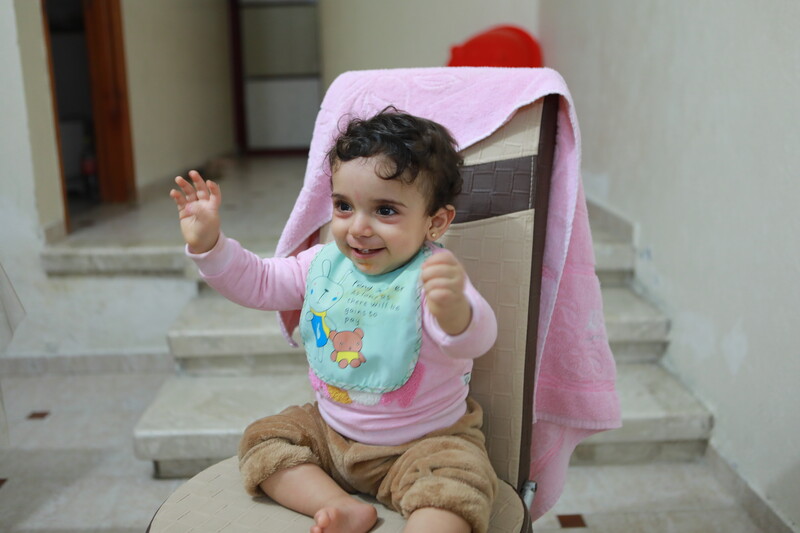 I could not make my daughter's fear go away. That was a terrible experience for a mother to go through.
Majd, my 18-month-old child, could constantly hear the sound of warplanes that attacked Gaza for 11 consecutive days.
I hugged and tried to comfort her. But her heart kept pounding fast.
We live a few hundred meters away from al-Jawhara building in Gaza City.
On 11 May, my husband got word about Israel's intention to bomb that building, which hosted a number of media organizations and health clinics.
Expecting that our own home would be damaged if that bombing went ahead, we promptly evacuated it.
We had to go onto the street. We do not have bomb shelters in Gaza.
Outside, I stood next to a 4-year-old girl.
She held a Barbie doll. I held Majd.
We waited for hours. It felt like we were waiting to be beaten by a prison guard.
Eventually Israel fired several missiles at al-Jawhara building.
Majd trembled as each missile was fired.
Her dad sought to calm her down. He tried to seem cheerful and told her that the sound she could hear was only fireworks.
She did not believe him. None of the other children around us were convinced by his attempts to remain upbeat.
The noise was terrifying.
Ghost town
Israel subjected Gaza to a series of air strikes early the next day.
They were so strong that we could feel the ground shake. We saw an intense red light and a missile crashing into the ground.
Majd trembled. Her dad held us in his arms, trying to protect us.
When we were at home during the 11-day attack, we tried to remain in the middle of rooms. We attempted to stay away from windows and doors.
We often had no electricity and could not use the internet. The mobile phone signal was at times too weak for me to call my mother, who lives in Rafah – near Gaza's border with Egypt.
Al-Rimal, our district in Gaza City, started to look more and more like a ghost town as the attack continued. Many buildings near us were bombed.
They include al-Jalaa tower, where journalists from Al Jazeera and AP had their offices. It is about 200 meters from our home.
We also live very close to al-Wihda street in Gaza City. More than 40 people were killed – including multiple members of al-Qawlaq family – when Israel bombed residential buildings on that street last Sunday.
No warning was given.
On edge
The week before Israel's attack was something of a milestone for our family. Majd had begun to walk.
During the 11 days of Israel's attack, she was so terrified that her new skill sometimes deserted her. She had trouble walking because she was trembling so much.
Majd clung to me constantly. If I had to go and fetch food or do another household chore, she would duck under the covers of the bed each time she heard an explosion.
We were always on edge. Any noise at all would make us nervous.
If we heard someone moving furniture, we would think at first that it was the sound of an explosion.
I taught Majd the expression "boom boom" while we were under attack.
I tried to downplay the sound of missiles by saying "boom boom" – as if they were just fireworks.
It took six days before she was in any way reassured. Then she would say "boom boom" and smile when she heard a blast – provided it was not too loud or too near us.
I hated nighttime during the attack.
Neither my husband nor I could sleep. Majd was often woken up by the noise of Israel's air strikes.
We would wait until after dawn before getting some sleep, although there were many air strikes after dawn, too.
My daughter should be playing and having fun like children all over the world.
For her first birthday, she got a gift of a football from her dad. Her name has been printed on it, beside the number 10 – the number on the jerseys worn by Lionel Messi and Diego Maradona.
She did not kick the ball once during Israel's attack.
My story is not unique. Every mother in Gaza has been terrified.
Ola Mousa is an artist and writer from Gaza.
Tags