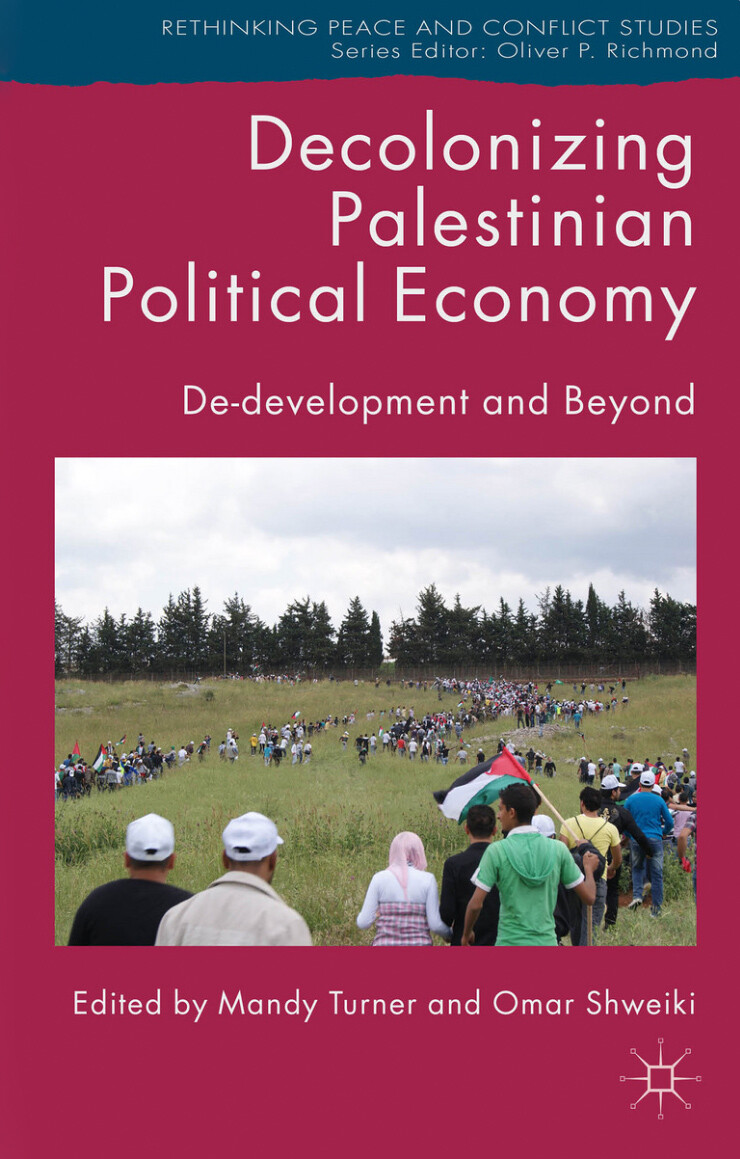 Decolonizing Palestinian Political Economy: De-development and Beyond, edited by Mandy Turner and Omar Shweiki (Palgrave Macmillan)
Mandy Turner and Omar Shweiki's introduction to this edited volume makes an important point which — although directed at an academic audience — is worth bearing in mind for many other commentators and activists on Palestine.
The forceful reminder they put forward is that the habit into which many (most?) of us so easily slip in talking about Palestinians living in Gaza, the West Bank, the diaspora or present-day Israel as separate entities is one which naturalizes colonial divisions. These profoundly unhistorical and culturally anomalous separations only exist because they have been imposed militarily and politically by Israel.
Invoking the Harvard scholar Sara Roy's concept of "de-development" and other ideas about how the Palestinian economy and polity have been deliberately eroded by Israel and its international allies, Turner and Shweiki have assembled a volume of research into the impacts of these processes on Palestinians in all four of these divisions.
Crossing artificial borders
While the political realities which divide different groups of Palestinians need to be recognized and resisted, they argue, analysis of the Palestinian experience — economic, political or social — also needs to be undertaken across artificial borders, seeing the Palestinian people as a unit which is, in at least some respects, subject to common pressures.
The resulting collection is divided into three sections. Before looking at these, I would like to recommend the foreword, written by aforementioned Roy. It presents a succinct and powerful account of how Roy came to articulate the concept of de-development.
In defiance of the rhetoric of bodies such as the Quartet (the US, European Union, United Nations and Russia), Roy makes it abundantly clear that the dire state of the Palestinian economy is not an accidental by-product of occupation or "security" issues, but a deliberately imposed policy, designed to ensure that Israel's own economy enjoys the benefits of its military dominance and to prevent the establishment of an economically viable Palestinian state.
For anyone confused as to why "development" and "aid" from outside Palestine are doomed to failure, there is no clearer account.
Of the main sections of the book, the first looks at big picture subjects. Sahar Taghdisi-Rad's contribution adds greater depth to the themes of Roy's foreword, charting the way in which economic policy has, since the days of the British Mandate, run alongside better-known political actions to impede Palestinian agriculture and industry.
Maintaining instability
Mandy Turner's chapter complements this analysis, unpacking the role that Western aid has played in propping up Israel's occupation and maintaining the West Bank and Gaza in a state of economic instability.
Nadera Shalhoub-Kerkovian and Rachel Busbridge, meanwhile, add an often unacknowledged perspective on economics and (de-)development: that of gender. Through the stories of four women from East Jerusalem, they explore the ways in which economic hardship and political discrimination affect these women.
Their anthropological approach, offering space to the voices of their interviewees, conveys much of the human impact of the occupation.
The second section takes a more detailed look at de-development and exactly how this idea plays out when imposed on different groups of Palestinians. Among the issues tackled are how de-development affects refugees who returned to Palestine following the Oslo accords, Palestinians living inside Israel and Palestinian Bedouins in the Naqab (Negev).
Through the specific details of each case study, the big picture accounts of the first section of the book are illustrated; the effects of deliberate policies are expressed in terms of poverty, marginalization, lack of education and forced displacement — in short, the appalling facts of life for millions of ordinary Palestinians.
Rami Nasrallah's final chapter in the section looks at Israel's 2020 "master plan" for Jerusalem, an official document aimed at tightening the Zionist grip on the city. This chapter takes the book from the realms of analysis into prediction in its exploration of the implications of Israel's policies for Palestinians in their capital.
The final four chapters go beyond the analysis of de-development to explore Palestinian resistance to it. Most unusually (for an academic volume), Nicolas Pelham analyzes Gaza's tunnel trade as an economic system with its own logic, particularly in the remarkable context in which it operates. This makes a refreshing change to the usual Israeli-Western views of the tunnels as first and foremost a "terrorist" problem.
Raja Khalidi and Sobhi Samour offer a biting critique of the Palestinian Authority's swallowing of neoliberal policy norms from the US and its allies. They take critiques of the PA's neoliberalism beyond economic understandings into political and security concerns, and argue that these are fundamentally incompatible with a project of national liberation and the return of refugees.
And Omar Shweiki examines the often-ignored economic aspects of Palestinian political ideas from the 1960s until the 1993 Oslo "peace process."
Shweiki outlines how "social work" (amal ijtima'i) activities undertaken by the Palestinian liberation movement in the 1970s shifted to ideas of "development." Such work represented an alternative to the neoliberalism of the contemporary PA and may, therefore, be useful for today's activists to analyze.
This is, of course, an academic book on political economy, so it was never going to be the lightest of reads. But, as an edited volume, it does contain a range of voices and more concise expression than a standard monograph might; this also means that it covers a wide range of issues, making it a useful overview for those wanting to understand different aspects of the political economy of Palestine.
Another positive aspect of this range of contributors is the impressive proportion of Palestinian writers. As Turner and Shweiki's collection helps to highlight, there are many excellent Palestinian analysts of the occupation and its impacts.
The decolonization process isn't just about changing our understanding of the forces at work on Palestinians across the region; it is also about listening to what Palestinian experts have to say about their situation, rather than continuing to allow white, Western voices to dominate in publications, conferences and solidarity events.
Sarah Irving is a freelance writer. She worked with the International Solidarity Movement in the occupied West Bank in 2001-02 and with Olive Co-op, promoting fair trade Palestinian products and solidarity visits, in 2004-06. She is the author of a biography of Leila Khaled and of the Bradt Guide to Palestine and co-author, with Sharyn Lock, of Gaza: Beneath the Bombs.
Tags