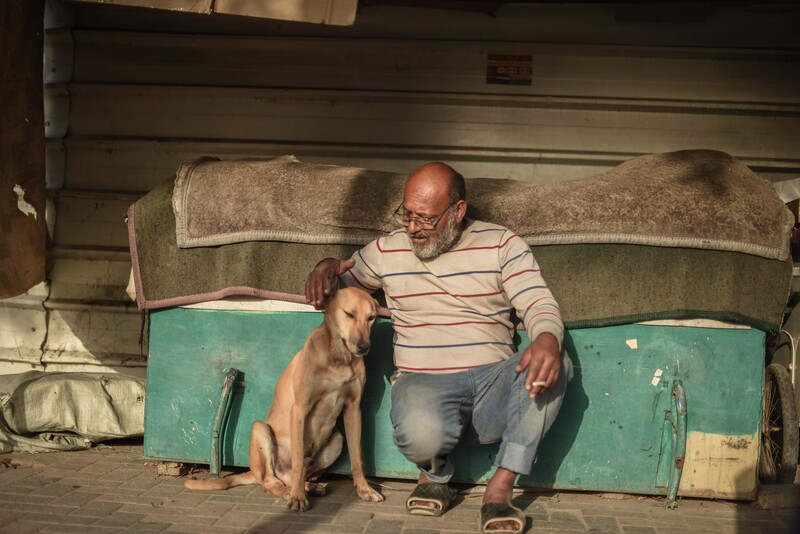 When Gaza's people sleep at night, Salah al-Juju wakes up from his makeshift bed in Palestine Square, in the center of Gaza City, and begins his customary tour.
Al-Juju, 56, has lived on Gaza's streets for some 21 years. Every night until sunrise he searches through Gaza's garbage containers looking for books.
This routine, or "personal initiative," as he puts it, started seven years ago.
"Books are my only friend on this planet," he told The Electronic Intifada. "This undertaking is a message to our youth not to undermine their future by throwing away books."
Sarcastically, he added: "It seems that the best library in Gaza is garbage. I don't know how to handle formal library conditions that involve dealing with regulations and library membership."
Al-Juju's bed is an old wood and metal cart that he has slept in for two decades. He prefers to talk about Gaza's educational challenges such as declining standards and young people's lack of interest in books and reading, rather than his own personal life.
"I was always different from my friends. I didn't like playing when I was a child like my peers, but I always enjoyed reading and going to the cinema that existed in the 1960s in Gaza. I have read more than 1,000 books in my life."
Al-Juju, who tends to repeat himself, believes that reading is his only medicine. "I don't go to any doctor. Sometimes I forget the meaning of things, but reading guides me to the track again."
Inspiration
Homelessness, separate from the displacement caused by Israel's blowing up of houses in the occupied coastal territory, has become increasingly visible in the last two years.
The disturbing phenomenon can be attributed in large part to the ongoing Israeli blockade. Additionally, the Palestinian Authority's punitive political and economic measures against Palestinians in Gaza are deepening poverty and playing a part in pushing some Palestinians into homelessness.
One of the most densely populated areas in the world, the Gaza Strip has suffered a damaging Israeli-imposed blockade for well over a decade. The siege has made it virtually impossible to import crucial materials for development and reconstruction of destruction Israel itself wrought during three devastating wars in that period.
Just over a year ago some 22,000 Palestinians were still internally displaced, down from approximately 100,000, following the most recent Israeli assault in 2014.
Last July The Electronic Intifada reported that reconstruction was progressing at a snail's pace.
Repeated assaults on Gaza and the constant terror of Israeli airstrikes have had profound implications for the mental health of Palestinians in Gaza. Mothers, fathers and children feel unsafe and unable to think with some semblance of certainty about the future.
The psychological toll is ongoing. At least seven large residential and commercial buildings along with 14 homes were leveled by Israeli attacks in the first week of May.
Abd al-Hamid al-Firani, a historian, is well aware of the trauma his neighbors, particularly the children, are subjected to year after year by the Israeli military.
In fact, al-Juju's love of books inspired al-Firani to turn his private library at the front of his house, with its approximately 2,000 volumes and helpful lists of books and academic research studies, into a free educational resource for the public.
"Al-Juju inspired me to think differently and in a way that benefits upcoming generations."
From the UAE to Gaza's streets
In November 2018, five families erected tents and took up residence in al-Saraya Square in the center of Gaza City. They had all – along with their furniture – been thrown out of various homes because they could not afford rent.
Among the protesters was Omar Abu al-Nimr whose personal life has been profoundly shaped by occupation and war. Even his wedding had to take place in a temporary school run by UNRWA, the UN agency for Palestine refugees, during Israel's 2014 war on Gaza.
Prior to living for two months in this commercial district, he moved repeatedly in the months after his expulsion from his flat, living during that time in the streets, mosques and public places as well as occasionally with his wife's parents.
Abu al-Nimr studied public relations in the United Arab Emirates in 2008. But even when he worked it was a struggle to pay the rent, he told The Electronic Intifada.
"Now, after I lost my job, I can't pay rent. This is why I came to al-Saraya with my wife and two sons."
This is not the first time Abu al-Nimr, 34, has been homeless. In 2009 when he traveled from the UAE, where his family lives, to Egypt, the Egyptian authorities deported him to Gaza because his family is Palestinian with ties to the territory.
At that time, Abu al-Nimr, then unmarried, didn't have a place to live in Gaza. He was, however, allowed to spend his nights in Nasser hospital in Khan Younis in southern Gaza.
In return, he worked for the hospital, filling oxygen cylinders and distributing them among the departments. Abu al-Nimr worked without wages until 2012 when he chose to live on the streets by the sea and work in nearby cafeterias.
By the beginning of 2013, he had found a job in one of Gaza's restaurants. With this newfound stability, he decided to settle down. He married Hiba Fayad, 28, a university graduate with a degree in psychology.
Her family home had been destroyed in the 2014 war. They labored together to find housing and, Fayad told The Electronic Intifada, sought assistance from both the social affairs ministry and the housing ministry, with no result.
"My husband and I have diplomas, but this isn't enough to have a decent life in Gaza for our children," Fayad said.
No one in a position of authority shows "sympathy in light of the difficult conditions we're living," she added.
The lack of housing has been painful and traumatic. Now, she said, she feels she's regarded, along with her family, as a "nobody."
Muhammad al-Askari, director of the housing ministry in Gaza, confirmed that the homeless rate is increasing.
He blamed the blockade and the resulting economic situation for the rise in homelessness, while acknowledging that "there are more than 3,000 families in Gaza after the third Israeli aggression who have no stable residence."
According to the World Bank, the unemployment rate in Gaza in 2018 was 52 percent and even higher among youth at 67 percent.
"Homelessness was not a phenomenon in Gaza in the past," al-Askari said, "but during the last two years the number of people living in the streets increased because of the deteriorating economic conditions and the ongoing political conflict."
Living with the dead
Homelessness is not the only challenge faced by these families.
The Electronic Intifada has seen the preliminary findings of a December 2018 study by the Palestinian Central Bureau of Statistics regarding socioeconomic food security which indicates that almost 70 percent of Gaza's households were food insecure in 2018.
Abu al-Nimr's family is one of these.
Their situation worsened when the municipal government required the five families to leave al-Saraya Square because that area is zoned for commerce.
Unable to find any other place to go, Abu al-Nimr is now living with his family in al-Mamadani cemetery in Gaza City.
"It seems that living among the dead is much better."
Abu al-Nimir and his family are not alone.
The reality of people living in cemeteries began in Gaza in 1948 with the massive dispossession of Palestinians during the Nakba, when some 800,000 Palestinians fled or were expelled from their homes inside what became Israel and were never allowed to return.
In Gaza, some children are born among the graves, grow up and live their lives there, and may be buried in the same location.
Said al-Basiouni has lived in a Khan Younis cemetery in a concrete room with an asbestos roof for all of his 32 years.
"My family has lived in cemeteries since the Nakba. No one cares about us. We inherit living here," he said.
Al-Basiouni collects plastic from garbage to buy food for his family. "The money I make can barely buy us food. How would I pay rent?"
Authorities have told al-Basiouni they would find a place for his family to live, but so far it has been empty words and broken promises.
Hamza Abu Eltarabesh is a journalist from Gaza.
Tags