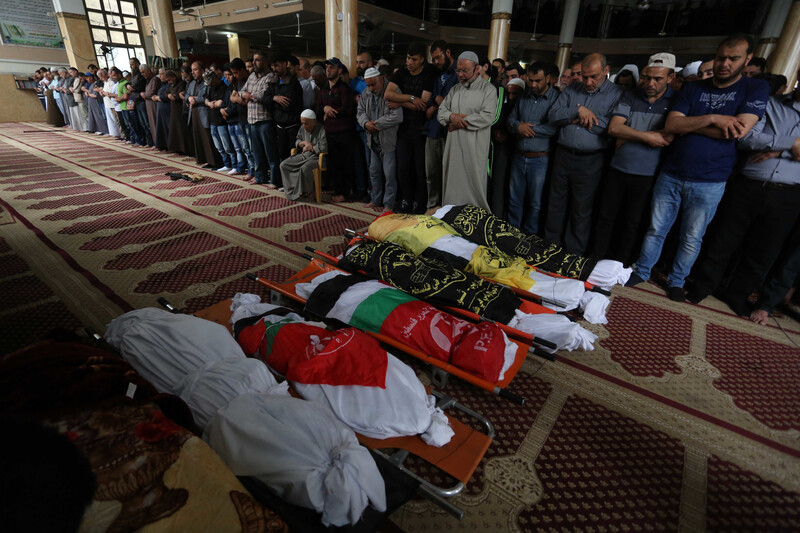 A ceasefire was declared by Israel and armed Palestinian groups in Gaza early Monday, halting intense violence that claimed 25 Palestinian lives and four civilians in Israel in just over 48 hours.

However, without any meaningful change to the status quo in Gaza – under Israeli air, land and sea blockade for 12 years – a resumption of the deadly fighting is only a matter of time.

There have been several bouts of fighting across the Gaza-Israel boundary in recent months, each lasting one to three days, with Israel and armed groups coming to a ceasefire agreement.

Those agreements have brought little relief for Gaza's two million Palestinians, half of them children, who have been plunged into poverty under Israeli siege and whose reality grows increasingly dire.

Al Mezan, a human rights group in the territory, warned on Monday that international silence regarding Israel's military operations against Palestinians in Gaza would result in the collapse of the humanitarian situation in the territory.

International bodies like the United Nations have repeatedly warned that an explosion in the Gaza pressure cooker is imminent.

But instead of using its leverage to change the underlying causes, the UN has played a complicit role in Israeli violations of international law by enforcing the siege and treating Palestinian rights as bargaining chips.

The European Union meanwhile has rewarded Israel's settlements built in violation of international law and funded its weapons industry that "field tests" its wares on Palestinians in Gaza.

Those bodies and governments allied with Israel performatively condemn Palestinian factions for firing rockets as though they are the cause and not a symptom of the wider human rights and political context.

During the latest round of fighting beginning late Friday, Israel struck Gaza, one of the most densely populated places in the world, in more than 150 airstrikes, and fired more than 100 artillery shells along the eastern boundary of the territory.

Fourteen of the Palestinians slain in Gaza were civilians, according to the Palestinian Center for Human Rights, killed as Israel targeted residential buildings.

Defense for Children International Palestine confirmed that two children were amongst those killed in Israeli strikes. The group stated that the death of a toddler originally attributed to Israeli bombing was instead caused by shrapnel from a Palestinian rocket that fell within Gaza.
Amani al-Madhoun, 36, who was in her ninth month of pregnancy, was killed along with her unborn child in an Israeli artillery strike on a home in Beit Lahiya in Gaza's north on Sunday.

Abd al-Rahim al-Madhoun, 60, his son Abdallah al-Madhoun, 21, and Fadi Fagheib Yousif Badran, 33, were killed in the same strike. Nine others, including two children, were injured, two of them seriously.

Three more civilians were killed when Israeli warplanes dropped two missiles in a building in the city center of Rafah in southern Gaza: Ali Ahmad Abd al-Jawad, 51, Mousa Hussein Lafi Muammar, 35, and Hani Hamdan Abu Shaar, 37. Four others, including a child, were wounded.

And in northern Gaza, six civilians were killed in an airstrike in Sheikh Zayed City on Sunday.

Ahmad al-Ghazali, 30, his wife Iman al-Ghazali and their 3-month-old infant Maria were killed in that strike, along with Abd al-Rahman Abu al-Jadyan, 11, and his parents Talal and Raghda Abu al-Jadyan. Nine other civilians living in the building sustained minor to moderate injuries, according to the Palestinian Center for Human Rights.

Sheikh Zayed City is a residential development funded by the United Arab Emirates opened in 2005 to house Palestinians who were displaced or who had been bereaved or injured during Israeli attacks.
100 families made homeless
Gaza's housing ministry said that 600 housing units were destroyed or damaged on Saturday and Sunday.
More than 350 Palestinians belonging to around 100 families were displaced, according to Al Mezan.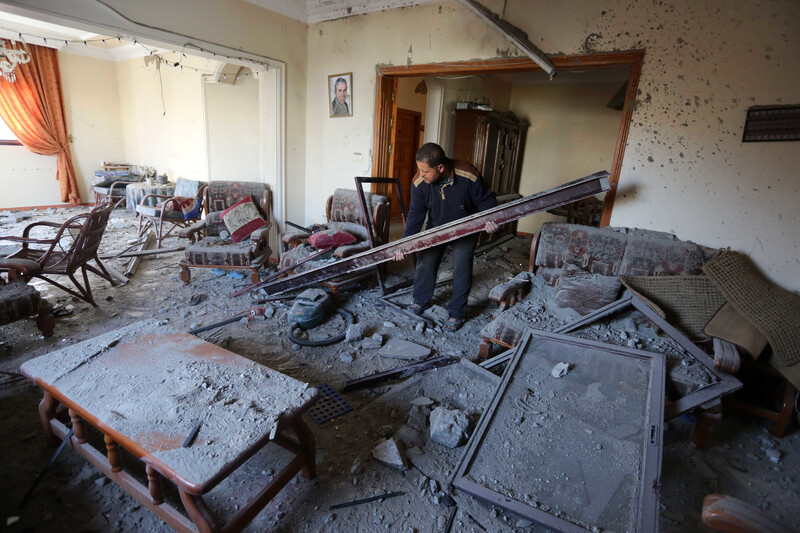 Palestinian fighters in Gaza fired nearly 700 rockets towards Israel, news outlets in the country reported.

But as Israel returned to business-as-usual, and readied itself for hosting the Eurovision competition later this month, its leaders criticized the ceasefire agreement.

Bezalel Smotrich, in the running to become Israel's next justice minister, said the latest round of armed confrontation should have ended with 700 "dead terrorists," one for every rocket fired from Gaza. "We can't afford having a million and a half citizens in shelters every few weeks," he said.

Smotrich has previously called for Palestinian teenage protester Ahed Tamimi to be shot, and published a plan to expel Palestinians that a noted Holocaust scholar described as genocidal.

Benny Gantz, the former Israeli military chief who recently lost a bid to unseat Benjamin Netanyahu as prime minister, described the ceasefire as "another surrender to the blackmail of Hamas and terrorist organizations."

Gantz, who faces an ongoing war crimes lawsuit in the Netherlands, had launched his opposition coalition's election campaign with a series of videos bragging about how many Palestinians he had killed as commander during Israel's 2014 onslaught on Gaza.

Gideon Saar, a lawmaker with Netanyahu's Likud Party, also criticized the agreement, stating that "Timed intervals between rounds of violence directed at Israel and its citizens are getting shorter, while Gaza's terror organizations are getting stronger. The round of fighting has been delayed rather than prevented."

Netanyahu pushed back against the criticism, stating, "In the past two days, we've renewed the policy of assassinating senior terrorists" – a reference to the extrajudicial execution of Hamed Ahmad Abed al-Khoudari on Sunday, the first such killing in four years.

"We've killed dozens of Hamas and Islamic Jihad terrorists and we toppled terror towers," the Israeli premier, who is also defense minister, added, referring to Israel's practice of destroying entire apartment buildings, leaving dozens of families homeless.

"The campaign is not over and requires patience and judgment. We are preparing to continue," Netanyahu added.

One Israeli commentator pointed out that a return to the status quo before the latest flare-up "cost Israel four civilian deaths."

"That's the equivalent of two-thirds of the civilian fatalities from 50 days of hostilities between Israel and Hamas and its allies in the Gaza war in 2014," he added.

Enforcing the siege on Gaza is coming at a higher cost for Israel, albeit a fraction of that paid by Palestinians.
Tags