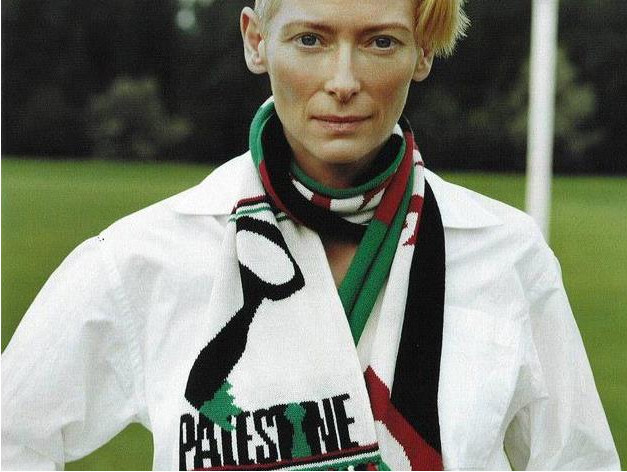 A flick through the November issue of the British edition of Vogue revealed one accessory I did not expect to see. After pages of faux fur, sequinned clutches and designer feathered capes, I happened upon something rather more surprising: a full-page shot of actress Tilda Swinton sporting a knitted scarf emblazoned not with a designer logo but with the word "Palestine."
What does it mean when an Oscar-winning actress appears in British Vogue wearing a Palestine scarf, particularly amidst a media and film industry which generally demonizes the people of the Middle East? Either it was an intentional message of solidarity, or simply a deliberately-controversial fashion statement on the part of a celebrity known for her unusual style choices.
The image has caused quite a buzz in social media, with many agreeing that this was the brave stance of a free-thinking and intelligent woman. Does this mean that supporting Palestine has become a status symbol, or is it a positive sign of acceptance of the Palestine issue into mainstream media?
The image is certainly compelling. Swinton stands defiantly, hands on hips, staring coolly into the camera as if daring the viewer to challenge her views. The red, green, black and white scarf, made by eccentric British fashion designer Bella Freud, features a Palestinian flag and the word "Palestine" along with an image depicting a key, the symbol of Palestinian refugees.
Many may be familiar with Tilda Swinton in her role as ice queen Jadis in the Chronicles of Narnia series. A highly-acclaimed actress, she has starred in numerous arthouse pictures as well as more mainstream films, such as The Beach, alongside Leonardo di Caprio, and Michael Clayton, for which she won an Academy Award. Swinton's latest outing is as tortured mother Eva in the screen adaptation of Lionel Shriver's prize-winning book We Need to Talk About Kevin.
But Swinton has become well-known in the fashion circuit as much for her unconventional style statements and striking appearance as she is for any on-screen success. She embraces the looks which most celebrities fear to touch. Whether the shaved undercut in her current Pringle of Scotland ad campaign, her strikingly androgynous looks and masculine tailoring, or her continually avant-garde red carpet ensembles, Swinton is renowned for being unafraid to take style risks. While Swinton is no doubt paid handsomely to endorse certain designers and campaigns, there seems to be a consistency in her willingness to push the boundaries of fashion.
For some this usually lands her on post-Oscar "worst-dressed" lists, while for others it only enhances her status as a modern style icon, all of which begs the question: was this appearance in British Vogue wearing a Palestinian symbol another stylist's attempt to split the opinion of the fashion world? Perhaps, alternatively, it sent a message of solidarity to an audience which may otherwise never have considered the Israel-Palestine conflict at all.
Marketing controversy, or an act of solidarity?
Added to this is the fact that the accompanying article on Swinton very consciously presents her as something of a wildcard, a mystery, a "complicated, intelligent, multifaceted woman," who is "simply hard to define. It could be said that the image of Swinton in Freud's scarf merely adds to her portrayal as a complex and unconventional character.
"There is kind of an understanding that it's ok, it's Tilda Swinton," Omar Joseph Nasser-Khoury, a Palestinian fashion designer who showcased a collection of Palestine-inspired clothing earlier this year, told The Electronic Intifada. "As mainstream as Swinton might get, she will always be the curious-looking woman with the curious lifestyle and curious film career, so she's bound to be supporting a controversial cause. It's how she is marketed."
However, despite Swinton's opinion-dividing appearance and style, there seems to be general agreement that this was more than an attempt at controversy.
"We think this is clearly a sign of solidarity with the Palestinian people," said Martial Kurtz of the UK-based Palestine Solidarity Campaign. "More and more individuals and organizations are now showing their support for Palestine, as it becomes clear that Israel's policies of apartheid and occupation are the real problem in the Middle East today."
Chris Turner of the Palestine Fair Trade Alliance, a US-based retailer of Palestinian-made accessories and crafts, agreed.
"I certainly don't believe that she was making a deliberate choice to simply engender controversy that somehow might improve her career," he said. "Quite the contrary, I am sure she will get hell about it, both quietly and quite out loud."
"It's my favorite scarf"
In a brief interview with Tilda Swinton for The Electronic Intifada, I asked her about her unconventional choice of accessory. "The scarf I wore in Vogue is mine," she said.
When asked if the scarf was a message of solidarity for the Palestinian cause, she added that it was "designed by my pal Bella Freud for the Hoping Foundation, set up in the name of hope and optimism for Palestinians of the next generation, of which I am a friend."
So, not a deliberate attempt to be controversial, then?
"[It's] just my favorite scarf," she replied.
The Hoping Foundation funds grassroots projects for Palestinian children throughout the occupied West Bank and Gaza Strip, and works closely with UNRWA, the United Nations agency for Palestine refugees, to support those living in refugee camps.
"We want to show young Palestinians that their struggle to transform their lives is encouraged and supported by the people in Britain and throughout the rest of the world … The projects we are asked to support give these children the opportunity to play, to learn, and to express themselves through art, photography, film, music, theatre, dance and sport," says the Hoping mission statement ("The Hoping Foundation website).
Over the years, Freud has hosted several high-profile events to raise money and awareness for Palestinian refugee children, attended by the likes of supermodel Kate Moss, actor Hugh Grant and Pakistani politician Imran Khan. And, of course, Tilda Swinton, who once auctioned off the reading of a story to a child in order to raise money for Hoping.
So the choice to wear the scarf seems to be the genuine choice by a friend of the Hoping Foundation and the Palestinian cause. But despite this apparent act of solidarity, it remains to be seen whether British Vogue readers will even take notice, or care.
Expanding public consciousness toward the Palestinian struggle
"Care is too broad a word," said the Palestine Fair Trade Alliance's Chris Turner. "British Vogue readers will not be flooding the phones tomorrow with demands to end apartheid. But watch what happens when steps like these become easier, built on hard ones like this one, and more frequent."
While to some readers of British Vogue, this image may only add to the actress's unconventional style status, Swinton's scarf undoubtedly shows a desire to build public consciousness toward the Palestinian struggle.
"Seeing Swinton wearing Freud's scarf in British Vogue was not really a life-changing moment, [but] it is a reflection that Palestine is now acceptable in the mainstream," said Nasser-Khoury. "Whether it is controversial or not, I think that is immaterial. The fact is that this has created tremendous discourse."
This is certainly true. The image of Swinton has been discussed throughout the social networking world, on Twitter, Facebook and numerous blogs.
"The pervading temperament is 'Well-done, Tilda,'" Nasser-Khoury added. "For Palestinians and activists alike, who have been on the margins for such a long time, anything mainstream is a blessing, regardless of mediocrity or controversy."
The cynic in me, though, can't help but wonder whether this means Palestine is becoming the latest cause célèbre to be adopted by the A-list. Recycling is so last season: are Bella Freud's Palestine scarves the new Anya Hindmarch "I'm not a plastic bag?"
Hindmarch's shopping tote, an alternative to environment-harming plastic bags, was an instant success after it was pictured on the arms of celebrities such as Erin O'Connor and Keira Knightley, and in the same way, the Bella Freud label can surely only benefit from being endorsed by a major celebrity.
Whether or not a celebrity endorses a campaign, it should go without saying that a cause does not need to be fashionable in order to be right, and it is usually far from stylish to stand up for the oppressed.
"Vogue is not really a beacon of humanity or political correctness," said Nasser-Khoury. "Vogue is the establishment, the mainstream, the hegemony … Why should we celebrate so warmly our presence in the establishment?"
However, Turner said that by publishing this image, Vogue — with its commitment to continually push the boundaries of acceptability and break new ground — has shown that Palestine is no longer simply the concern of politicians or academics but can and should be addressed by popular culture.
"Everything progresses by slow turns of awareness, especially in terms of removing the stigma of the 'other,'" he said. "It is bold moves such as this one that slowly, but most assuredly, raise the status of an issue in the collective conscious."
Of course the glossy world of Vogue, the world of fashionable high-profile auctions and chic celebrity soirées, is far removed from the daily reality for Palestinians living under occupation. There is nothing glamorous about checkpoints, or house demolitions, or continual dispossession, or the inside of an Israeli prison. Perhaps this is why it is so significant, then, to see Palestine acknowledged in British Vogue: a star choosing to be wrapped in a symbol of solidarity in a magazine normally so focused on material wealth surely sends a powerful message.
"History teaches us that truth will be brought to light," added Turner, "and who knows light better than Vogue?"
And how better to convey a political message to a fashion-conscious audience than through the medium of clothing? Swinton is voicing her support for the Palestinian cause without ever having to speak. Such is the power of fashion.
Emily Lawrence is a recent graduate and independent writer currently based in Lincoln, UK. She can be reached at emilywarda AT gmail DOT com.
Tags