Hany Abu-Assad's documentary 'Ford Transit', which follows Palestinian taxi-van driver Rajai who tries to live and survive in and around roadblocks separating Ramallah from Jerusalem, won the 'Spirit of Freedom Award', dedicated to the memory of Wim van Leer, for best documentary at the 20th annual Jerusalem Film Festival.

The festival's host, the Jerusalem Cinematheque, joined forces with the Cinema Project, operated by the Tel Aviv's Rabinovich Foundation and with the commercial broadcaster Keshet in a new initiative, whose purpose is to encourage filmmaking on human rights and freedom.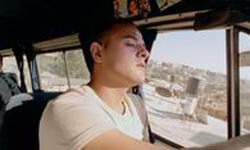 The documentary depicts the miseries imposed on Palestinians through Israeli military roadblocks through the eyes of a taxi-van driver carrying passengers from one checkpoint to the other. Rajai is the guide in the labyrinth of occupation and resistance. He leads the viewer over detours and mountain dusty roads passed the roadblocks and bit by bit the viewer gets to know more about him and his thoughts.

The Fords, as everyone seems to familiarly call them, are leftover, U.S.-supplied police vehicles that Israel passed on to Palestinians when they were too old to be reliable anymore. The stark white hulks swarm over the territories picking up professional men in suits, waiters in bowties, religious leaders in full garb, old matrons in headscarves, singing kids wearing face paint in the red, green, black and white of the Palestinian flag.
The driver drives around doing business, avoiding roadblocks, trading traffic reports with other drivers, dodging real bullets, and keeping his bucket of bolts on the move. If there's a backup on the highway, he spins his shuttle around, plunges off the road, and coaxes it over a sandy hill to a more promising route. "Palestinians are like ants," he says with pride. "They find a way around any roadblock."

The passengers in the van, the places he gets to and the activities he explores besides driving a taxi conjure up a divers image of the situation and Rajai himself. But by constantly staying with him - the other people talking are always in the van or directly involved with it - the viewer slowly gets a better understanding of the complexity of Rajai's life. Some passengers insist they're politically aloof, but many have strong opinions to share, which is partly the point of sitting in the Ford Transit with a camera.

In stead of analysing the situation from afar, Hany Abu-Assad succeeds to undergo it at the hand of someone there. Someone who tries to build up a meaningful existence in the extreme situation he finds himself in, exposed to extreme influences and political turmoil.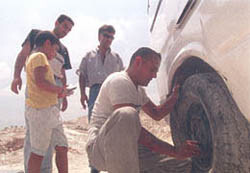 The jury said the documentary "is the journey of thousands of Palestinians who dream freedom of movement. It is hard to believe that in the same city Jerusalem, where this film festival is taking place, such journeys are happening daily."

Hany Abu-Assad's documentary 'Ford Transit' already received awards at IDFA 2002, Sundance 2003, FIPRESCI Award Thessaloniki 2003, Human Rights Watch, and Karlovy Vary. The Fords portrayed in 'Ford Transit' form a backdrop to another award-winning film by Abu-Assad, "Rana's Wedding".

Over 200 films were screened in the festival over seven days and at seven different screening venues in the city. Nearly 70,000 viewers participated in the festival as per the organising committee.

Related Links:

Palestinian Filmmaker this year's winner of the Nestor Almendros Prize for courage and commitment in human rights filmmaking, Human Rights Watch, 12 June 2003
Film review: Rana's Wedding, Maureen Clare Murphy, 29 April 2003