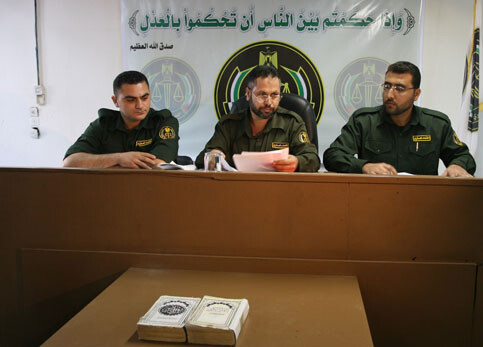 GAZA

CITY

, occupied Gaza Strip (

IPS

) - The Hamas authorities in Gaza have vowed to carry out more executions of those on death row despite intense international criticism and condemnation from both Israeli and Palestinian human rights groups.

During the last few days, the Islamic movement has faced a barrage of denunciation following the execution of two Gazan men last Thursday, by firing squad, for alleged acts of treason.

Gaza military courts had accused Muhammad al-Sebea, 36, from Rafah in southern Gaza, and Nasser Abu Frej, 34, from northern Gaza, of providing Israel with sensitive security information during the December 2008-January 2009 war.

The two, whose bullet-riddled bodies were delivered to al-Shifa Hospital in Gaza City following the execution, were also accused of being responsible for the death of several Gazan resistance fighters due to the information they supposedly provided Israel.

Despite the intense pressure de facto interior minister Fathi Hammad said on Monday that his government "would not hesitate" to implement more death penalties against other collaborators.

"The Hamas government will continue enforcing capital punishment in the coastal enclave against those who have caused harm to national interests and who were the cause of the death of many Palestinians," added Hammad.

Sixteen men are currently on death row in Gaza having been sentenced to death in 2009 and the first few months of this year. Eight of them are accused of treason.

Civil courts in Gaza apply the death penalty under the 1936 Penal Law No. 74, dating from the British mandate.

In the occupied West Bank, the PA's civil courts impose capital punishment under the 1960 Jordanian Penal Law No. 16, which dates from Jordan's occupation of the West Bank.

Military court death sentences are applied under the Palestine Liberation Organization (PLO) Revolutionary Penal Code of 1979. However, the code remains vague in regard to some of the situations in which it can be applied.

Penal code article 165 applies to capital punishment for any crime that "incites people" and "harms the reputation or prestige of the Palestinian revolution."

Furthermore, the Palestinian Legislative Council (PLC) has not ratified the code and therefore it remains unconstitutional even under Palestinian law.

The PLC remains frozen and politically divided between Hamas and Fatah following the civil war which broke out between the two main Palestinian political factions in Gaza in June 2007 when Hamas ousted Fatah from the coastal territory.

Human rights groups remained unimpressed by Hammad's statements. "In addition to objection in principle to the death penalty, Thursday's executions were based on trials that did not meet even minimal standards of due process," says Israeli human rights group B'Tselem.

Bill van Esveld from Human Rights Watch (HRW), which has monitored the death penalties being carried out in both the West Bank and Gaza, concurs.

"We are concerned about the lack of transparency, due process and impartiality. We see Fatah members being sentenced to death in Hamas courts," van Esveld told IPS.

"However, we haven't seen Hamas members who we have documented being involved in similar crimes being sentenced to death in Gaza. Part of an emerging pattern involved the lawyer of one of the accused telling us his client was forced to confess," van Esveld said.

"This was backed up by the court which used this confession as part of its evidence against the individual despite the circumstances under which it was obtained.

"What is also problematic is the number of condemned civilians who should not have been tried in a military court in the first place," said van Esveld.

"Any death penalty has to be ratified by the Palestinian President Mahmoud Abbas," says Shawan Jabarin from Palestinian human rights organization Al-Haq

"Therefore all those Gaza sentences were carried out illegally," Jabarin told IPS.

However, in an interview with IPS in his Gaza office Hamas Deputy Foreign Minister Ahmed Yousef countered that Abbas' term officially ended in January 2009 when new presidential and legislative elections were meant to be held.

"Furthermore, the current Palestinian Authority (PA) government was installed in 2007 as an emergency government which under Palestinian law is legal for only a month. It was not elected into power," Yousef told IPS.

Yousef also rejected the accusations that the men had been coerced into confessions.

"I reject those accusations completely. If there were any abuses perpetrated against the accused, I am not aware of these," Yousef told IPS. "There are those with vested political interests who are making these accusations. Those men were given a fair trial."

Hamas has accused its arch-foe and Fatah leader Muhammad Dahlan, who is widely believed to be a stooge of the Central Intelligence Agency of the United States and the Israelis and a key figure behind an attempted Gaza coup, which Hamas preempted in June 2007, of being behind the false rumors.

During Israel's blistering military assault on the Gaza Strip last winter rumors were circulating in numerous media sources that Dahlan, and other members of the PA, had actually egged the Israelis on in their attack as well as provided logistical information.

Two of Dahlan's employees in Dubai are also alleged to have been involved in the January assassination of Hamas military leader Mahmoud al-Mabhouh supposedly carried out by Mossad.

All rights reserved, IPS — Inter Press Service (2010). Total or partial publication, retransmission or sale forbidden.