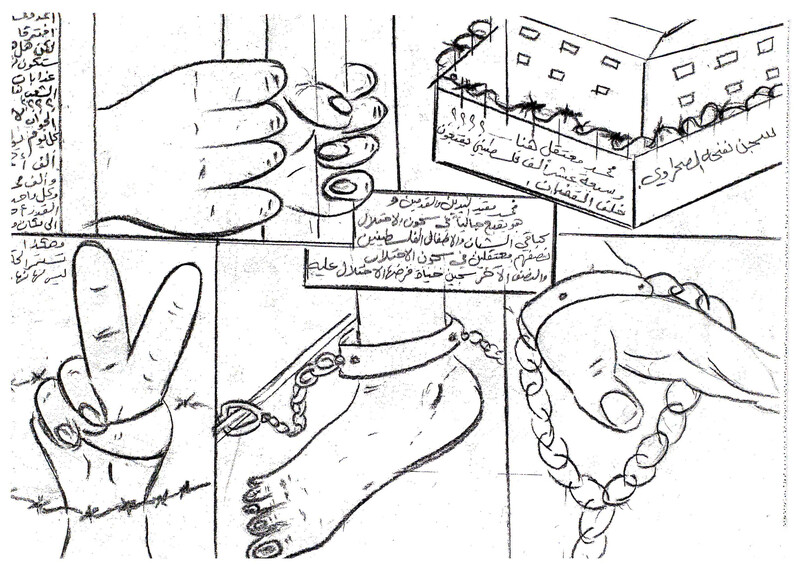 Approximately ten young Palestinians gathered at the Sharek Youth Forum in Ramallah to spend an entire day drawing and writing graphic novels chronicling anecdotes of their lives living under Israeli occupation. It was the third and last day of an intensive workshop run by young Palestinian and international volunteers as part of the new initiative Palestine Through Graphics.
A 23-year-old participant, Thaer Abu Rob, narrated the story of his graphic novel as he flipped through the pages of his drawings. Abu Rob's illustrated story dealt with his arrest in Jerusalem and subsequent imprisonment.
His drawings show him hurrying home through the streets with four friends after hearing explosions, and all four being arrested by Israeli forces. "Here, the solider has arrested me and some of my friends … I don't know why I was arrested, really. I'm very sad there."
Subtle details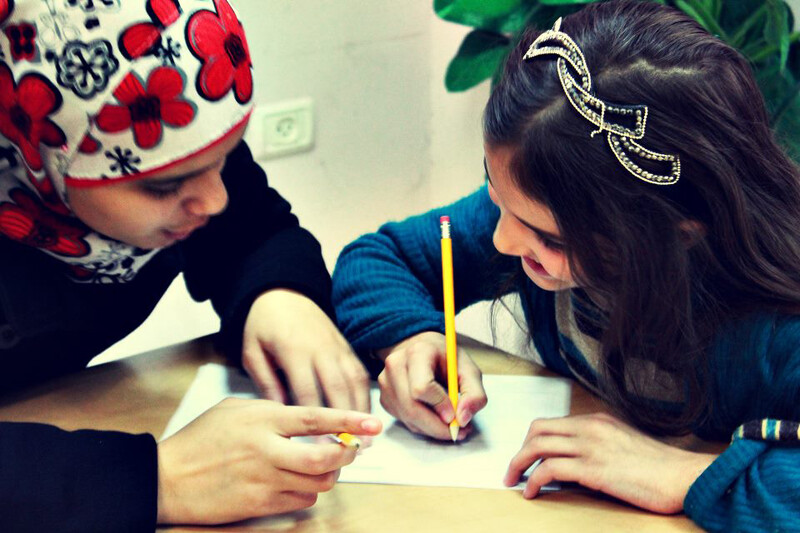 The magic of the drawings are in the subtle details that humanize the story. Abu Rob draws himself wearing his favorite football player's jersey as he is arrested by Israeli forces. Later, in prison, he depicts himself walking through the complex in front of painted images of Handala — the assassinated cartoonist Naji al-Ali's populist character which symbolizes the Palestinian refugees' struggle — on the wall. In images of Abu Rob's court date, a comically angry judge, sitting high on a podium, sentences him to four months in prison for throwing stones.
"I didn't throw stones," Abu Rob explained. Pointing to a drawing of himself throwing his hands in the air in frustration, he said, "Here, after the judgment, I was very sad." After four months in prison, he is drawn being released, speaking the words, "Al-hamdulilah [thanks to God], I'm free."
Abu Rob, who volunteers with Sharek Youth Forum in Jenin, joined the Palestine Through Graphics program as a participant after attending one of the outreach workshops that have been held throughout the West Bank in recent months.
"On average, we try to have one workshop a week," explained Jon Ross, a volunteer with the forum. "It lasts for two days and we travel around. One was in Jenin, Qalqiliya, Nablus, [and] Hebron."
At the outreach workshops, participants learn basic storytelling skills, such as setting the scene and developing story arcs. They also learn basic drawing and layout skills.
Participants vary in age. "The youngest we've had was about five years old," Ross said. "Ideally we want a bit older, but we let them come anyway because they want to participate. But on average, [they're] between thirteen to early twenties."
Trying to "reach outside"
The workshops are held at Sharek Youth Forum centers throughout the West Bank. The organization, founded in 1996, concentrates on youth empowerment and advocacy. Through recent surveys, the organization estimated that it reaches approximately 50,000 young Palestinians through its 22 centers in the West Bank and Gaza.
Many of Sharek's programs focus on offering Palestinian youth a platform for expressing their opinions to a wider international audience. The graphic novel program has similar aims, through visual means.
Feda Ayyass, a local Sharek volunteer who is one of the main organizers of the project, said, "Our voice is not heard by anyone, and all of our participants have a story about life under occupation, but there is no one who can hear us. So we try to let our voice reach outside [Palestine] through graphic novels."
At the outreach workshops held throughout the West Bank, volunteers with the project search for talented Palestinians, and fund them to come to Ramallah for intensive workshops, the first of which occurred in March. For three days, volunteers and local artists worked with participants to develop and finish their graphic novels.
This was only the first of three intensive workshops scheduled for the coming months, among weekly outreach workshops throughout the West Bank. Within a year, the program hopes to develop and publish a book of the work created by the participants who are invited to the intensive workshops in Ramallah.
Local participant Dima Nimer, attending the March workshop, illustrated her experience at a Rami Levy Israeli grocery store in the West Bank. When the young Palestinian woman accidentally dropped a piece of paper on the ground on her way into the store, she was subsequently stopped by security and taken to an Israeli police station, where she was interrogated for 12 hours.
Describing the Palestine Through Graphics program, Nimer said, "It's a lovely experience and I benefit from it very much." She chose to illustrate this particular story in order to give an example of "how Israel treats Palestinians. We want to show the world that Palestinians are not terrorists."
Palestine Through Graphics is still in its initial phases, and has many goals for the coming months. In addition to publishing a book, the program's volunteers hope to have the work digitalized and displayed online, as well as organized into an exhibition to be shown at the Ramallah Heritage Center.
All images courtesy of Palestine Through Graphics. For more information on the project, visit the group's page on Facebook.
Daryl Meador is a recent graduate of the School of the Art Institute of Chicago who recently lived and volunteered in Nablus.
Tags