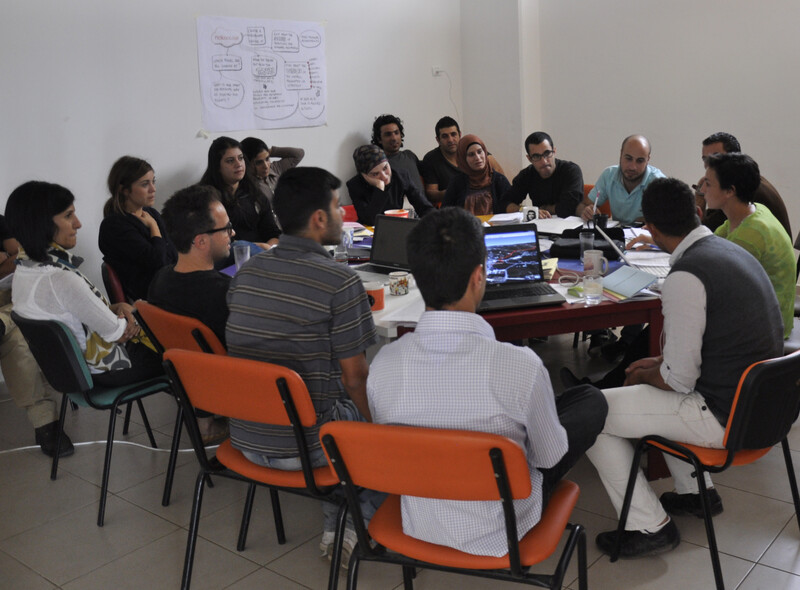 "When we speak about homeland, we always speak about the past. I think this is wrong, because our homeland is the future," said Aysar al-Saife, a 24-year-old resident of Dheisheh refugee camp in Bethlehem. Al-Saife is one of 12 active participants in Campus in Camps, a new two-year program for young residents of the refugee camps in the southern West Bank who are eager to rethink their representation and identity as Palestinian refugees.
Campus in Camps was officially born in January 2012. The initiative was developed by architect and urban design specialists Allessandro Petti and Sandi Hilal, both of whom were also founders of the Decolonizing Architecture Artist Residency. The initiative was developed from an interest in exceptional nature of the camps; despite harsh conditions, they have developed into relatively autonomous social and political spaces. Based on this, they began to ask, how can the camps be re-represented, divorced from past conceptions, without normalizing the status of the refugees as being in exile?
"[In the past,] refugee camps have been spaces for humanitarian intervention. But now if you look at the refugee camp, they are very independent spaces. What we seek is to find how to represent these, because the very static and traditional way of representation for refugees is of victimization, poverty and passivity," explained a participant, Isshaq Albarbary. "And we think we are in a new phase of representation. That's very much what we work on."
Housed in Dheisheh's al-Feniq Center, Campus in Camps was created as a space where young people could attempt to answer these questions themselves, and develop their answers into initiatives for their own communities.
"Occupation of knowledge"
While the project, known as "Campus" for short, takes its basic idea from the concept of a university and is part of the Al-Quds University/Bard College partnership, it functions through methods very different than a traditional university. Participants take part in a process they have called "unlearning" — choosing key subjects of their lives as refugees, analyzing and redefining them through their own interpretations.
"As Palestinians we have been subjected to different kinds of occupation — the physical, it exists and you can see it. But you have occupation of knowledge," Albarbary remarked. "I am 24 years old, and my knowledge has been occupied. What we do here is to re-look at things, in terms of knowledge and producing knowledge. If we have knowledge imposed on us from external sources that doesn't fit with my everyday life in the refugee camp, that doesn't mean that it's knowledge for me."
Participants attend the project for two years, meeting nearly every day to develop and discuss their work. The first year bases itself in education, involving guest lecturers and public forums and many conversations on the nature of the Palestinian refugee camp.
The second year of the program is largely based on implementation of the ideas developed by the participants. "We always link our work with the community. Discussion is the base for everything. Every Saturday is a public lecture where the community comes to discuss, and sometimes we travel around and have workshops with the community," explained Albarbary.
Most of the initiatives are connected to Dheisheh or one of the nearby camps. Ahmed Allahham described his investigation into a suburb of Dheisheh, al-Shahoda, populated mostly by refugees but known for its villas and spacious streets. The suburb recently petitioned to become part of Dheisheh camp. Allahham asked, "What does it mean when a refugee living in a villa wants to be part of the refugee camp?"
Focus on "reusing"
Naba Alassi is analyzing the relationship between Dheisheh and the adjacent town of Doha, established as a kind of extension to Dheisheh and also populated by refugees. Albarbary is exploring use of the bridge that connects the two complexes, which was built and financed by residents of Dheisheh but has been closed for three years due to misuse. "What I would like to do is first of all to reactivate use of the bridge, but differently. Both in functionality and intellectually," he said.
Other participants are creating media projects based on strengthening the social fabric of the camps. Some are investigating and writing about the political representation of the refugees in Palestine and abroad.
"My initiative is about reusing," explained 23-year-old Bisan Jaffari. "Not just to reuse everything that you can touch, but some things that are cultural. Cooperation and participation, these are very strong powers in the camp. Maybe we are going to concentrate on enhancing and reusing these good things."
Using dialogue as their basis for learning — or unlearning — certain terms came up in conversation again and again. One participant, Murad Owdeh, said, "If something provokes us inside campus and camps, and we will put it on the table, discuss it and redefine it."
"That's how we came up with the Collective Dictionary, a series of publications containing definitions. Participants pick a word, or a word emerges from active conversations or work with the community, and then redefine the word based on personal experience," said Albarbary.
Pride
The dictionary was developed into several small books published in English and Arabic. Each book considers a term that the group has decided is fundamental to the understanding of Palestinian refugee camps, such as "common," "well-being," "participation," "responsibility" and "ownership." The books feature personal interpretations, interviews with the community, and photographic and written explorations of spaces within the camps.
The Collective Dictionary offers a rare glimpse into the minds of young Palestinian refugees, and offers readers a new lens of viewing them. Through observations, memories and analysis, the publications deconstruct what it means to be a Palestinian refugee today.
The publications describe a certain pride and affinity to the space of the camp and the ownership the participants feel there. In the essay "Who owns the Camp?" Alaa al-Hamouz writes: "Nowhere else do I have the authority that I do inside the camp. This is because I am a part of it. When I walk between the houses in the alleys, I feel that we all share the camp, all of the people who live inside."
But while the publications celebrate the strength of the camps, they also seek to reconcile this with the ever-present state of exile in which the refugees live. Writing on the idea of "common" within the camps, al-Saifi and Albarbary explain, "The camps at the moment live in a state of loss between idea and reality. The idea is that when we look to refugeehood and the right of return as common to every refugee … In reality, camps became homelands to refugees."
This does not imply giving up the right of return, but redefining it for the new generations of refugees. Writing on the right of return, Albarbary argues, "we have this right, and should start designing and forming our return based on our values, principles, culture and social fabric."
"Everything has changed"
Campus in Camps is asking difficult and important questions, but without seeking concrete answers. Instead, it is trying to instill more widespread engagement with ideas fundamental to the existence of Palestinian refugees. By creating a space for analysis, it hopes to begin redefining refugees through their own definitions.
The first group of participants will end their cycle this year, and Campus in Camps will begin a new one in January. In the next year, the project hopes to include more camps, including Aida, Beit Jibrin and Shufat. Youth continue to come to the center eager to get involved. The strength of the project is demonstrated by the passion and excitement its participants demonstrate.
"I joined Campus in Camps because I see that it is the small window that is looking into the refugee's world. With our hands we can open and expand this window and know what the meaning of real refugees is," explained participant Bissan Jaffari. "Everything has changed. We are still refugees, but we are something different."
Daryl Meador is a recent graduate of the School of the Art Institute of Chicago who is currently living and volunteering in Nablus.
Tags