"The last Israeli attacks were the hardest, the most dangerous. It wasn't a war, it was a massacre. They shot anyone walking, anyone outside of their home, in their home … it didn't matter. And it didn't matter if the victims were children or adults; there was no difference."
Ali Khalil, 47, has served as a medic with the Palestine Red Crescent Society (PRCS) and private hospitals in Gaza for more than 20 years. He has seen some of the worst atrocities committed by the Israeli army. During Israel's war on Gaza last winter, Khalil worked in Gaza's northern region, venturing repeatedly into high-risk areas bombarded by Israeli tanks, helicopters and warplanes to rescue the injured and retrieve the dead.
During the 23-day invasion, the Israeli army warplanes, drones, warships, tanks and snipers rendered entire areas off-limits and impossible for ambulances and civil defense fire and rescue trucks to reach. In the north, Ezbet Abed Rabbo and Attatra, east and northwest of Jabaliya, respectively, were among the districts occupied by the Israeli army.
Through the International Committee of the Red Cross (ICRC), Palestinian rescuers were sometimes able to coordinate with the Israeli army to gain access to areas they controlled.
"We'd wait five hours, even over 30 hours, for coordination from the Israelis to enter the area to retrieve wounded or martyred," says Khalil. "And much of the time, we wouldn't get it."
Even coordination, however, did not ensure access or safety.
"On 9 January, we went to retrieve wounded and martyred. There were three ambulances, and one ICRC jeep in front. We had coordination via the ICRC," says Khalil.
Marwan Hammouda, 33, a PRCS medic for the last 10 years, was on the same call. "We were driving to the area, speaking with the Israelis on the phone. They'd tell us which way to drive, what road to take. When we got near the wounded, Israeli soldiers started firing. I told them, 'We have coordination' and they said to wait. Then they began firing at us again."
Emergency workers under fire
According to the Palestinian Centre for Human Rights (PCHR), that same day, 9 January, Israeli soldiers fired on a convoy of 11 ambulances led by a clearly marked ICRC vehicle in central Gaza, injuring an ICRC staff member and damaging the vehicle.
This was not the only that occasion emergency medics came under fire. During the invasion, Israeli forces killed 16 medical rescuers, four in one day alone. Another 57 were injured. At least 16 ambulances were damaged with at least nine completely destroyed.
Although the Geneva Conventions explicitly state that "medical personnel searching, collecting, transporting or treating the wounded should be protected and respected in all circumstances," throughout Israel's invasion this was not the case. Indeed, as the injured and emergency workers testify, Israeli forces targeted and prevented medical workers from reaching the wounded.
"If we can't even access areas with ICRC coordination, how are we supposed to help people?" asks Khalil.
Without coordination, many ambulances did not dare risk Israeli gunfire and shelling, meaning hundreds of calls went unanswered, according to PCHR. Denied medical care, many victims succumbed to their wounds.
It was days before ambulances could reach the bodies of at least five members of the Abu Halima family who were killed when Israeli shelling and white phosphorous struck their home. In addition, two young male cousins, Matar and Muhammad, were shot dead by Israeli soldiers as they tried to drive a tractor-pulled wagon carrying the injured and martyred.
Ambulances trying to answer the calls were fired upon by machine guns and further shelling. Ali Khalil is still traumatized by what he and other emergency workers finally found days later.
"I brought back baby Shahed's burned, gnawed corpse."
The infant body that Khalil carried out, burned by white phosphorous, left in the tractor wagon, had been partially eaten by stray dogs.
"For the rest of my life I'll remember that day. I'll never get over it."
Khalil is among many veteran medics who feel all the emergency workers need counseling for the stresses and traumas endured in their work.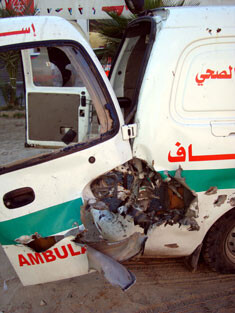 Ahmed Abu Foul, 26, works as a medic and coordinator of all the

PRCS

volunteers in northern Gaza. He also works as a medic and coordinator with the Civil Defense, Gaza's fire and rescue services. He is newly a father of a baby girl.

Abu Foul has narrowly escaped death while working on many occasions, and his body bears the scars of Israeli-fired bullet, shrapnel and flechette (dart bomb) injuries. In the last invasion alone, Abu Foul was twice targeted by snipers, was at the Fakhoura school when it was hit by white phosphorous shells on 6 January, and was in a building that was being bombed while emergency workers tried to evacuate the victims. In the latter incident, Abu Foul's colleague was killed and Abu Foul was lacerated with shrapnel to the leg and head.

Despite his many close calls, Abu Foul maintains a convincingly cheerful attitude, and continues to work full time for both the Civil Defense and the PRCS. However, he admits the psychological and physical pain have not abated since the last Israeli attacks.

"My left leg is useless. When I walk too much, the pain becomes unbearable and my leg won't support me. There's still shrapnel in it, and the nerves were badly damaged by the shrapnel."

It's the same leg that was shot in May 2008 while Abu Foul was on a mission for PRCS, he says. Just above the support bandage around his calf, a hollow in his leg above his kneecap shows where the bullet bored straight through.

"A doctor here said he could remove the shrapnel and repair the nerves, but wanted to open it up from my foot all the way to my thigh," he says of his recent injury.

"I have pain in my head also, especially when it is sunny," he adds. "There's still shrapnel in it from the shelling, although doctors already removed three pieces."

He endures both injuries, waiting for specialists and the means outside of Gaza to remove the shrapnel. "It's too dangerous here; we don't have the means nor the medical equipment to locate the shrapnel before removing it."

Medical shortages under siege

Under siege since after Hamas' election in early 2006, Gaza is still not receiving all the necessary medical supplies needed, nor the spare parts to repair aged machinery. Doctors, unable to leave Gaza, cannot obtain advanced and specialized training. The health care system, post-invasion and under siege, is in more dire condition than before the Israeli attacks one year ago. According to Gaza's Ministry of Health, stocks of 141 types of medicines are depleted, as are 116 types of essential medical supplies.

Aside from Abu Foul's very present physical pain, it is memories of the wounded, the martyred, and the loss of his colleagues that still troubles him.

"I was with Dr. Issa Saleh coming down the stairs from the sixth floor of an apartment building in Jabaliya, evacuating a martyr, when the Israelis again shelled the building. They knew there were medics inside. They could see our uniforms and the ambulances outside. Dr. Saleh was hit by the missile."

Abu Foul describes in testimony to the al-Mezan Center for Human Rights how he believed he'd been mortally wounded.

"I put my hand on the back of my head and I found blood and brain. I then saw Dr. Issa had been decapitated and realized it must have been his head hitting my head and his brain on the back of my head."

Just days earlier, Abu Foul and other medics came under heavy Israeli fire for several minutes as they attempted to reach the injured.

The extreme stress and loss have manifested in Abu Foul's daily life. "I feel as though I don't care about anything now. Now, when I get angry I find myself hitting and throwing things. I feel nervous and I shout a lot now," he told al-Mezan.

Yet Abu Foul takes his role as an emergency rescuer seriously and is not daunted in his work, in spite of how it has affected his personal life. Abu Foul now continues to seek replacement equipment, requesting delegations visiting Gaza to bring any sort of emergency equipment.

"Ten out of sixteen fire engines are functional. We need fire hoses, spotlights for the trucks, handheld spotlights for searching in the dark, chemical extinguishing spray, electric saws for cutting through wreckage …" The list is long and seems impossible when the Israeli siege on Gaza is tighter than ever.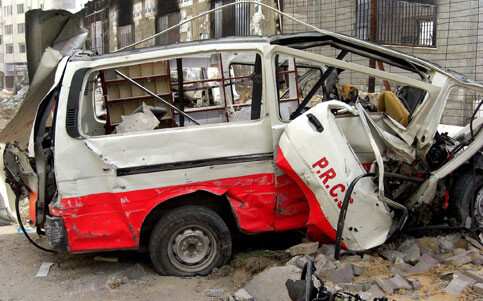 Duty calls
"Each invasion becomes harder than the last," says Marwan Hammouda. Like his colleagues, Hammouda has no fear of death, and like them he has a history of injuries in the line of work, the latest being a gunshot to his left foot when the ambulance he was driving came under Israeli fire in Jabaliya.
Since Israel's invasion, Hammouda has developed a thyroid disorder, a condition doctors say is a result of post-traumatic stress.
"You saw the last war," he says. "There was nowhere safe, not homes, not schools, not kindergartens, not media buildings." And not ambulances.
"So do I want to die in my home, or in my work, at least helping people who have been injured?" Hammouda asks. "The Israelis don't have any respect for international law. And I have absolutely no confidence that things will change because American politicians give sweet speeches."
"My children got used to the idea that I could die at any moment in our work," says the father of six. "During the Israeli attacks, I only saw them for five or ten minutes a day. Some days I didn't see them at all because I was always with the ambulances."
Hassan al-Attal, 35, a father of three, was shot by an Israeli sniper while carrying a body from Zimmo crossroads east of Jabaliya back towards the wailing, flashing ambulance.
Since the Israeli tanks rolled in with the land invasion after the first week of aerial bombardment, injured and trapped residents of Ezbet Abed Rabbo — one of the hardest-hit areas during the Israeli attacks — had been calling for ambulances to evacuate the wounded and the dead. In almost all cases, emergency rescuers were unable to reach these calls, hindered by Israeli army shooting and shelling.
A medic for ten years, Attal has on many occasions come under Israeli fire and aggression while working.
His gunshot injury during the 7 January mission at 1:30pm came during Israel's self-declared "humanitarian cease-fire hours," when civilians were told they could safely walk the streets to buy food supplies or otherwise leave their homes.
After carrying the corpse only a few meters, Israeli sniper fire broke out on Attal and Jamal Said, 21, the volunteer with him.
"We came under heavy fire, around 20 shots. I was shot in the left thigh," says Attal.
Hazem Graith, 35, a father of four and a medic with the PRCS since 1999, worked in Gaza's north during the Israeli attacks.
Like most medics, Graith came to the profession out of a sense of obligation to his community. "Because I love to help people," he says.
Graith too has come under Israeli fire on many occasions. However, he is quick to emphasize that while the Israeli attacks on rescuers during last winter's invasion were the most savage and numerous yet, they were not isolated incidents. Rather, they were part of a larger Israeli policy of denying access of emergency personnel to the wounded which dates back to the beginning of the second Palestinian intifada in September 2000.
Targeting hospitals and medical facilities
In addition to attacking rescuers, Israeli warplanes and tanks attacked medical facilities and clinics during the Israeli war on Gaza. An investigative report published by the Guardian in March 2009 found that 15 of Gaza's 27 hospitals were bombed, and another 44 clinics were damaged — two destroyed completely — although the Israeli military knew the coordinates of all the facilities.
On 15 January, the al-Quds hospital complex in Tel al-Hawa was shelled repeatedly, including with white phosphorous, causing fires to break out, extensive damage and forced the evacuation of all patients from the hospital.
The al-Wafa rehabilitation hospital in eastern Gaza — the only one of its kind in the entire territory — was attacked on the night of 15 January by tank shelling, including with phosphorous, and machine gun fire. Hospital residents included the disabled and immobile patients, as well as the elderly. Fire broke out on the roof of the hospital, and most buildings in the complex sustained extensive damage.
Yousef Abed al-Hamid, 30, a father of two and a medic with the PRCS for 11 years, worked as coordinator and dispatch in Jabaliya during last year's Israeli attacks on Gaza.
When medics were forced to evacuate the Ezbet Abed Rabbo PRCS station on the second day of the land invasion, the small band of ambulances temporarily stationed outside of Hamid's home in Jabaliya. Days later, they moved to Beit Lahia's al-Awda hospital, where they were based for the rest of the Israeli attacks.
"It was the most dangerous invasion we faced. Everywhere was dangerous, there was no safe place. Especially after 4pm it was extremely dangerous to be on the streets. But if we didn't go out, who would help the people?"
Dodging missiles and gunfire on the streets and at attack sites, medics were further hounded at their temporary station at al-Awda hospital.
"The Israelis launched missiles on al-Awda, a hospital. Fortunately no one was killed in that attack, but it's a hospital, and our ambulance base," says Hamid.
Lost colleagues
Khaled Abu Sada, 43, another long-term medic, will never forget the Israeli attack that savagely martyred his colleague Arafa Abd al-Dayem.
On 4 January, at around 10am, medics Sada, Abd al-Dayem and PRCS volunteer Ala Sarhan, 23, answered the call of civilians targeted by Israeli tank shelling in northern Gaza's Beit Lahiya.
As they brought the injured and martyred to the ambulance, the medic team was struck by an Israeli tank-fired dart bomb. The flechettes, just two inches long and dart-shaped, are designed to bore through anything, to break apart upon impact, to ensure maximum damage. Arafa Abd al-Dayem, 35, a father of four and volunteer medic for eight years, was shredded by the darts.
Abu Sada testified to the Guardian: "I came round here and found Arafa kneeling down with his hands in the air and praying to God. They found his body full of these nails. The guy that had been brought to the ambulance was in pieces. He was now missing his head and both his legs."
Arafa Abd al-Dayem went into shock and died an hour or so after the attack, while Ala Sarhan was paralyzed by the injuries sustained in the attack.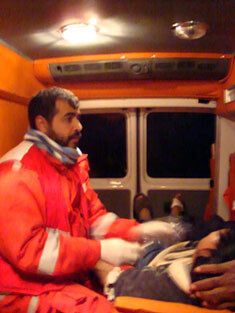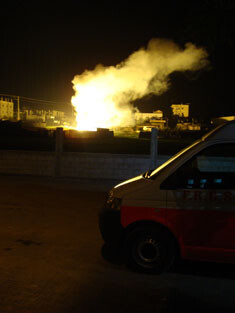 Powerless to help
Ashraf al-Khatib has been a medic for 11 years. During the Israeli attacks, he worked at Rafah's PRCS station. "On 15 January we got a call from a man who said his brother was dead and he was injured by multiple Israeli gunshots. Ahmed and Ibrahim Thabet didn't know the Israeli army were nearby when they rode their motorcycle through a district of eastern Rafah."
Called at 11am, al-Khatib attempted to get Israeli coordination via the ICRC to reach the injured man.
"We tried for hours. Ibrahim kept calling us, crying, panicked. We explained we couldn't reach the area because of the Israeli army. We told him how to stop his bleeding to his chest and leg until we arrived."
Unable to wait any longer, al-Khatib and colleagues made the decision to risk going without Israeli coordination.
"I told them, we may die. But we agreed to go."
Two ambulances reached the area and brought out the dead and injured men.
"We had snipers trained on us, lasers on our foreheads and chest," he says.
Having reached the Thabet brothers, the medics saw more victims.
"It was a busy area. People didn't know there were Israeli snipers nearby."
But because of renewed Israeli firing, al-Khatib's ambulances were forced to retreat, leaving the victims behind.
Al-Khatib recalls another well-known case in Gaza, that of the Shurrab family in Rafah.
"We got a call from Muhammad Shurrab saying he and his sons had been evicted from their home by Israeli soldiers, then shot. They were all living but injured," he explained.
The family waited, trapped between an Israeli tank and their home, bleeding of their injuries, he says.
"We went, when we tried to reach them Israeli soldiers fired on us, so we retreated and tried to get coordination. Shurrab would call every so often; I'd tell him to be patient while we tried. It was winter, so in addition to their injuries, they were freezing."
Al-Khatib relates the saga which went on through the night.
"Later, the father called to say one son had died. We called Al-Jazeera television and told them the Israelis were preventing us from reaching Shurrab. Al-Jazeera took his mobile number and interviewed him live on the air. By that time his second son had died. Twelve hours later the Israelis finally allowed us to reach him, but his sons were both dead."
Al-Khatib says this was the worst challenge he has faced as a medic.
"I knew they were injured but there was no way to reach them, then the kids died. The Israeli army was playing with us," he says.
Muhammad, who declined to give his last name, 30, a volunteer medic and ambulance driver at the Tel al-Hawa PRCS station, was among the team sent to retrieve injured from the Samouni neighborhood in Zaytoun, eastern Gaza, while the attacks were still raging.
"When we arrived, we saw two tanks and a bulldozer between the trees. The tanks aimed their machine guns at the ambulance and the Israelis told us to continue forward. We went about 500 meters. Suddenly 20 or 30 soldiers appeared on foot and surrounded the ambulance, pointing their guns at us. They told me to get out of the ambulance, slowly. I did. They told me to take off my clothes. I did, at the same time telling them we'd come to bring out injured."
They ordered his colleague Rami, a volunteer medic, to get out and strip his clothes.
"They forced us to lie on the ground."
For the next 30 minutes, Muhammad says, they lay on the cold ground in their underwear, soldiers sitting on their backs, guns trained on them.
"Finally, after maybe 30 minutes, they let us go. But they didn't let us retrieve the injured or the children."
"Why shoot at ambulances?"
Throughout Gaza, during and before Israel's latest invasion there, stories of detention, attack, delay and bombardment of stations of both medic rescuers and the Civil Defense abound. Despite the scale of the aggression, the last Israeli war on Gaza was not a precedent for emergency workers, but the continuation of a deeply-entrenched Israeli policy violating international law.
In April 2009, journalist Amira Hass reported in the Israeli daily Haaretz finding a note in Gaza ordering soldiers to "open fire also upon rescue." Written in Hebrew, Hass reports that the note was found in a home occupied by Israeli forces during the war on Gaza. A military spokesperson, she writes, denied the note represents official Israeli army policy. But the facts on the ground and bodies in the graveyard point to a different conclusion.
Although one year has passed since the Israeli invasion, throughout Gaza the psychological wounds are still wide open. For the emergency rescuers, the prospect of the next Israeli attack is all too real and all too routine.
"Nothing is forbidden here, there is no international law where Israel is concerned. Even though the Geneva Conventions say we have the right to reach the wounded, Israel does not pay attention to international law," says medic Hazem Graith.
Like Hammouda, Graith speaks wryly of the Israeli explanation for such attacks.
"Why shoot at ambulances? Why destroy them? Why kill medics?" he asks. "The Israelis say we are militants or are carrying militants, that's the reason they give for targeting medics. Lies, all lies. In our ambulances there are only ever wounded or martyred."
While the destruction of ambulances is a major obstacle to medics' work, Graith calls for more than mere aid.
"We don't want new ambulances from the international community. We want you to see what Israel does and apply pressure to stop Israel from firing on ambulances."
He emphasizes, "Go to the root of the problem."
All images by Eva Bartlett.
Description of Yousef Abed al-Hamid was inadvertently omitted in the version of this article originally published. This version of the article has been updated to include the description.
Eva Bartlett is a Canadian human rights advocate and freelancer who arrived in Gaza in November 2008 on the third Free Gaza Movement boat. She has been volunteering with the International Solidarity Movement and documenting Israel's ongoing attacks on Palestinians in Gaza. During Israel's recent assault on Gaza, she and other ISM volunteers accompanied ambulances and documenting the Israeli attacks on the Gaza Strip.
Related Links