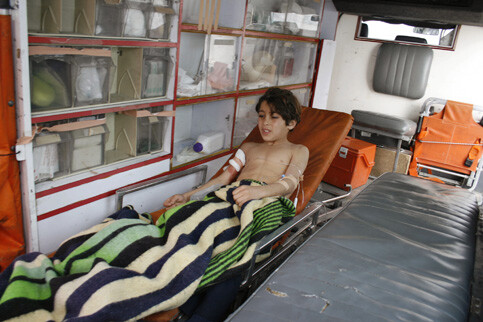 5 January 2009
A good, kind, brave and very funny man was killed on 4 January as he loaded the body of a young civilian killed by the Israeli occupation forces into an ambulance. Emergency medical workers, Arafa Hani Abed al-Dayem (35), and Alaa Ossama Sarhan (21), answered the call to retrieve two friends: Thaer Abed Hammad (19), who was wounded, and his friend Ali (19), who was killed while fleeing shelling by Israeli tanks.
It was after 8:30am on Sunday and Thaer and Ali were in the Beit Lahia area, located in northwestern Gaza. The area is near the American school that had been bombed the day before, killing a 24-year-old civilian night watchman inside — tearing him apart and burning everything else that remained.
Squealing in pain, his right foot amputated and shrapnel lacerations across his back and body, Thaer Hammad explained how his friend Ali was killed. "We were crossing the street, leaving our houses, when the tank fired. There were many people leaving, not just us." Hammad stops his testimony, again squealing with pain.
For the past two days, since the Israeli land invasion and heightened bombing campaign began, residents throughout Gaza have been fleeing their homes. Many who haven't had the chance to flee were caught inside by the bombing and were buried alive, crushed under the rubble.
A doctor tells the rest of Thaer's story: "After they were shelled, Thaer couldn't walk. He called to Ali to carry him." Ali had carried Thaer some distance when he was shot in the head by a bullet from an unseen soldier in the direction from which they fled. With Ali dead, Thaer injured, and people fleeing, the ambulance was called.
When Arafa and Alaa arrived, they managed to load Thaer into the ambulance. They were working on getting Ali's body to the clearly-marked medical vehicle when the shell came. Already dead, Ali was decapitated by the shell fire. Arafa sustained severe wounds to his chest and stomach. At the hospital, the doctors worked on his mutilated body, but during heart surgery Arafa went into shock and died an hour later.
His funeral was hurriedly held, a procession, a burial, and the traditional mourning tent. The tent was shelled with mourners inside. Another medic tells me that Arafa's brother called the news radio station on the phone and said: "We're being shelled, someone come get us!"
A science teacher by profession, Arafa had volunteered as an emergency medic for eight years. He was delightful, warm, had a nice singing voice, and was not at all shy about being silly. I remember him stomping ridiculously around the now-vacated Palestine Red Crescent Society Offices in Jabaliya after Israeli soldiers took over the area, saying he was hungry, very hungry, and chomping down on the bread and cheese that we had for a meal.
I had the privilege of working one night with Arafa, when I witnessed his professionalism and his humanity. Osama, a fellow medic, explained that "He wanted to die like that, helping our people." But it wasn't a martyr complex, engineered by living with death, occupation, invasions, humiliation and injustice for so long, but rather a dedication to his work and to his people.
His killing has since been followed by those of three more emergency medics.
Eva Bartlett is a Canadian human rights advocate and freelancer who spent eight months in 2007 living in West Bank communities and four months in Cairo and at the Rafah crossing. She is currently based in the Gaza Strip after having arrived with the 3rd Free Gaza Movement boat in November. She has been working with the International Solidarity Movement in Gaza, accompanying ambulances while witnessing and documenting the ongoing Israeli air strikes and ground invasion of the Gaza Strip.
Related Links