It's almost midnight. I rushed to my laptop when I saw the glow of the lamp after almost 12 hours darkness following one of the electricity cuts that hundreds of thousands of Gazans like myself have been subjected to over the past week or so.

As a journalist in Gaza, I was keen to file to my editors a story on the electricity cuts. I did the job, I talked with the people, I collected the material but when I went to my office and sat down in front of my PC, there was no electricity.

I have done my best over the past three days to have my report done in due time. I rented a benzene power generator but as soon as I plugged in my PC, the screen went black.

I came home, switched on the generator once again, and my children happily insisted on seeing their favorite TV program. However, another failure occurred, this time with the satellite receiver.

I tried to appear cheerful in front of my children, the room illuminated by a kerosene lamp. I collected my children, my nephews and niece, who live in the same building, and in lieu of cartoons, I began singing some traditional Palestinian songs and others.

The children were happy, thank God, simply because I knew how to sing. But with so many other situations in Gaza, the solution is not so simple.

At Gaza City's largest hospital, al-Shifa, there is the infant care ward. They have incubation equipment but urgent care is crippled when there's severe power failure.

The hospital does possess power generators, but they are for emergency situations and not suitable for day-to-day operation, says Naser al-Sa'di, the director of the infant care ward.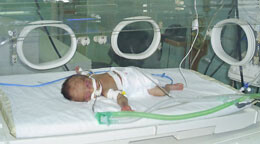 Dr. al-Sa'di took us on a tour of his ward, explaining how difficult the situation is for such babies under his care.

"The life of this three-week-old baby, Sabrin Doush, is threatened. If the power cuts completely, this baby is likely to die. We cannot deal manually with every baby. Therefore, more deaths are likely to happen, unless we have a continuous current."

In another corner of al-Shifa there are 200 renal failure patients, whose lives are also threatened by the power cuts.

The department does have dialysis machines but such equipment cannot work properly under these conditions.

Dr. Mohammad Shabat, director of the department, is concerned for the lives of his patients. "They need dialysis treatent three to four times a week; electricity is very important here. The dialysis machines make errors during the power outages. Any patient who does not receive the needed dialysis within 24 to 48 hours will likely die."

And why is the electricity cut? Gaza used to belong to the technical age. But in October an Israeli court decided to uphold the government's decision to turn off the lights in Gaza as part of the state's siege of collective punishment against the beleaguered Strip.

The Gaza power plant used to receive EU-funded fuel from Israel. The plant provided 45 percent of Gaza's daily electricity needs while Israel provided for the remaining amount. Gaza's sole power plant, all six of its transformers were destroyed by Israeli bombardment in 2006. Then this past September, ostensibly in an attempt to deter the firing of homemade rockets from Gaza into Israel, the state declared the Gaza Strip an "enemy entity," and the following month it imposed severe cuts of fuel supplies to the coastal Strip, causing additional hardships for the already struggling population.

"The Gaza power plant needs 450,000 cubic meters of fuel to generate 80 megawatts daily. Such a quantity has been decreased to 250,000. The problem can only be resolved by the Israeli government," says Derar al-Sisi, deputy-director of the Gaza power plant.

Al-Sisi adds, "We have appealed to all concerned bodies, including the European Union, the Palestinian Authority and even to the Israelis, through Europeans, but we have not heard an answer so far."

In the meantime, we Gazans are trying our best to live normally as our fate is toyed with in a court in Jerusalem.

Rami Almeghari is currently contributor to several media outlets including the Palestine Chronicle, aljazeerah.info, IMEMC, The Electronic Intifada and Free Speech Radio News. Rami is also a former senior English translator at and editor in chief of the international press center of the Gaza-based Palestinian Information Service. He can be contacted at rami_almeghari at hotmail.com.

All images by Rami Almeghari.

Related Links