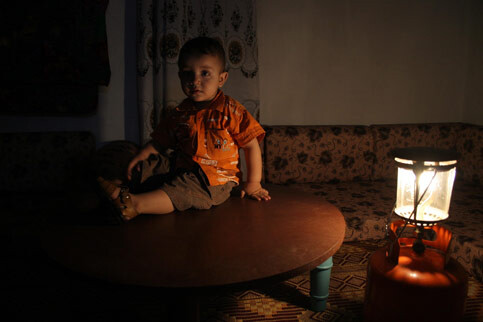 On Tuesday, Gaza was plunged into complete isolation and darkness as the electricity was cut off. It was like being in the stone age; movement was paralyzed during the day and there was total blackout at night.

When there is no power, there is also no water: most houses use electricity to pump water up to their roof tanks. Muhammad, six, and his little sister had to carry water bottles home because they had no household supply.

Many business owners had to resort to gasoline generators to keep going. Ala'a Eldin al-Salahat, from central Gaza, is a seller of frozen foods. He was forced to rent a power generator for eight hours at a cost of 100 shekels ($22 US).

"What shall I do," says Ala'a, "I must prevent my goods from going bad, or I would lose even more money, and I cannot afford that."

Ahmad Bohairi, a goldsmith, maintains that the power outage has caused him great loss as well as some of his credibility with his clients. He held both Fatah and Hamas responsible. "They are both responsible for us, so we hold them both responsible for the crisis," he says angrily.

During the night, Gaza becomes a weary place, particularly in the shadow of recent Israeli air strikes on the region. But people do their best to enjoy life's moments.

Robin Mesleh, from central Gaza, also had to rent a generator so his wedding party would not take place in complete darkness and he could still have a memorable day. Robin says, "I had to make unwanted extra payments for the generator but it's the day of my lifetime day, so how can I imagine I am losing it." Nevertheless the wedding was repeatedly disrupted by power cuts as the generator was unable to keep up.

More serious problems with the electricity are how Gaza's hospitals are having to get by on low-capacity generators. According to health ministry officials most of these generators need repair or spare parts, and there are only enough to power the most critical units, such as intensive care or those caring for people with chronic illnesses.

Since June, Gaza has been placed under a strict Israeli closure, with commercial and travel crossings closed and movement nearly paralyzed after the Hamas-led government took complete control of the Strip.

Last Thursday, Israel halted fuel supplies to Gaza's main power plant for what Israel claimed were "security threats."

The European Union (EU), which pays 30 percent of cost of the fuel, said it stopped its subsidy due to allegations that the Hamas government was attempting to collect tax on electricity bills from residents of an already impoverished Gaza.

Meanwhile, officials in the US and EU-backed Ramallah government headed by Salam Fayyad and loyal to Palestinian Authority President Mahmoud Abbas blamed the Gaza-based Hamas government for the crisis. Finally, the EU agreed to resume payments for the fuel after receiving assurances from Hamas that it was not interfering with the electricity company.

Hamas officials categorically denied this claim, and caretaker prime minister Ismail Haniyeh invited EU officials to come and see for themselves.

An official of the Gaza electricity company told a researcher from the Palestinian Centre for Human Rights (PCHR) that "all collected bills are deposited in the company's bank account, and that all public bodies, including the president's [Mahmoud Abbas] office, are aware of this fact." In an 21 August statement, PCHR condemned the power cut-off as a form of "collective punishment" against the people of Gaza, and called "upon Israeli Occupation Forces (IOF) and the international community, especially the European Union, to fulfill their humanitarian responsibility towards the civilian population, and to provide urgent fuel supplies to the power station."

By wednesday, the crisis had reportedly been resolved, at least for the time being, as the EU agreed to resume payments and power returning to parts of Gaza.

Rami Almeghari is currently contributor to several media outlets including the Palestine Chronicle, aljazeerah.info, IMEMC, The Electronic Intifada and Free Speech Radio News. Rami is also a former senior English translator at and editor in chief of the international press center of the Gaza-based Palestinian Information Service. He can be contacted at rami_almeghari at hotmail.com.