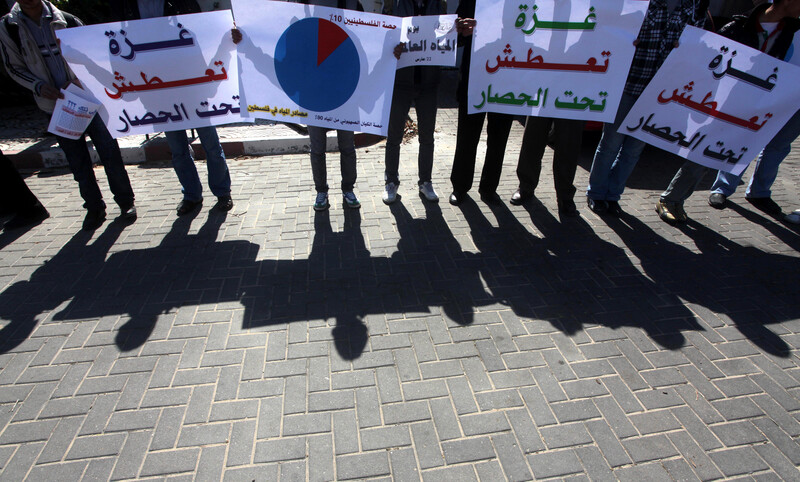 "Sir, I just received a notification from the central area prison that there is prison inmate with kidney pain. What shall I do, should I head for the place?"
"No, please hold on until I make sure myself that the case is urgent."
And so Sami Abu Shaira, in charge of the Deir al-Balah ambulance station in the central Gaza Strip, did not send an ambulance on the instructions of the headquarters of Gaza's ambulance emergency service.
As a fuel shortage has worsened across the coastal territory, the ambulance service has been forced to stop responding to all calls except the most critical cases, Abu Shaira told The Electronic Intifada.
With fuel reserves at zero, medical officials are warning that in case of another large-scale military attack by Israel, the ambulance service would be unable to cope.
Most people in Gaza only have electricity for six hours per day. Gaza has suffered chronic electricity and fuel shortages due to Israel's 2006 bombing of the territory's only power generating plant, exacerbated by the blockade which severely restricts fuel imports, as well as disputes between the Gaza and West Bank wings of the Palestinian Authority over payment.
The immediate cause of the current shortage, however, stems from a dispute between Egypt and Hamas authorities in Gaza over the delivery of fuel imports through Israel.
Only the most urgent cases
Movement of ambulances throughout the Gaza Strip has been increasingly curtailed over the past few weeks. Ambulance drivers and medical rescue teams in Gaza have expressed concern over the dire situation in a part of the world where Israeli violence and Palestinian counter-violence have been all too common.
"I feel very embarrassed and sad that I am no longer able to serve my own people. Because of this crisis of fuel in Gaza, I cannot promptly respond to emergency calls, whether road accidents or patients inside homes," said Hatem al-Akjramy, a paramedic and ambulance driver from northern Gaza, as he took part in a sit-in on the Gaza side of the Rafah crossing terminal into Egypt on Sunday morning.
"A couple of days ago, while I served in an ambulance station, a neighbor came over to us asking for some oxygen for his child who suffered respiration difficulties but the only thing we did is run the ambulance's respiration system instead of transferring him to hospital," al-Akjramy said, offering an example of how the crisis is affecting services.
"Unprecedented situation"
The sit-in, according to Adham Abu Silmaya, a representative for the ambulance and emergency service in the Gaza Strip, was aimed at sending a message of protest to the concerned parties, including Egypt and other Arab countries that the situation is getting much worse and that a solution is urgently needed.
"This is an unprecedented situation in a part of the world that often witnesses Israeli military attacks. In order to cope with such conditions, we have set up an emergency plan that only deals with most critical or urgent cases. First aid will be provided only to such cases," Abu Silmaya told The Electronic Intifada.
Unable to cope in event of Israeli attack
Asked whether Gaza's ambulance service could deal with a large-scale outbreak of violence against the Gaza Strip, Abu Silmaya answered, "We hold the Israeli authorities, being the occupying power, morally and legally responsible for an unwanted outcome of any military escalation in terms of casualties here in Gaza." But he warned, "I cannot assure you our crews can work with full capacity in case of any Israeli attacks on the region. We are now in a very critical situation."
Two weeks ago, ambulance crews in Gaza had no difficulties handling the casualties across the Gaza Strip, when several days of Israeli attacks left more than 24 Palestinians dead and 74 injured, according to the Palestinian Centre for Human Rights' weekly report for 8-14 March.
That violence began after Israel carried out the extrajudicial executions of two Palestinian resistance leaders, prompting some Palestinian armed groups to retaliate by firing rockets towards Israel.
"Only the fuel in their tanks"
According to Dr. Fouad Nejim, deputy-director of government medical services in Gaza, the work of emergency and ambulance has been reduced by fifty percent.
"We have zero reserve of fuel at our stations across the Gaza Strip," Nejim told The Electronic Intifada. "All of our ambulances have only the fuel in their own tanks. And some of the vehicles are only half full and others have even less," Nejim said. Of Gaza's approximately 150 ambulances, about 50 have no fuel at all.
Gaza blackout
Over the past month, the power plant in Gaza has been forced to stop functioning more than once due to fuel shortages. Not only does this mean that most households only have electricity for a few hours a day, but it has affected public transportation, water networks and various institutions.
With the chronic power shortages, many households and businesses are dependent on generators, but fuel to keep them running is almost impossible to come by. Local industries have been forced to stop working, while trucks carrying goods to Gaza from border crossings reduced work to critical tasks such as transferring medical and other essential supplies.
Political maneuvers
To cope with the constant fuel shortages, Egypt offered to send fuel through the Israeli-controlled Kerem Shalom border crossing with Gaza, but Hamas authorities who run the interior of Gaza refused, demanding it be sent directly from Egypt into Gaza through the Rafah crossing. Hamas hoped to break Israel's stranglehold on fuel supplies to Gaza.
Officials have since negotiated an alternative agreement, according to media reports, though the details remain spare.
On Friday, the Palestinian Authority in Ramallah paid for an immediate transfer of 450,000 liters of industrial diesel from an Israeli supplier for Gaza's power plant. But the fuel only lasted a few days and on Sunday, the plant announced it had stopped functioning. Some blame the fuel shortages on the Palestinian Authority in Ramallah, and Egypt cutting off fuel shipments through the underground tunnels.
The Israeli blockade also limits what kind of fuel comes into the coastal territory. Last month, the International Committee of the Red Cross sent more than 100,000 liters of diesel to help hospitals serve patients. But that fuel was only expected to last ten days.
Qatar and Algeria have offered free fuel and Hamas officials began taking measures to reduce consumption, including reducing working hours for government-owned vehicles and offering free rides to the public.
"We look forward to Egypt solving the crisis, especially the brothers in the General Intelligence Service, with whom we have been in constant contact," Taher al-Nunu, spokesperson for the Hamas-led government in Gaza, said at a press conference last Tuesday. He also urged the European Union to resume funding for the fuel needed to run the power plant, adding, "we hold the Israeli occupation responsible for the current crisis."
At the Deir al-Balah ambulance station, Samir Abu Shaira lamented his inability to do his life-saving job due to the crisis. When he and his colleagues are unable to respond to every call, he said, "we stop being aid workers."
Rami Almeghari is a journalist and university lecturer based in the Gaza Strip.
Editor's Note: An earlier version of this article referred to an Associated Press report that a baby had died because the generator at his family's that kept his respirator working ran out of fuel. The reference has been removed because the Associated Press withdrew the story.
Tags