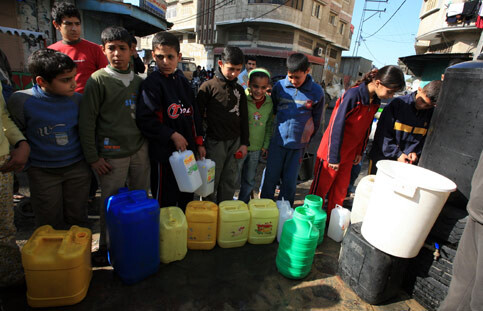 RAMALLAH

, occupied West Bank (

IPS

) - As environmental experts, non-governmental organizations and government officials gather in Istanbul this week to attend the Fifth World Water Forum, the International Committee of the Red Cross (

ICRC

) has drawn attention to the critical water situation in Gaza.

"ICRC teams are repairing water and sewage systems in Gaza that were badly damaged during the three-week Israeli military operation in January," the ICRC says in a media release.

"According to the Ministry of Health in Gaza, one-fifth of the population had no direct access to drinking water, and relied on water purchased from private suppliers. Today, thousands of people still have no access to running water."

Much of Gaza's infrastructure was destroyed during Israel's military assault on the coastal territory during Operation Cast Lead, which created a critical humanitarian situation on the ground.

The UN Office for the Coordination of Humanitarian Affairs (OCHA) says 150,000 Gazans still remain affected by inadequate and unsafe water supply. Of these, about 50,000 remain without any water while the remainder receive water only every five to six days.

The OCHA adds that approximately 28,000 children in the Gaza Strip have no access to piped water. An additional 56,000 children have access to water only every week or so.

Gaza's Coast Municipalities Water Utility (CMWU), which handles water and sewage treatment, says the water crisis will continue until Israel allows sufficient spare parts and repair materials into Gaza.

Israel's continuing blockade of the Strip means that construction material, most spare parts and repair materials have been prevented from entering. This has made it impossible to rebuild the thousands of destroyed and damaged buildings. It has also severely restricted repair of vital infrastructure such as waste and water treatment plants.

Continual electricity blackouts have further limited the treatment plants' operating capacity, while severe restrictions on the import of fuel have limited the ability of emergency generators.

While the war exacerbated the situation, Gaza's infrastructure was already dilapidated and in urgent need of repair due to the previous 18 months of closure which followed Hamas taking power in June 2007.

The CMWU has been forced to pump tons of untreated sewage directly into the sea, which then seeps back into Gaza's underground water supply, further threatening safe drinking water supplies.

Recent water tests indicate that piped water in Gaza is not safe for human consumption. Forty-five of 248 water samples tested were found to be contaminated, primarily in the North Gaza and Gaza City districts.

Israel shelled Gaza's biggest wastewater treatment plant in Sheikh Ajleen, south-east of Gaza City, which usually treats raw sewage from approximately 400,000 people. The torrent of raw, untreated sewage flowing into residential areas, agricultural land and the sea was visible from outer space, according to satellite images released by the UN.

The UN's Operational Satellite Applications Programme (UNOSAT) showed the impact of the crater from the Israeli bomb and a sewage flow that traveled a distance of 1.2 km.

The ICRC and CMWU have been coordinating efforts to repair the plant but have been hampered by delays in obtaining the necessary approval from the Israeli authorities to bring in pipes and spare parts.

"The first thing people ask us for is water and electricity," says Marek Komarzynski, an ICRC water engineer. "That is what they need to lead anything like normal lives."

But the humanitarian crisis in the wake of the war and the blockade affects nearly every other aspect of the daily lives of ordinary Gazans.

At the end of February the UN agency for Palestine refugees (UNRWA) assessed that over 2,000 families needed their homes to be rebuilt, while nearly 11,000 families required urgent repairs to their homes. The agency said it expected the figures to rise.

Six Palestinian Authority (PA) schools in northern Gaza were also severely damaged, forcing nearly 5,000 school children to relocate to other schools. The overcrowding meant that additional double-shifts were introduced, further burdening the 351 schools, approximately half of which already run double-shifts.

Meanwhile, Gaza's hospitals are struggling because equipment such as neonatal machines lack spare parts, while some medicines are not available. Furthermore, only half of more than 300 Gazans who wanted to travel abroad for emergency medical treatment succeeded in getting permits from Israel.

Malnutrition is another growing problem, and children and pregnant women bear the brunt. UNICEF recently provided vitamin supplements to 50,000 babies and children under five.

The OCHA says that the 127 truckloads of daily aid permitted in by the Israeli authorities are insufficient to meet market needs. Prior to the blockade 475 trucks entered daily.

Poverty and unemployment plague Gaza following Israel's destruction of various sectors which provided employment.

The Private Sector Coordination Council (PSCC) assesses that 700 private sector establishments were either completely destroyed or damaged. The damage is valued at 140 million dollars.

The UN Development Programme (UNDP), the Food and Agriculture Organization (FAO) and the Palestinian Ministry of Agriculture estimate that 180 million dollars worth of damage was done to agricultural infrastructure.

The fishing sector was estimated to have suffered direct and indirect losses of 2.2 million dollars, due to destruction of fishing boats and related materials. And even those who are employed and earning are struggling. According to the International Monetary Fund (IMF), Israeli restrictions on the entry of cash into Gaza have affected the livelihoods of up to half a million Gazans, in a population of 1.5 million.

All rights reserved, IPS - Inter Press Service (2009). Total or partial publication, retransmission or sale forbidden.