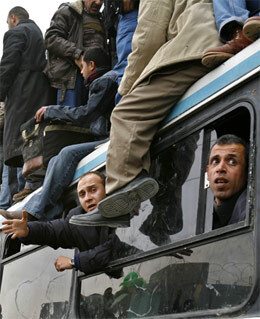 CAIRO, 24 June 2007 (IRIN) - Up to 2,500 residents of the Gaza Strip are stranded on the Egyptian side of the border crossing at Rafah and in the towns of al-Arish and Rafah in the North Sinai governorate, aid agencies say.
The border area between Egypt and the occupied Palestinian territories (OPT), which has been sealed off to media and tourists following an escalation in violence in Gaza, is continuing to host Palestinians unable either to cross to their home territory or return to Cairo. Many of the travellers are attempting to return following medical treatment in the Egyptian capital.
Rula Khalafawi, spokeswoman for the UN agency for Palestinian refugees (UNRWA) in Cairo, said that around 1,000 people are stranded at the border checkpoint itself, without means to afford accommodation in the nearby towns of Rafah or al-Arish.
"They are afraid to leave the border in case it opens and also do not have the money for hotels. They are out there by themselves in the desert," Khalafawi said.
The Rafah border has been frequently closed by Israeli authorities since violence in the Gaza Strip flared in the summer of 2006. Recent factional fighting has led to the pedestrian border crossing - which is a vital link for Gazans seeking employment, medical treatment and education outside the territory — being closed since 9 June.
The remaining 1,500 Palestinians are in commercial accommodation in al-Arish and Rafah, and, according to UNWRA, are seeking assistance from the Egyptian government.
However, both the Egyptian Red Crescent and the Egyptian State Information Service (SIS) office in Rafah disputed UNRWA's estimate and denied that there are any unsheltered Palestinians at the border post itself.
Mohammed Abdullah, Palestinian Affairs Director for the Egyptian Red Crescent, told IRIN that there were no travellers at the border post itself, and that "people are free to travel to either Cairo or Alexandria, according to the status of their identity card".
SIS officials told IRIN that there were as many as 4,500 Palestinians in the two towns.
While the humanitarian situation of Palestinians waiting to travel to Gaza remains unclear, UNRWA has stated that it may soon issue a direct request to the Egyptian Red Crescent, its local partner, to provide shelter and other assistance to stranded Gazans.
A significant build-up of Palestinians on the Egyptian side of the Rafah border crossing last occurred a year ago, when as many as 5,000 people were stranded between border closures at any one point.
This item comes to you via IRIN, a UN humanitarian news and information service, but may not necessarily reflect the views of the United Nations or its agencies. All IRIN material may be reposted or reprinted free-of-charge; refer to the copyright page for conditions of use. IRIN is a project of the UN Office for the Coordination of Humanitarian Affairs.
Related Links