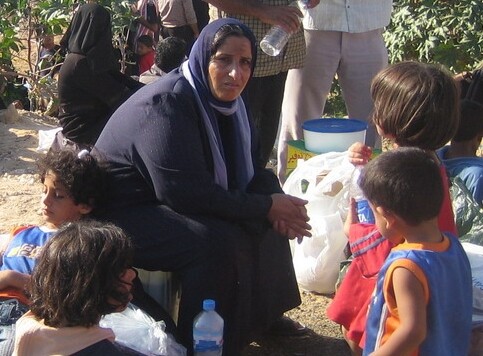 CAIRO
- The Red Crescent Society in Egypt has denied reports that four Palestinians stranded on the Egyptian side of the Rafah border crossing with the Gaza Strip had died as a result of poor conditions. In contrast, the
NGO
says it has provided fully for the needs of the Palestinians.
"The needs of the Palestinians stranded at Rafah are well catered for," said Red Crescent Society director general Magda al- Shirbini. "Medical assistance is being provided, as is food, water and blankets. And two temporary tents have been set up for them."
Al-Shirbini clarified where the apparent misunderstanding over the deaths arose from. "Two Palestinians in Egypt have died since the crisis erupted," she said. "One of them died in Cairo, the other in his home in al-Arish [in different circumstances]."
The border crossing, which is 350km north of Cairo and constitutes the Gaza Strip's only gateway to the world, has been closed from the Israeli side since 25 June for 'security reasons'.
Since then, hundreds of Palestinians have been stranded there, unable to return to their homes in Gaza. "At any given point, there are 800 to 1,000 Palestinians stranded at the border crossing," said Al- Shirbini, adding that inside the terminal building on the Egyptian side, there are about 300 more.
According to an Egyptian foreign ministry source speaking on condition of anonymity, a total of 5,000 Palestinians, including those at al- Arish 40km away from Rafah, are currently blocked from re- entering Gaza because of the closure. "They are being cared for by the relevant authorities," the source said. "However, a solution has to be found."
An agreement brokered by US Secretary of State Condoleezza Rice signed 15 November 2005 stipulated that the Rafah border crossing be controlled by the Palestinian Authority and Egypt, with the condition that the European Union (EU) would monitor the terminal.
However, EU monitors have not been present at the border crossing since 21 June, a few days before Israel closed it in response to the capture of Israeli soldier Gilad Shalit.
Israel has since proposed that humanitarian cases be transferred back into Gaza via the Kerem Shalom border crossing with Egypt, which is Israeli-controlled. "The Palestinians have rejected this option," said the Egyptian foreign ministry source. "They worry that, should they accept, Rafah may remain permanently closed."
The EU delegation in Cairo was not available for comment on the situation at the time of writing.
Although the Rafah border crossing has been routinely closed over recent years, it has often provided an invaluable lifeline for the Gaza Strip's economy, which remains among the poorest in the Middle East.
This item comes to you via IRIN, a UN humanitarian news and information service, but may not necessarily reflect the views of the United Nations or its agencies. All IRIN material may be reposted or reprinted free-of-charge; refer to the copyright page for conditions of use. IRIN is a project of the UN Office for the Coordination of Humanitarian Affairs.