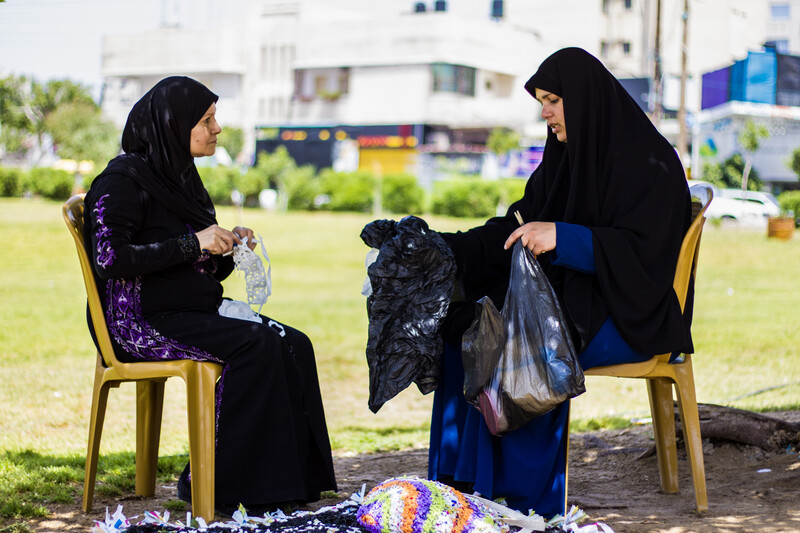 Karam Aziz, a shy 16-year-old, knocks on doors in Jabaliya refugee camp, asking for old shopping bags. Locals enquire why he wants them, yet happily hand over any they can find. Within half an hour, Karam usually has about 70 bags — vital raw material for an arts and crafts project using recycled materials.
Once he has collected the bags, Karam brings them to his sister-in-law Zainab. She and her team of 20 women transform plastic and nylon garbage into colorful toys, baskets, cushions and ornaments.
Zainab Aziz, a 25-year-old mother of two, set up the project after graduating with an Arabic language degree from Al-Aqsa University in Gaza City last year. The project is known as The New Heritage because it gives a modern and environmentally conscious twist to traditional handcrafts.
The process of making art from garbage is a long one. First the old bags have to be washed and sterilized, then cut into pieces suitable for crocheting.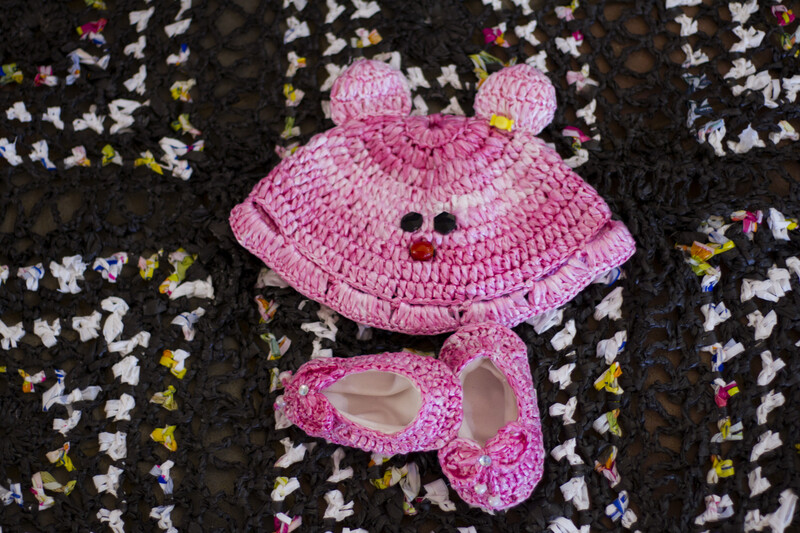 The first toy that Zainab made "took 37 hours — stretched over three days — to complete," she said.
The women working with her have all encountered difficulties finding jobs. Data from the Palestinian Central Bureau of Statistics put the rate of unemployment in Gaza at 41 percent during the first few months of 2016. Female unemployment — at 63 percent — was almost twice the rate for men.
The high unemployment rate in Gaza is a result of the ongoing blockade imposed by Israel since 2007, which has quashed any potential for the strip's economy to recover from three massive military offensives between 2008 and 2014.
Meanwhile, divisions between the Hamas government in Gaza and the Fatah-dominated Palestinian Authority in the West Bank means that many civil servants aren't collecting regular paychecks and programs to alleviate unemployment were canceled two years ago.
The UN has warned that Gaza could become "uninhabitable" by 2020.
Most members of The New Heritage team have university degrees.
"They didn't find employment opportunities after graduation because of the economic conditions and the large number of graduates in the strip," said Zainab.
While providing sorely-needed employment is a key goal of the project, The New Heritage also tries to promote the recycling and reuse of waste. "We try to protect the environment," said Sanaa Mahdi, one of the team.
She noted that plastic bags are usually not biodegradable, that they can harm animals who eat them and that burning them pollutes the air.
At 53, Mahdi is the oldest member of the project. In 2001, her only son was killed by Israeli forces. Deeply in shock, she resorted to crochet work to keep her busy. She found it therapeutic.
"The will is strong," Mahdi sang to encourage her colleagues. The line comes from a song by Lebanese musician Marcel Khalife.
As well as taking part in a number of exhibitions, the team has set up a Facebook page to promote its work. The women also hope that they will be able to open a shop so that people in Gaza can call in and buy their products.
Hamza Abu Eltarabesh is a journalist from Gaza.
Tags