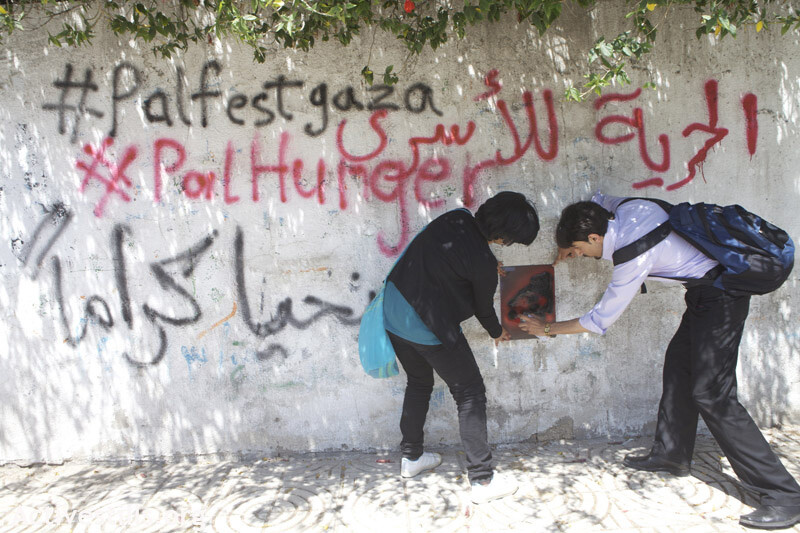 Spirits were high in Gaza City's Shalehat resort the Saturday afternoon after a ceasefire ended eight days of escalated Israeli attacks on the Gaza Strip. Eighty activists had gathered to discuss their use of social media during the aggression and plan their next steps.
"I am very proud to have been a part of this army of tweeps," Ola Anan said, welcoming other participants. Anan is a cofounder of Diwan Ghazza, the group that convened the event. "We were very well-organized."
"Diwan Ghazza is a platform for spreading knowledge and culture," she said later. "We organize cultural events such as a book club, a film club and seminars about science and history, as well as events targeting bloggers and social media activists in Gaza."
In periods of relative calm, many Gaza Strip residents use social media, mainly Twitter, to report Israeli bombings and share updates. During the war, these same tools helped spread news of mounting casualties and mobilize international support.
At the end of the first day of attacks, The Washington Post reported that variations of the hashtag #GazaUnderAttack, used by Palestinians in Gaza and supporters worldwide, had been tweeted 120,000 times, compared with only 808 for the pro-Israel #PillarOfDefense ("Is Hamas winning the Twitter war?" 14 November 2012).
Six days later, a subsequent count by Russia Today found #GazaUnderAttack and #PrayForGaza still outpacing pro-Israel hashtags #IsraelUnderFire and #PrayForIsrael by factors of 10 to one and 20 to one, respectively ("Twitter Warzone: Israel losing battle of words on social media").
At Diwan Ghazza's "summit," many of the activists whose tweets had driven these numbers traded stories of their efforts.
Limitations
"We formed a committee to report the Israeli aggression in Deir al-Balah," one participant said. "Ninety percent of us used Twitter and Facebook. Our main problem was geography. We couldn't move from one city to another."
Others spoke of efforts to overcome the limitations imposed by siege and war. "Some people would call when our electricity was off for eight hours and tweet our news for us," Maram Humaid said. "This shows that there was solidarity."
Humaid, a recent graduate of Gaza City's Al-Azhar University, "focused on tweeting using my French, because none of my friends tweeted in French," she said later. "Many of my Francophone followers sent me replies encouraging me to continue spreading news in French. I didn't publish only news, but moved on to talk about daily life under attack, about the feeling of horror, the Israeli aggression and atrocity of targeting people, and so on."
Some meeting participants found translators to spread their information in more languages. "I got in touch with the Japanese Communist Party," one said. "I sent them tweets in English, and they translated them into Japanese."
"I talked to three friends from Hebron," another said. "They tweeted in Hebrew."
Beyond mobilizing international activists, social media from Gaza helped Palestinians abroad, who used it to track news of their families and communities.
"I owe Twitter, through which I got to follow up with Gaza news during the most recent attack," Fidaa Abuassi, a Gaza City resident pursuing graduate studies in education at Hamilton College in Clinton, New York, told The Electronic Intifada. "I could trust my friends from Gaza who were tweeting updates way faster than other media outlets."
Abuassi, who spoke at a New York City demonstration against Israel's attacks, added that social media helped drive activists to protest.
"When I asked many friends how they knew about what's really going on in Gaza, they told me that they follow what bloggers, tweeters, writers say about it," she said. "This helps them understand it more."
The use of social media also forged connections with international media, who contacted Gaza residents with questions and interview requests.
"Many French journalists tried to reach me," Humaid said. "My voice also reached to the Francophone media. It was a good experience."
Heartwarming
"The feedback I was getting from all over the world was heartwarming," Anan said, echoing a common sentiment among attendees at Diwan Ghazza's meeting.
"This was an initial meeting for Twitter and Facebook users," she added. "The purpose was to let them meet each other face to face. We wanted to hear personal stories about social media activism, advantages and disadvantages, and to come up with new ideas in order to be more organized in the coming days."
"It was also to discuss, in general, what we did right and what we didn't," said Yasmeen El Khoudary, an Electronic Intifada contributor and Diwan Ghazza co-founder. "It was very effective judging by the number of people who showed up, by the lively discussion that took place, and by near-future plans to continue."
In the Shalehat, ideas flowed freely.
"We need more statistics and numbers," a woman said. "We can be very accurate as well."
"We should talk about our own experiences as individuals, not only what is going on in the news," another responded.
Flaws
Many participants criticized flaws in the recent flood of tweets.
"Some tweeps helped the Israelis militarily by tweeting information about resistance activities," a man said.
"Some claimed, when they tweeted something, that it was from a private source," a woman said. "What kind of private source? They should be clearer."
"Some people used photos from Syria," a man said. "We must be careful. We have many pictures and many stories to tweet. We can afford to be selective."
Despite these criticisms, there was general agreement on the success of their efforts and the need to continue them.
"We should always be active," one participant said. "We should support prisoners, whether there is another hunger strike or not. We shouldn't wait for another war to defend children."
"Before the war, my tweets were dedicated to the cause of Palestinians prisoners," Humaid said. "The war has ended for now, so I'll be back tweeting for the prisoners, whom I consider as the heartbeat of the Palestinian cause."
The Diwan Ghazza social media committee plans to meet again soon, El Khoudary said, with the goal "for social media activists to become a unified, reliable source of news and personal stories from Gaza."
"The media focuses on only one side, the Israeli narrative," Abuassi said. "Social media helps in giving our narrative power. It gives it a voice."
Joe Catron is a US activist in Gaza, Palestine. He works with the Centre for Political and Development Studies and other Palestinian groups and international solidarity networks, particularly in support of the boycott, divestment and sanctions and prisoners' movements. He blogs at joecatron.wordpress.com and can be followed on Twitter @jncatron.
Tags