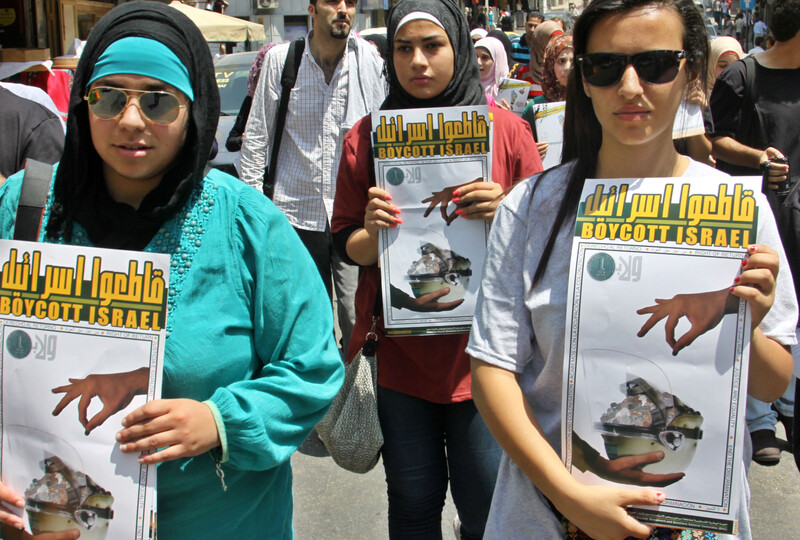 Malaka Mohammed, an English literature student at the Islamic University of Gaza (IUG), is the president of the university's English Language Club for female students. Under her leadership, the club of 15 members has embarked this fall on the Gaza Strip's first campus-based boycott, divestment and sanctions (BDS) campaign targeting Israel. "After knowing that there was something called BDS, I made up my mind to do something," Mohammed said. "So when we had our first meeting, I proposed that we boycott Israeli goods at IUG."
Student BDS activism in the Gaza Strip began with the January 2009 launch of the Palestinian Students' Campaign for the Academic Boycott of Israel (PSCABI), part of the Palestinian Campaign for the Academic and Cultural Boycott of Israel (PACBI). For nearly four years, the student campaign has organized at campuses across the coastal territory, mostly in support of the academic and cultural boycott of Israel.
But the IUG club's activities are the first BDS-specific effort in the Gaza Strip based within a particular university, or opposed primarily to the purchase of Israeli products by Palestinians. "We have a special condition here in the Gaza Strip," Haidar Eid, an English literature professor at Gaza City's Al-Aqsa University, said. "We have been under a medieval siege since 2006. Often, we can hardly get alternative products. So we understand when people buy Israeli goods because they have no other choice."
Eid is an activist in PACBI and the Campaign to Open the Rafah Crossing Permanently and Unconditionally. "We encourage people to buy Egyptian, Turkish and Jordanian products smuggled through the tunnels whenever possible. But the priority goes to Palestinian goods," he added.
Israel's siege of the Gaza Strip forces the territory to rely heavily on its imports. And 1.6 million Gaza Strip residents, denied opportunity to trade freely with the outside world, offer Israeli producers an appealing captive market. Since the beginning of 2012, approximately 48,000 truckloads of Israeli products have entered the Gaza Strip, including nearly 21,000 trucks containing food and agricultural goods, even as Israel has only allowed 147 truckloads of exports to leave through its Kerem Shalom crossing ("Gaza Crossing Activities Database," UN Office for the Coordination of Humanitarian Affairs, 1 November 2012).
Boycotting for dignity
"Many students like buying delicious things, but they don't know these are Zionist goods from Israel," Mohammed said. "So they buy and eat them, without knowing that their shekels will go toward the Israeli killing machine."
Her club seeks to discourage these purchases, in part by hanging posters on the IUG campus, with captions and slogans reading: "Whenever we buy or sell a Zionist product, we help to murder one of our family members;" "To boycott is dignity. It is power;" "The jailor never frees the occupied, the occupied fights for freedom. Start with boycotting;" "Boycotting is a call for freedom." One poster contains what Mohammed describes as the campaign's motto:"To boycott is to resist and to resist is to boycott!"
"We are now witnessing a kind of revolution, in South Africa, in Britain, in many countries that are boycotting Israeli goods," she said. "So why not start from the inside?"
Vending machine victory
Her club has also targeted institutional purchases by IUG and its contractors. "We went to the IUG student council and suggested a campaign to boycott Israeli goods," she said. "After our suggestion, we took a formal letter from the head of the student council to the cafeteria. They appraised and accepted the idea.
"They were okay with implementing it, although they said they were selling no Israeli goods. But as I left the cafeteria, I saw some for sale in a vending machine. I spoke to its owner, who said it would be the last time I would see his company selling Israeli products at IUG. Since then, I have not seen any.
"We have also talked about this with shops outside the university. Many of them have stocked Israeli goods. But again, the most important thing is to begin from the inside. When students know that these products are prohibited, they will not buy them from the outside either."
Motivation
The BDS movement connects Palestinian student activists with their counterparts around the world, Mohammed said. "We can't do anything alone here in Gaza. There is a mutual, reciprocal relationship between BDS activists in Gaza and people abroad. We can't boycott Israel without the help of activists elsewhere. Their support gives us motivation to go on.
"I know that many students all over the world love us, and appreciate our fight to get our freedom and our rights. So our message, and our appeal to them, is to not turn their backs on us, and to keep their support up. I appreciate everything they have done to support us."
Haidar Eid noted that the IUG campaign "comes within the context of the support that Palestinian students have been getting from their peers in European, American and South African universities. Such support includes the latest resolution by Wits student council to endorse the BDS call, and the 34 British campuses occupied by students in solidarity with Palestine in general, and Gaza in particular, during the Gaza massacre."
Recalling his own days as a student activist during the first intifada, he referred to a tradition of Palestinian student resistance. "Students were at the forefront," he said. "They confronted occupation forces from the West Bank to the Gaza Strip, at an-Najah, Birzeit and Islamic Universities."
Joe Catron is a US activist based in Gaza, Palestine. He works with the Centre for Political and Development Studies (CPDS) and other Palestinian groups and international solidarity networks, particularly in support of the boycott, divestment and sanctions and prisoners' movements. He blogs at joecatron.wordpress.com and tweets at @jncatron.
Tags