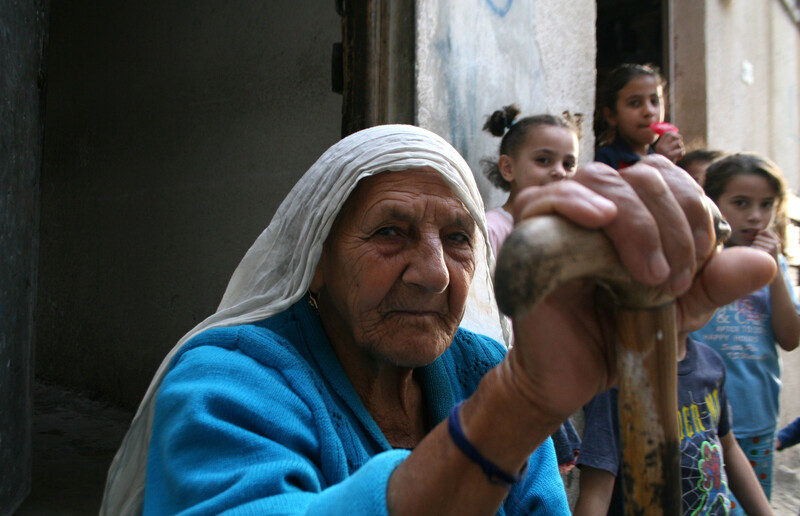 Tucked into a quiet basement suite in the main building of the immaculate Islamic University of Gaza campus, the Oral History Center could at first be mistaken for a bursar or registrar's office.
But its stacks of metal filing cabinets may contain more memories per square meter than any other place in the occupied Gaza Strip.
Researcher Nermin Habib said that the center conducted interviews with those who had witnessed the Nakba (Arabic for catastrophe), the ethnic cleansing ahead of Israel's foundation in 1948, as well as the Naksa (setback), Israel's occupation of the West Bank, Gaza, Golan Heights and Sinai in 1967.
"We have already conducted 1,500 oral interviews and archived audio files from them," Habib added. "A meeting can last anywhere from half an hour, to two or three hours. We can also have follow-up meetings.
"We have also published 120 [interviews] in written form. In the future, we plan video interviews. We hope to use them to produce a documentary film about the history of Palestine."
Launched as part of the university's faculty of arts in 1998, the Oral History Center has a staff of experienced field researchers and recent graduates from the university's departments of history, press and media, and social studies.
"Building from scratch"
Its work with first-generation Palestinian refugees begins with finding them.
"It is by experience, by relationships," said Habib. "We built the archive from scratch. There is no systematic reference center for such information in Gaza."
The Oral History Center researches a number of fields. Beyond displacement and refugee life, it has programs on Palestinian regions, folklore, politics and culture, as well as Israeli violations of Palestinian rights.
"We are trying our best to maintain our Palestinian identity and Palestinian heritage, customs and traditions, like food and dress, after the Nakba," said Habib. "Oral history has links with all fields of knowledge, like folk medicine. It's part of our work as historical researchers to convey this information.
"We seek to document the history of the Palestinian people and the main events that have shaped the Palestinian cause."
The Gaza Strip has the highest proportion of refugees of any territory in the world. Few aspects of life, from the economy and politics, to the broad range of local foods and dialects from elsewhere in Palestine, are unaffected by the Nakba, during which approximately 750,000 Palestinians were displaced by Zionist forces and hundreds of villages and cities depopulated.
By the beginning of 2013, the UN agency for Palestine refugees, UNRWA, had registered more than 1.2 million refugees in Gaza, out of a total population of nearly 1.7 million.
The Israeli army expelled 400,000 to 450,000 more Palestinians during the Naksa in 1967, according to the Palestinian refugee advocacy group BADIL.
By the end of 2011, at least 7.4 million Palestinians had been displaced, 66 percent of a global Palestinian population of 11.2 million, making them the world's largest and longest-standing group of refugees, according to a recent survey by BADIL.
Israel's displacement of Palestinians continues through policies like forcible transfer of released political prisoners, house demolitions, revocations of East Jerusalem residencies, and the Prawer Plan, a measure proposed in Israel's parliament, the Knesset, that would expel 40,000 Palestinian Bedouins from their homes in the Naqab (Negev) region.
A generation "leaving us"
But with the 1948 ethnic cleansing more than 65 years in the past, the ranks of those who witnessed it firsthand, in the Gaza Strip and elsewhere, are quickly declining.
"We started thinking about how the generation that survived the Nakba are leaving us," said Haidar Eid of the Oral History Project, another effort to collect accounts of 1948.
The project team has recorded 64 hours of interviews, Eid said. Time to complete the rest is running out.
"Most of these people are dying. For the project, they are supposed to have been at least ten when the Nakba happened. So we are talking about people in their seventies and eighties."
Eid, an assistant professor of English literature at Gaza's al-Aqsa University, is a Palestinian Campaign for the Academic and Cultural Boycott of Israel (PACBI) steering committee member.
"No compromise"
"One of the major demands of the boycott, divestment and sanctions movement is the implementation of United Nations Resolution 194, which clearly calls for the return of all Palestinian refugees to the lands, villages and towns from which they were ethnically cleansed in 1948 and their compensation," Eid said. "With the Oral History Project, we are supporting this demand and making it real. We move from ethnic cleansing as an abstract term into the practicality, the life itself.
"An interesting question we sometimes ask is whether they would accept any solution that would compromise their right of return. There is a consensus among all the refugees we've interviewed that no compromise on the right of return would be accepted. For them, that is not a solution."
Gaza's Oral History Project works in cooperation with Palestine Remembered, an online archive of information on the ethnic cleansing of Palestine, and the Israeli organization Zochrot, which advocates the return of Palestinian refugees. Eid called this "a form of co-resistance" as opposed to projects which normalize Israel's ethnic cleansing and occupation of Palestine.
"The onslaught of normalization projects has taken place at the expense of two-thirds of the Palestinian people who are refugees," he added, drawing a distinction with other kinds of cooperation between Palestinians and Israelis. "1948 is the original sin, rather than 1967, on which these projects are all based."
Young volunteers conduct most of the Oral History Project's interviews. Many belong to the Palestinian Students' Campaign for the Academic Boycott of Israel, PACBI's youth affiliate.
"Revisiting the trauma"
"It's tiring, I must tell you," Eid said. "I have been avoiding recording with people myself, because it's extremely difficult. Revisiting the trauma is not easy. But they would be very happy to talk about everything before 1948."
Oral History Project interviews consist of three sections: Palestine before 1948, its ethnic cleansing and refugee life.
"We ask about mundane things, the daily life of people in the village or city, weddings, funerals and coffee shops," Eid said. "We ask if the people still have a thobe [a traditional garment] or anything from the village. They usually love it.
"When they come closer to the moment of truth, when the person was forced from their village, it's heartbreaking. Many start crying. They can give you minute details about the strangest things."
Accounts can be not only emotional, but brutal as well. "Those Palestinians who refused to leave Palestine were basically massacred," Eid said.
"This is the embodiment of the Zionist dream of creating a state with a Jewish majority. To guarantee that, you need to have a process of either ethnic cleansing or genocide."
A refugee himself, Eid cited his own background to illustrate the importance of oral history to the Palestinian narrative.
"I'm from a village called Zarnuga, which is on the outskirts of Ramle [in present-day Israel]," he said. "I found only three pictures of Zarnuga. Only three."
"The history of the Tantura massacre relies heavily on oral history. Now people know that a massacre took place in the Tantura village, about 30 meters south of Haifa, based on recorded oral history," Eid added.
Oral history also has an important role in the continuity of Palestinian culture. "This work has a lot of benefit for new Palestinian generations," said Nermid Habib. "It allows them to know that what their grandparents were doing,"
Israel "trying to whitewash"
On 12 August, a number of Palestine solidarity groups issued an open letter protesting an international conference on oral history planned by the Hebrew University of Jerusalem for June 2014, calling for oral historians to boycott it.
PACBI endorsed the letter, and Eid and more than 350 others working in the field of oral history have signed it.
"Israel is trying to whitewash and beautify its image," Eid said. "One of the questions that we want to raise here in Palestine, as academics and also as refugees, is whether the Nakba will be part of the conference, whether the ethnic cleansing of Palestinians in 1948 will be addressed. I think this is a rhetorical question, the answer to which we know."
Participation in the conference by oral historians from the Gaza Strip is out of the question. Most Palestinians are banned from entering present-day Israel. The 1954 Prevention of Infiltration Law even criminalizes the presence of Palestinian refugees in Israel.
But through these longstanding exclusions, Israel may inadvertently highlight the relevance of the work on refugees, as well as the darker elements of its history and society.
"The Zionist narrative has been the recognized narrative in the West," Eid said. "Before 1948, there was nothing. There was a gap between 1948 and 2,000 years before that.
"We are helping to provide an alternative to it. It's part of what we call the counter-narrative."
"The stories of the old are more confident than the history books," Habib said. "They witnessed the events themselves. There are written histories as well. It's essential to add a new kind of reference."
Editor's note: an earlier version of this article misspelled the last name of the Islamic University of Gaza's Nermin Habib. The article has since been corrected.
Joe Catron is a US activist in Gaza, Palestine. He co-edited The Prisoners' Diaries: Palestinian Voices from the Israeli Gulag, an anthology of accounts by detainees freed in the 2011 prisoner exchange. He blogs at joecatron.wordpress.com and tweets @jncatron.
Tags