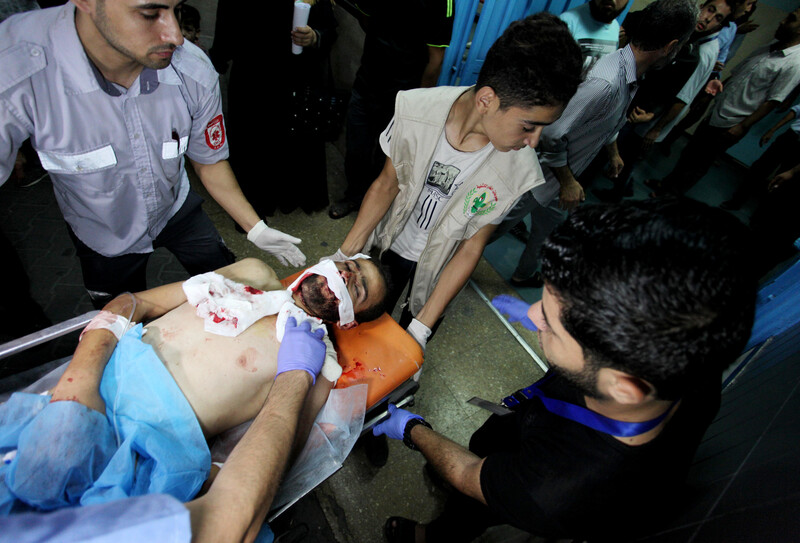 For Saied Abu Asker, 2018 will be remembered as the year he was shot with two explosive bullets.
He is among numerous Palestinians to have been injured while taking part in the Great March of Return. The protests – held on a regular basis since late March – have been called to demand that the rights of Palestine's refugees be upheld.
Abu Asker has paid a heavy price for demanding his basic rights. The Israeli snipers who fired at him caused serious damage to the pelvis area of his body while protesting east of Jabaliya refugee camp in northern Gaza on 1 June.
He was sent to intensive care at al-Shifa hospital in Gaza City and underwent three surgeries.
When Abu Asker's health condition deteriorated, he needed a medical transfer out of Gaza. The 24-year-old's family submitted his medical reports to Gaza's health ministry. He received approval for treatment in Egypt under the sponsorship of the Palestinian Authority.
Hospitals in Gaza are running at minimum capacity. Palestinians injured during protests are consequently struggling to secure proper medical attention. With treatment in Israel and the occupied West Bank hindered or outright blocked by Israeli authorities, those traveling to Egypt for help have been shocked at the delays and shoddy treatment they have faced there.
Abu Asker arrived by ambulance in Egypt almost three weeks after his injury and headed to the Nasser Institute for Research and Treatment in Cairo, where he was told to wait in the hospital's garden and only allowed to enter the facility for a preliminary examination nine hours after his arrival.
A doctor examined Abu Asker and told him to return to the hospital the next day to schedule surgery.
"I was shocked at the way doctors treated me. After nine hours of waiting, they told me to return on the second day," Abu Asker told The Electronic Intifada during a phone interview.
Abu Asker then contacted the Palestinian Authority embassy in Cairo to ask about where he'd stay during his treatment, as PA sponsorship is supposed to include medical care as well as housing expenses for patients.
Abu Asker was told that his case would be reported and that the embassy would be in touch with him soon. This, however, did not mean same-day resolution.
"I was shocked that there was no place to spend the night," Abu Asker said.
He arranged for his father to rent for him a small apartment near the hospital, where he invited two other injured youths he met in the hospital garden.
"I thought that my suffering ended when I arrived in Egypt," Abu Asker told The Electronic Intifada. "But from the first day, I knew that it was only a new chapter in my suffering."
As his desperation grew, Abu Asker sought out and received two private surgeries in November. These were undertaken at financial hardship to himself.
He then traveled to Turkey for further surgery with Gaza's health ministry covering both his hotel and medical expenses. One surgery was performed in November; two further operations are scheduled for the next 12 months.
Losing limbs
Ibrahim al-Balawy, 28, may lose his left leg after continuous delay in treatment.
Al-Balawy was injured in his left knee on 14 May during Great March of Return protests in eastern Gaza. He was transferred to Egypt one month after the injury.
"I asked one of the injured with me in the room to change the dressing of my injury. I was shocked by the smell coming out of my leg. At that moment, I knew that I may lose my leg soon," the father of three told The Electronic Intifada.
Some patients protested the PA's neglect of their needs in front of the Nasser Institute for three days, but to no avail. Al-Balawy hoped that the protest would accelerate his treatment, but he only secured some painkillers without determining a date for his surgery.
Mohamed Elsharawy, 29 – al-Balawy's roommate in Egypt and a volleyball player at the Jabaliya Youth Club in Gaza – was injured in his foot during his participation in the protests on 4 May last year.
Elsharawy wrote about the trials of injured Palestinians seeking treatment in Egypt on his Facebook page.
"Some of the injured in Egypt sleep in front of mosques or hospitals because they can't pay rent, while others can't find anyone to change the dressing for their injuries," he told The Electronic Intifada. "Some of the injured can't afford to buy medicine, and we had to ask for help from pharmacies to provide some medicines for free."
Elsharawy said that he visited the Egyptian hospital more than 40 times in order to expedite his needed surgery. After repeated delays, the hospital recommended that his foot be amputated.
Instead, Elsharawy traveled to Turkey to seek better treatment and so far doctors there have not resorted to amputation.
He is not alone. Some of Gaza's injured have been able to travel to Turkey after they experienced medical neglect in Egypt.
One of those neglected was Deya al-Borey, 28, who was injured in both his legs during a protest held on 6 April 2018.
Al-Borey was able to travel to Turkey with the help of a relative to undergo 10 surgeries after he spent a month in Egypt without any surgery.
Medical crisis in Gaza
Gaza's healthcare system has been overwhelmed lately.
Approximately 24,000 Palestinians have been injured during the Great March of Return, some 6,000 of them by live ammunition. Scarce fuel, electricity and water resources have added to the challenges faced by Gaza's hospitals.
By the end of November, "60 percent of the total number of injured – a massive 3,520 – will need further surgery, physiotherapy and rehabilitation," Médecins Sans Frontières has stated.
"This many patients would overstretch the best healthcare systems in the world. In Gaza, it is a crushing blow," Marie-Elisabeth Ingres, head of mission for Médecins Sans Frontières in Palestine, has said.
Thousands of surgeries were postponed at al-Shifa hospital, the largest in Gaza, due to fuel shortages in recent months, according to Ayman al-Sahbani, head of the emergency department at the hospital.
The fuel situation only started to improve in Gaza after Qatari-funded fuel was imported to the territory in October.
The United Nations monitoring group OCHA reported that "Despite this, basic health, water and hygiene facilities continue to rely on UN-assisted emergency fuel to operate backup generators and vehicles during power cuts."
Ashraf al-Qedra, the Gaza health ministry spokesperson, told The Electronic Intifada in December that approximately 265 Palestinian patients were transferred to Egypt, Jordan and Turkey since the launch of the Great March of Return. He noted that some 480 others are still waiting for approval.
Israel's state violence inflicted enormous pain on Gaza during 2018. The suffering has been worsened by how the wounded often have to overcome huge hurdles before they receive essential treatment.
Sarah Algherbawi is a freelance writer and translator from Gaza.
Tags