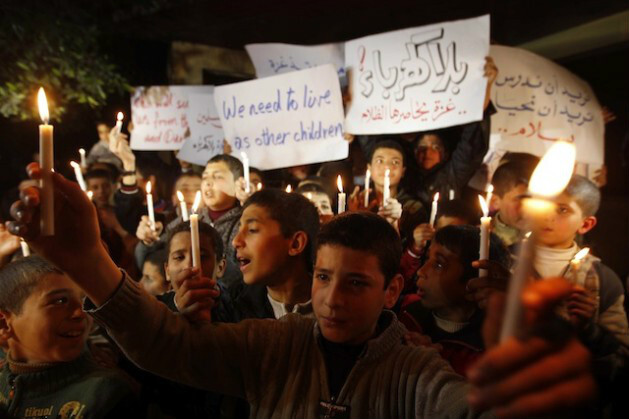 GAZA CITY (IPS) - When the lights go out, Palestinians in Gaza look for generators to switch on. And they find people to talk to. With so many power cuts over so long now, people are giving themselves the somewhat dubious comfort that human relations may have improved as a result of these power cuts.
Mohammed Aljamal, like many Gazans, is discovering that improved communication with friends and family are the brighter side of life in the dark when there isn't much work he can do.
He visits his family members far more often now than he otherwise might have. And it isn't only because of Ramadan, the Muslim month of fasting. He needs to get away from the "24/7 sauna," he said. Happily — under the circumstances — power cuts are coordinated, and there just might be light at a relative's home that has electricity.
In any case, he said, "when the power is out, what else can you do?"
Umm Mohammed, who sells vegetables in a Rafah market in the southern Gaza Strip, and her husband time their social plans to power cuts. "We prefer to arrange visits from our extended family for when we have electricity — it's no fun to sit with guests in the dark and the unbearable heat, unable to hear each other above the noise of the electricity generators," she said.
Unhealthy fumes
Noise is not the only problem with these generators. They have caused fires that have killed 17 Palestinians and burned down 85 houses in the past two years, according to the Gaza Fire Department. Many residents are not trained to handle generators safely. Handling fuel that is smuggled in through tunnels from Egypt or through the Israeli-controlled crossings is trickier.
Sitting outside for fresh air "is not a pleasant option either, with our eardrums bombarded by the noise of neighbors' generators," Umm Mohammed said. "The unhealthy fumes from the fuel bring headaches."
But despite all this, generators feel like a lifeline. In the past, said Umm Mohammed, a Palestinian bride would ask for a husband with a steady job and income, and an apartment. "But now some girls are also demanding an electricity generator with the apartment."
The power cuts are harder for the children, she said: "My grandchildren are afraid of the dark, and start to cry when the power goes out."
When people do sit down to talk, the power cuts are one thing they do talk about. A taxi driver has hung a small note under his rear-view mirror, reading "Please don't talk about electricity or the fuel crisis." He had too much of that at home, he said.
"We are stuck, we have no way to stop this," said Mohammed Aljamal. "We have appealed to the world many times, but those with the power to change things are not listening, they're too focused on the Arab Spring."
Demand for electricity in Gaza can reach 360 megawatts (MW) a day, the equivalent of 1 MW per square kilometer. At its current operating capacity, the Gaza power plant can produce only 80 MW. This is supplemented by 120 MW from Israel and 22 MW from Egypt. The amount available only meets about two-thirds of demand.
Severe shortages
According to the United Nations Office for the Coordination of Humanitarian Affairs (OCHA) the Gaza power plant has been operating at best at a third of its capacity, or has been completely shut down by severe fuel shortages since February 2012. This has led to scheduled blackouts in homes of six to 18 hours a day, besides the random unscheduled cuts.
OCHA says the generating capacity of this plant has been significantly damaged after the destruction of six transformers in an Israeli airstrike in 2006, restrictions on the import of parts and equipment to repair the transformers, lack of fuel as a result of Israel's blockade, and a dispute between the Palestinian Authority in the West Bank and the authorities in Gaza over funding of the plant's operations.
The power cuts are a price approximately 1.7 million Gazans pay for the Israeli blockade, which was imposed in 2006.
Ahmed Abuel Amareen from the Palestinian Energy Authority says the main reason Gaza cannot get more fuel is "arbitrariness from Israel and Egypt, and their failure to permit entry of fuel from Qatar."
Qatar has donated fuel to alleviate the electricity crisis in Gaza but, according to Abuel Amareen, 90 percent of that fuel has been sitting in tankers in the Suez canal for the past two months, awaiting approval from Egypt's military.
The insufficient and irregular power supply has an adverse impact on Gaza hospitals, with outages having tripled since the beginning of 2012, according to the World Health Organization. UN statistics show that the average waiting time for orthopedic surgery at al-Shifa Hospital increased from three to six months during the first half of 2012.
The Gaza Strip (360 square kilometers) is one of the most densely populated areas of the world (at over 4,500 people per square kilometer) according to United Nations statistics.
All rights reserved, IPS - Inter Press Service (2012). Total or partial publication, retransmission or sale forbidden.
Tags