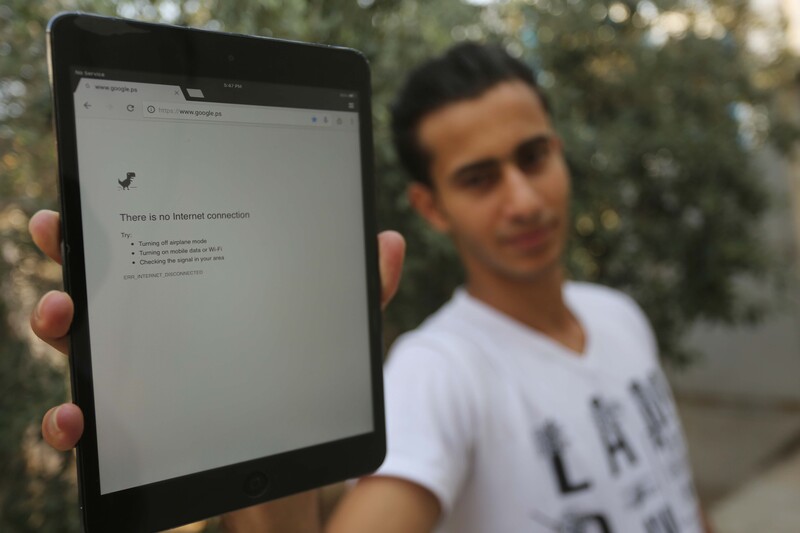 No Internet?
Hussain Mahdi, 24, looked shocked. "Our lives would be paralyzed," the young T-shirt designer said.
He has cause for concern. On 11 July, the Palestine Telecommunications Company, Paltel, announced that its main generator had broken down because of high loads and long power cuts. Tens of thousands of landline customers and some 8,000 Internet subscribers lost service because, as the company explained on its Facebook page, it was not able to import parts for its backup generators or bring in new, better ones.
Large areas of the Gaza Strip were left without IT services for 90 minutes before Gaza's electricity company – which manages severely limited fuel availability through rolling blackouts – intervened to supply Paltel with electricity off-schedule.
On 13 July, Paltel announced that the relevant Israeli authorities granted permission for a new generator to enter Gaza, but it remains a stop-gap solution. According to the company, "dozens" of backup generators are still awaiting similar authorization without which more service disruptions are likely.
For impoverished Gaza – cut off from the rest of the world as a result of a now decade-old blockade imposed by Israel – such disruption could spell further disaster. Many Palestinians in Gaza rely on the Internet for their livelihood.
Mahdi created his T-shirt business in January with his sister Alaa, and with the help of Gaza Sky Geeks, an incubator for startups, tech innovation and education.
Under the name Izaari, the Mahdis sell T-shirts with original designs to the Saudi market.
"We won a challenge organized by Gaza Sky Geeks, and we got funds and technical help to launch our shop," Mahdi said.
Total collapse
Now, Izaari has seven employees: four in Gaza, two designers in Egypt and a distributor in Saudi Arabia, said Mahdi. And the business is entirely dependent on the Internet. Designers post their work online and Saudi clients browse and shop on the website.
"Without Internet, I won't be able to contact our partners in the US who are responsible for printing and shipping the products. The whole process, which usually takes five to seven days, needs the Internet," he said.
Even with Internet, Mahdi is forced to work out of the Gaza Sky Geeks offices because of rolling electricity blackouts, leaving him without power at home for up to 20 hours a day.
The disruption on 11 July was therefore a heartstopper.
"It was a nightmare. We kept watching the news to know what was going on. It felt like we were watching our dream being destroyed," Mahdi said. "The problem is fixed, but this may happen again at any moment."
All Internet service providers in Gaza use Paltel's infrastructure to reach their clients. Should Paltel's system break down, Gaza's communication services could completely collapse.
Orange, the second largest Internet service provider in Gaza, was also affected by Paltel's generator failure. Osama Abu Zebida, the company's general manager in Gaza, told The Electronic Intifada that the Orange database had been damaged and engineers were still trying to fix it.
"We informed Paltel that they must have another backup generator for their main data center, but they said the Israeli side refuses to permit any entry for their generators," Abu Zebida said.
And without backup generators, little separates Gaza's online capabilities from total collapse. There are three lines of defense against shutdown: normal electricity supply (which there is little of in Gaza), backup generators and a system of batteries in extreme cases.
"When the generator broke down," said Abu Zebida, "the battery system was supposed to work for six hours, but it turned off after four due to the heavy load. Here exactly the catastrophe happened. Most of the Gaza Strip was without Internet for almost 90 minutes. That is a disaster in the world of communication."
No Internet, no work
The small access points that connect neighborhoods to the central exchange are another problem facing Gaza's Internet. These access points need electricity and their batteries can't cope with long power cuts. Paltel addresses the problem by sending a technician to charge the batteries manually, but this solution isn't effective, according to Abu Zebida.
"We've advised Paltel to use solar cells for their access points, but they told us they don't have permits from the municipality."
A spokesperson for Paltel said the company would not be making any further comments beyond those already posted on the company's Facebook page.
But many in Gaza fear the consequences of another shutdown of the company's services.
Hosam Salem, 29, is a freelance journalist whose photography has been published by The Electronic Intifada. "Internet is the core of my work," he said.
When there is no Internet in his neighborhood, Salem has to go to restaurants or coffee shops to send his work and correspond. He also uses Internet services provided by Jawwal, a Palestinian mobile phone company, but this is very expensive and doesn't work to upload pictures and videos.
"Those extra expenses are exhausting. Sometimes, I spend the night moving from one place to another in order to find an Internet connection. My work isn't easy and such obstacles just make it more difficult," Salem said.
Samar al-Nabaheen, 32, would also be stuck without the Internet. Three years ago, she created a Facebook page for dishes she cooks at home. The page proved so popular, it has since grown into Online Homemade Food, a food delivery service.
"People send their orders to my page, and I send them the food through a local delivery company," she said, her Facebook page now boasting more than 11,700 followers.
Most of al-Nabaheen's clients are working women who don't have time to make food. Al-Nabaheen is struggling to meet demand, in part because she has to buy fresh produce every day from the market, as her refrigerator at home is off most of the day due to power cuts.
"Sometimes there is also no Internet during the day. And when I log in to my Facebook account during the night, I find a lot of requests and orders. I can barely answer them."
According to al-Nabaheen, she used to send 15 orders per week, but because of the Internet and power cuts, the number is now down to 10 orders.
"I'm directly affected by Internet and electricity. If the situation gets worse, I'll lose more of my clients."
Mousa Tawfiq is a journalist based in Gaza.
Tags