When Adli Ibeid went to get his car repaired in a shop in Shujaiya, a neighborhood near Gaza City, in February 2010, he had no idea that he would make a new friend whose life would become profoundly intertwined with his own.
"I heard of a skilled car electrician in the neighborhood. I went there to repair my car and I met Mansour for the first time," Adli said.
Mansour al-Qirim, the electrician, "was a very energetic, polite young man with a big smile. We grew closer to one another until we became good friends."
They came to rely on one another as each would be gravely injured in separate Israeli attacks the following year.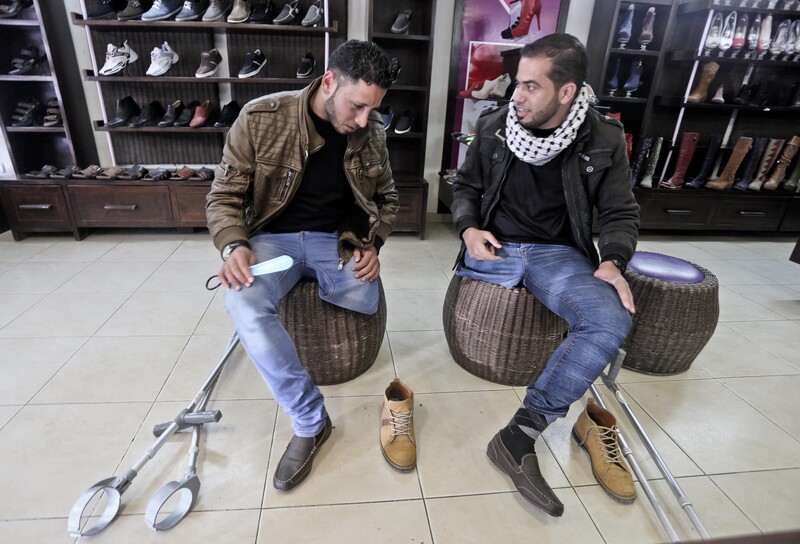 "We had no choice but to believe that together, we could face our new fate," Adli, now 25, said.
Adli was the first of the pair to be injured.
"I was walking near a group of children who were playing soccer in al-Mansoura street in March 2011. Suddenly, they were targeted by an Israeli airstrike," Adli said. "I tried to help them, but another missile hit the area, leaving me with serious wounds."
Adli was injured during a week of extensive Israeli airstrikes and shelling, alongside increased rocket fire from Gaza. Fourteen Palestinians, including six civilians, were killed, and 52 more – the vast majority of them civilians, including 19 children – were injured.
Adli lost consciousness on his way to the hospital, and the emergency medics thought he had died. He was taken to the morgue and left there until his father came to identify his son.
Adli's father sensed his son breathing.
"I felt everything but couldn't do anything, until I heard my father's screams," Adli recalled.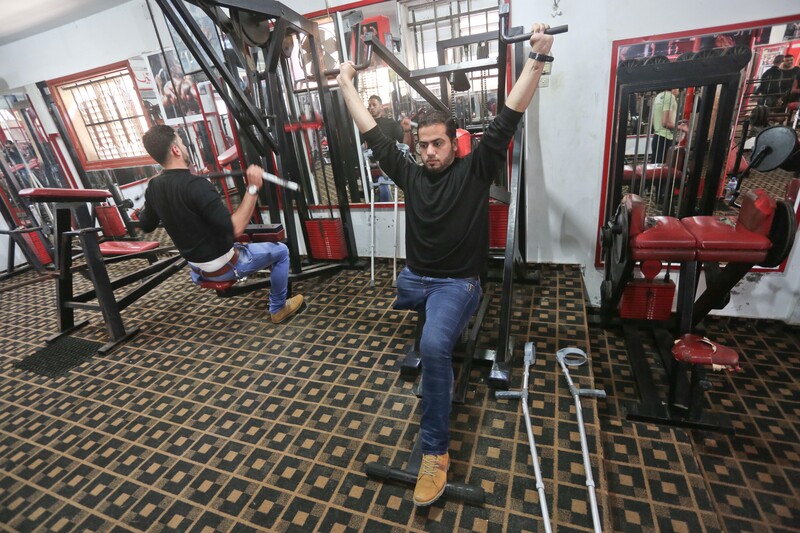 After spending three days at the intensive care unit at Gaza's al-Shifa hospital, Adli regained his consciousness to discover that he had lost his left leg.
"At first, I was shocked, but over time, I accepted the reality and looked towards the future," he said.
Adli eventually traveled to Egypt for surgery which improved his condition. When he returned to Gaza, his friend Mansour was waiting for him.
Mansour visited Adli regularly and encouraged him to have faith and patience. "It was very difficult to see my friend in such a situation," Mansour said. "I didn't know that I was going to have the same fate soon."
Mansour would need to take the same advice he had given to his friend.
"In 2011, I was moving steadily towards the life of which I used to dream. I got my own workshop after mastering the craft as a car electrician," Mansour, now 23, said. "I was an ambitious and successful 18-year-old young man."
This was all turned upside down in August that year.
"I was passing by some of my neighbors, near al-Muntar hill, when they were directly attacked" in an Israeli airstrike, Mansour recalled. "I stayed in a coma for 10 days and when I got out of it, I realized what had happened to my leg, in addition to losing two of my fingers."
Mansour was injured when Israel carried out approximately 30 airstrikes from 19 to 21 August, killing seven Palestinians and injuring 30 more. Palestinian fire from Gaza killed an Israeli civilian and injured six others. A Palestinian child was also killed, and six others injured, when a rocket fired from Gaza fell short of its target.
After months of treatment, Mansour was released from hospital.
"I went through a regime of physiotherapy which helped me regain my muscle flexibility, especially after the coma," he explained. "Moreover, I had some surgeries in my leg and my head where I had sustained shrapnel."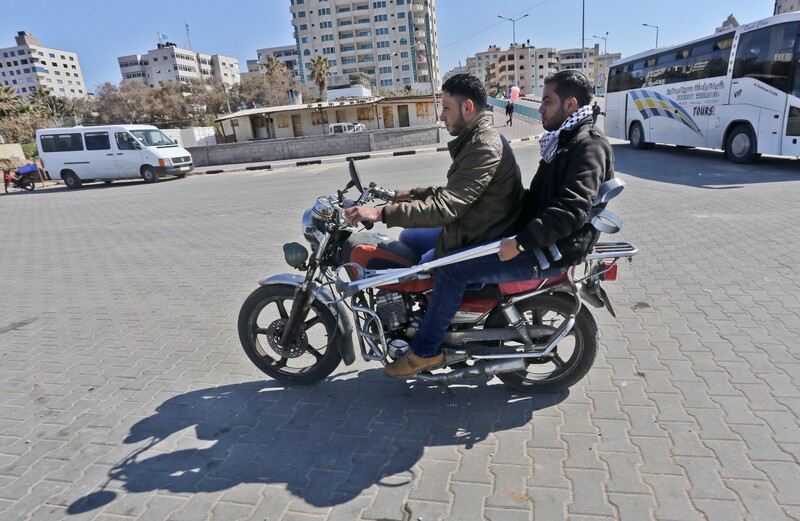 The two friends decided to stick together as they faced their new reality.
"We knew that everything would be easier as long as we're together," Mansour said. "I do almost everything with Adli."
Adli said: "Luckily, we have the same foot size and the same taste in shoes. When we buy a pair of shoes, I take the right shoe and Mansour takes the left one. We also split the cost.
"Furthermore, we drive a motorcycle together to go to the market, to the gym, or even to the corniche."
Their burdens remain, though their friendship makes them more bearable.
"It took us some months to believe that we could live a normal life again," Adli explained. "I tried to go back to my previous job as a clothes salesman, but I couldn't stand in the shop for long hours. I've been looking for another job."
The Palestinian Authority in the occupied West Bank pays a monthly stipend to Palestinians seriously injured by Israel. But, according to Adli, "It's not enough, especially because I'm responsible for my family."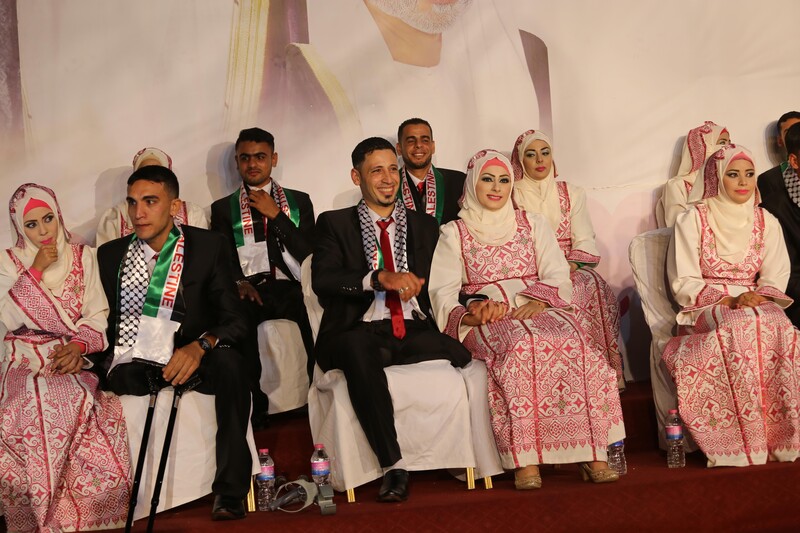 For Mansour, who is no longer able to work as a car electrician, providing employment opportunities for people with disabilities is a national and humanitarian duty.
"No one will hire us, even if the job is in the scope of our abilities. We won't surrender to our disability. In fact, all we want is to participate positively in society."
The friends have not been able to acquire artificial limbs. Prosthetics are in high demand in Gaza, and the waiting list for fittings is long, due to repeated Israeli attacks on the territory.
"We wait for an opportunity to travel to Egypt in order to get fitted for artificial limbs, despite their high prices," Mansour said.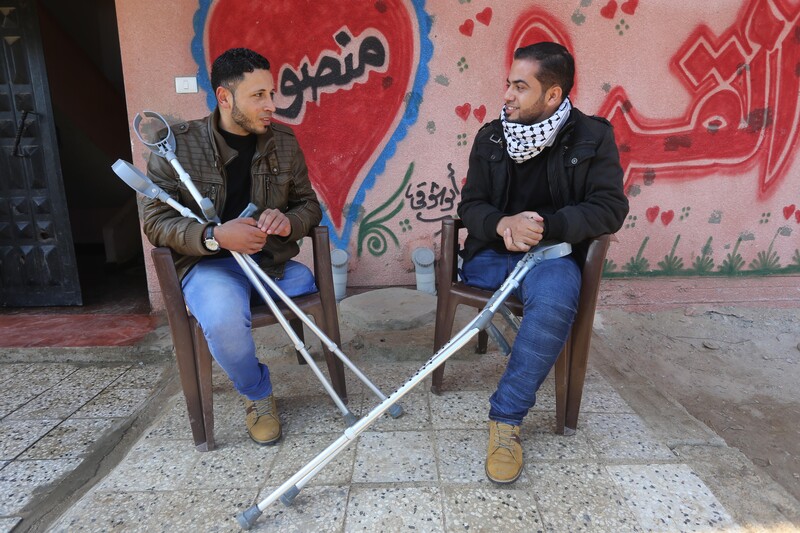 But there are new joys the friends are able to share, alongside the new challenges.
At his parents' insistence, Mansour married, and in August, he and his wife's first child arrived.
"My beautiful daughter, Zeina, is the most amazing thing that ever happened for me. I get up every morning to see her smile and to pray for her to have a better tomorrow," he said.
Adli, who also married recently and whose wife is expecting their firstborn, looks forward to the future, without forgetting the past.
"Five years ago, I was declared dead in the morgue. Today, I have a family and dreams to achieve. I would never be here without having Mansour beside me."
Text by Mousa Tawfiq, a journalist based in Gaza and photos by Mohammed Asad, a photojournalist based in Gaza.
Tags