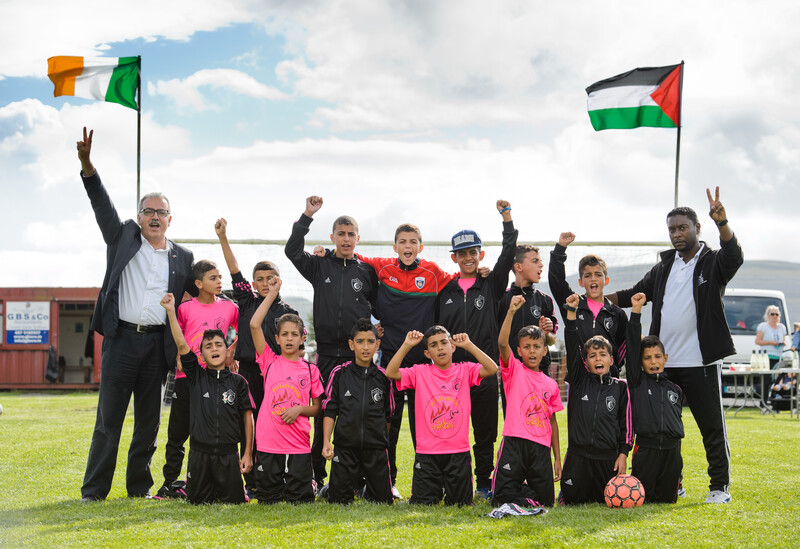 Fourteen boys from Gaza have brought joy to Ireland by displaying their football skills during a tour of the country.
Three weeks after the crushing disappointment of being refused exit permits by the Israeli authorities, the youngsters from al-Helal football academy were special guests of Galway United Football Club on 5 August.
The talented young Palestinian footballers got to showcase their talents before Galway United's biggest crowd of the season. Al-Helal played an exhibiton game during the half-time break in a match between Galway United and Dundalk. 
During the event, football fans rose to their feet, singing "stand up for Palestine." The gesture brought tears to the eyes of the boys and their two adult coaches.
The campaign group Gaza Action Ireland and al-Helal had been planning the 10-day trip for three years, but had to cancel the entire schedule when the traveling party were denied exit permits in July just before they were due to travel.
Eventually, almost three weeks after the trip was called off, the Israeli authorities allowed 14 of the 15 boys on the squad to travel, along with two of the seven adults who were supposed to accompany them to Ireland.
First trip
Last-minute plans were put in place to reschedule the tour, which saw the Gaza visitors take on boys from clubs throughout Ireland over four games. Aged between 10 and 14, the Gaza boys impressed Irish football coaches across the country — and they won all six games.
"The trip was worth all the trouble, because it was the first trip outside of Gaza for all the children, and it gave them an experience they never felt before," said Mohammed al-Rawagh, one of the team's coaches.
"The three-week delay — and not knowing if we would be coming — put some extra mental pressure on the kids," he added.
"They were very disappointed when they were not given permission to leave Gaza. Plus, we had exit permits denied for five of our coaches and one child. Even though they allowed only two adults to travel, we both insisted that we should do it. Ireland is far more beautiful, with its people and its nature, than we expected."
Al-Helal's ground in northern Gaza was bombed by Israel in both 2012 and 2014.
The players were also upset when one of their teammates, Karam Zaidan, was refused permission to travel.
Karam was injured when Israel attacked Gaza in 2009 and the players have remembered him in song and smartphone videos throughout the 10-day tour, which ended on Monday.
"Even though he suffered terribly, Karam is one of their best players," said Zoe Lawlor of Gaza Action Ireland. "You have to wonder why the Israeli authorities did not want that child in particular to travel to Ireland. Is it because they didn't want the Irish to see his injuries?"
A boy named Google
Only one of the players, Mohanad Auda, can speak English. He earned the nickname Google during the tour, because he was called upon so often to translate for his teammates when they engaged with Irish children.
"It's so nice and so sweet here. I am happy. I am having fun in Ireland. The best parts have been playing against the Irish teams and going to the big Irish football game. I'm excited because I am playing outside Gaza. The Irish people have been so nice and so friendly," said Muhannad.
Speaking through an interpreter, team captain Khaled Gouda said he was determined to represent Palestine with pride by playing his best against the Irish team. And every player earned plaudits as al-Helal won their games against Ballybrack FC (Dublin), Pike Rovers (Limerick) and Kinvara United (Galway). They also played three matches in Tipperary, beating two teams from Nenagh AFC and one from Nenagh Celtic. 
"I'm enjoying being in Ireland and I'm thinking that I want to show the best of what I have so that people can see the talents of Palestinian children. It is a great feeling to represent Palestine and I have to be up to this responsibility," said Khaled.
"In Gaza, we love to watch European football and we enjoy it. It's a lovely feeling, being in Ireland, but I also miss my country. I miss Gaza. The fields here are very different from the fields in Gaza. We have natural grass, but it is not as good as this. Our natural grass in Gaza has more bumps but it is more smooth here."
Mobbed by well-wishers
The boys' trip was featured on RTE, Ireland's state-owned broadcaster. The day after he and his teammates appeared on TV news, Khaled was taken aback to be mobbed by well-wishers when the team enjoyed a walk in Dublin city center.
"Many people came up and greeted us and invited us even for lunch on the street. It's the first time I've ever felt a little bit famous, but it's a tiring feeling because everybody wants to take pictures wherever we go. We want our borders to be open and to be free so that people in Gaza who want to come to Ireland, or any other place, can do so," he said.
An added difficulty was that that just two adult trainers were able to travel with the 14 boys, according to Ayed Abu-Ramadan, al-Helal's chair.
Seven adults — including a child psychologist — were originally supposed to accompany the boys. Five of them were not allowed to travel.
Many of the boys on the team were traumatized by the 2014 Israeli military assault on the Gaza Strip. More than 2,250 Palestinians, including 551 children, were killed in that attack.
"We have been working on this for the past three years. It's the first time we came here to Ireland. The results have been fantastic. It has given us hope for future operations like this," said Abu-Ramadan.
"It's good for Irish people to meet Palestinians, to talk about their lives in Palestine, and to feel their suffering first-hand. And it's good for our players to see what Ireland is like. It's not just the 14 players. Their friends, families and neighbors were in continuous contact with the children on their smartphones throughout the trip and they are learning about Ireland."
The Galway leg of the trip was organized by a small committee in Kinvara, a village where local businesses agreed to boycott Israeli goods during the bombardment of Gaza in 2014.
Local organizer Vicky Donnelly said she was amazed by the offers of support once it was confirmed that al-Helal was going to Galway.
"It's actually brought tears to our eyes, to see the support we have received from all over Ireland for a group of boys who come from one of the most troubled places on earth," she said.
Ciaran Tierney is a journalist based in Galway, Ireland. Blog: ciarantierney.blogspot.com
Editor's note: A correction has been made to this article following publication. Al-Helal won six matches in Ireland, rather than four as originally reported.
Tags