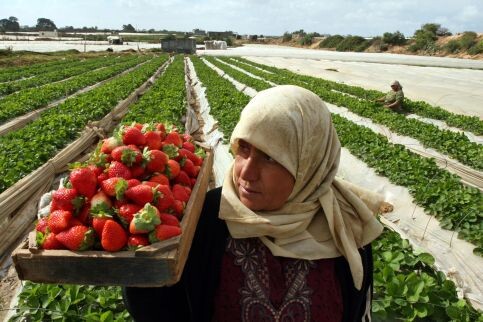 On a Wednesday afternoon, farmers bearing cartons of strawberries lined up in front of the office of a local agricultural organization in the northern Gaza Strip town of Beit Lahiya.

"This is a moment that fills me with hope," said Ibrahim al-Musallami, 58, one of the farmers. "I hope I will be able to resume exporting my strawberries outside Gaza."

Al-Musallami and the other farmers had come to take advantage of the fact that Israel was to allow a limited amount of strawberry exports to Europe through its Kerem Shalom border crossing with Gaza. The farmers goods' would be inspected by agriculture officials before being transferred to the Kerem Shalom border crossing with Israel where they will be exported by the Israeli firm AGREXCO.

"This the first time in four years that we are asked to ship our products for export," al-Musallami said.

Al-Musallami has been in business for almost 35 years. While pleased that some exports would go out, he was apprehensive.

"This pack of two-and-a-half kilos is exported for about 15 dollars," he explained. "I am not hopeful that the ten tons I expect to ship will be delivered to the outside world without obstacles. Politics influences every aspect of our lives in Gaza, including strawberries."

Al-Musallami said that he had previously lost tons of strawberries that had been left to rot awaiting export at Gaza's sealed borders.

Abdelrazzaq al-Musallami, 27, who was also delivering his strawberries for inspection, said that exporting at a higher price would provide a huge boost over sales in the local market. From 2004, when he started farming, to about 2007, when Israel tightened its siege, al-Musallami said he could make a decent living, and was able to marry and have a family. However, because he was unable to export, he has now accumulated about $13,000 in debts to local merchants which he hoped he could start paying off.
Just inside the big hall, officials from the Gaza-based agriculture ministry products quality department checked the the farmers' produce before it could be loaded in trucks bound for the Kerem Shalom crossing in the southern Gaza Strip.

"We hope that this season Palestinian farmers will have the possibility to export their strawberry crops, and this will boost Gaza's economy," said Asad Yassin, the chief of product quality at the agriculture ministry, as he inspected some cartons of goods.

According to Yassin, only fifty tons were exported last year, but prior to the Israeli siege almost two thousand tons of strawberries annually were exported Europe and Canada.

"In addition to their very good flavor, Gaza strawberries are considered to be the best-quality product in the Middle East region," Yassin said.

Yassin estimates that financial losses from the inability to export agricultural goods due to the Israeli siege exceed $20 million — a huge sum in Gaza's impoverished economy.

Now that some exports are being allowed, Gaza farmers are having difficulty meeting the demand. Rashad Abu Dayeh, a representative for the Israeli export company AGREXCO, explained to The Electronic Intifada that since exports have been suppressed for so long, Gaza farmers have not been encouraged to plant sufficient quantities to meet demand now that exports have been abruptly allowed by Israel.

"We only expect to export two hundred tons of strawberries, which is not enough," Abu Dayeh said.

In July 2009, the UK charity Oxfam reported that up to 50 percent of Gaza strawberry farmers had given up planting because the Israeli blockade prevented exports.

Abu Dayeh said that transporting the goods from Beit Lahiya in the north to the Kerem Shalom crossing in the south — a distance of 45 kilometers — would be an added cost. In the past, Israel used to allow exports via the Karni commercial crossing which is just nearby.

Following Israel's killing of activists aboard the Gaza Freedom Flotilla last May, Israel announced an easing of the blockade on Gaza, allowing more types of food, consumer goods and new cars into the territory. However, UN officials say that shortages of critical goods — especially reconstruction supplies — remain, while most of Gaza's impoverished population remains dependent on UN food aid.

Strawberries have been one of Gaza's main and most boasted exports. "I have been in business for almost four decades now and I see these times as the worst for us strawberry farmers in Gaza," Ibrahim al-Musallami said. "We just hope that the siege is lifted and that I will be able to feed my twenty-member family as normally as I can."

That hope is packed into the cartons he delivered for inspection along with his fresh strawberries.

Rami Almeghari is a journalist and university lecturer based in the Gaza Strip.