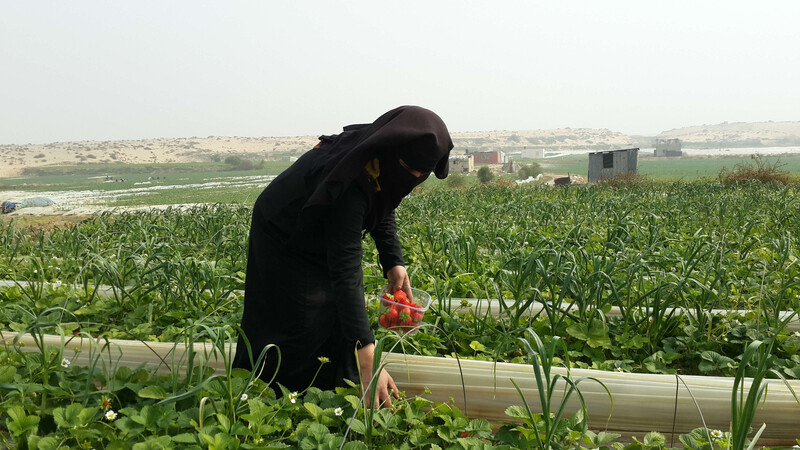 With its soft sandy soil, plentiful sunshine and an adequate supply of water, northern Gaza has the right conditions for growing strawberries.
To be more precise, it would have the right conditions if farmers were allowed to work in safety — and without restrictive export policies imposed by Israel.
Last summer, Hidaya and Moayad Warshagha had to mostly stay away their small farm in the Beit Lahiya area during a vital time for their crop. Because Israel bombed Gaza for more than six weeks in July and August, tending to their strawberries would have put the couple's lives in danger.
When they managed to reach their farm during a supposed three-day ceasefire, "the area looked like a red hell," Hidaya said.
Because the Israeli military was not respecting the ceasefire, "we had to abandon our crop," she added. "All of the strawberries were destroyed."
The couple lost $6,000 as a result.
The horrific events of last summer were part of a series of problems that have beset the couple.
Gaza farmers used to export strawberries to the occupied West Bank, present-day Israel and Europe. But the siege which Israel imposed on Gaza in 2007 has prevented them from doing so.
The amount of Gaza's land devoted to growing strawberries has reportedly fallen from 2,300 dunams in 2007 to just 600 dunams this year. A dunam is the equivalent of 1,000 square meters.
No compensation
Moath Abu Ayash employs seven workers on his 4.5 acre holding, also in Beit Lahiya. He can only sell strawberries to the local market, which is "never lucrative," he said.
Like many others in Gaza, his income has plummeted because of the siege.
During the first year of the siege, he received some compensation from the Palestinian Authority's agriculture ministry in Ramallah. He has not received any assistance since then.
"I cannot afford any more losses," he said.
Many farmers have opted to grow tomatoes and peppers rather than strawberries in recent years, according to Ahmad al-Shafi, the director of an agricultural cooperative in Beit Lahiya. Tomatoes and peppers are less costly to produce.
For the first three years of the siege, exporting strawberries was impossible. As part of a supposed easing of the blockade in 2010, Israel allowed a limited amount of the fruit to leave Gaza.
Restricted exports
The following year, however, Israel announced that it was closing down Karni, a commercial crossing. Karni had been established in the 1990s as the main terminal for allowing exports from Gaza to pass through Israel.
Its closure has forced exporters to rely on the smaller and poorly-equipped Karem Abu Salem crossing (known in Hebrew as Kerem Shalom).
During the month of January, Israel only allowed five truckloads of food and agricultural goods to cross Karem Abu Salem, according to data compiled by the UN monitoring group OCHA.
A total of 136 truckloads of agricultural goods were exported in 2014. The level of exports was especially low in June, when just two truckloads were allowed out. There were no agricultural exports at all in July and August, when Gaza was under attack.
The farmers of Beit Lahiya had hoped to export 250 tons of strawberries to the Netherlands, as well as several other countries in Western Europe and Russia this current season.
"So far we have only managed to export 70 tons of strawberries," said al-Shafi. "This is not enough."
Rami Almeghari is a journalist and university lecturer based in the Gaza Strip.
Tags