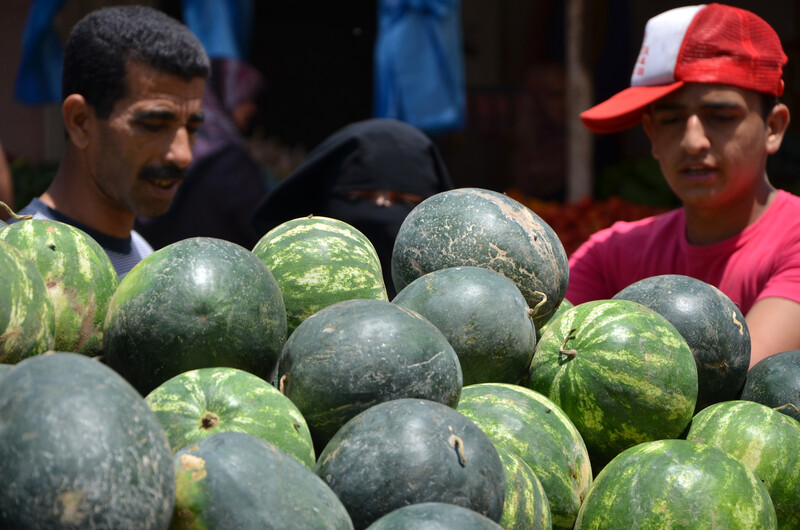 For almost a decade now, Israel's apologists and propagandists have used a simplistic argument as part of efforts to blame the people of Gaza for their own suffering. According to this argument, Gazans squandered an opportunity to develop their agriculture by destroying the greenhouses "evacuated" by Israeli settlers in 2005.
The recent history of watermelon production in Gaza illustrates that the argument is dishonest. While some destruction of the settlement infrastructure did occur (much of it by Israelis prior to their departure), the sites in question are currently used to grow delicious fruit.
Seventeen former settlements today play host to a network of Palestinian watermelon growers. Nader Alokka is one of them. His farm in the Beit Lahiya area of northern Gaza is located on the former Israeli settlement of Dogheit. He is hoping that the watermelons he planted will yield an abundant harvest by the end of this month.
His family bought this land some thirty years ago but was unable to access it for many years. The Israeli authorities used his land as a "passage gate" for Palestinian farmers working in the areas surrounding the settlements.
"Every farmer who wanted to enter his land had to have a special permit from the Israelis," he said.
Gunfire
As Alokka's land is just one kilometer away from the boundary between Gaza and present-day Israel, he regularly hears Israeli gunfire. This is a reminder of the constant dangers faced by farmers here.
Watermelon farmers had to cease working during Operation Cast Lead, Israel's three-week attack on Gaza in late 2008 and early 2009. Last year, farmer Ahmad Hamdin was shot and injured by Israeli fire while he was picking watermelons in northern Gaza ("Israeli forces shoot, injure Gaza farmer," Ma'an News Agency, 2 June 2013).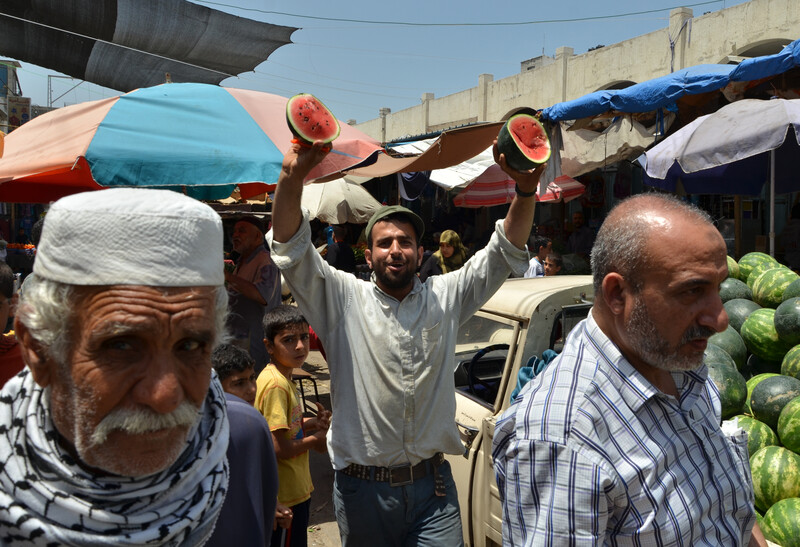 Despite these dangers, Gaza farmers and the political authorities are determined to be self-sufficient in the watermelon industry. Hamas is encouraging a boycott of watermelons grown in present-day Israel, urging traders not to sell Israeli fruit.
Numan al-Shanti, one of the main watermelon traders in Gaza, said that before 2005, he used to bring large quantities of watermelons from Israel into the Strip. The two varieties of the fruit that he transported — Crimson and Odem — are now grown inside Gaza. "The quantities of locally-produced watermelon meet the needs of the population," Alshanti said.
Business slows down
Fruit and vegetable traders say, however, that business has slowed down this year compared to 2013.
Unemployment has risen steadily in Gaza, with the result that the Strip's inhabitants have less money to spend. The problem has been compounded by the closure of tunnels linking Gaza to Egypt; those tunnels had been a source of work and income for many.
Mahmoud Abu Khdair, a market trader in al-Shati refugee camp in Gaza City, said, "This year is the worst. Before I used to earn about 1,500 shekels [$400] per day. But this season, I barely earn half this amount."
Another trader in the same market, Arafat al-Massara, had many customers surrounding his van. He was inviting customers to taste pieces of a watermelon he had chopped. Weighing around two kilograms, each watermelon was on sale for two shekels (50 cents).
Despite this apparent bustle, he is still struggling to get by. The situation was much better in the past.
"I remember when I was a child helping out my father, who sold watermelons, some people used to buy an entire van-load of almost 100 kilos [of watermelons], or even more," he said.
Muhammad Nasman, a young man from al-Shati, was carrying three watermelons that he had just bought. Yet he said that on many days, he could not afford to buy any.
Hussam Abu Seda, an official with the agriculture ministry in Gaza, said that the ongoing Israeli siege meant that farmers have great difficulty selling their produce outside the territory. The ministry has instructed farmers not to grow certain crops such as tomato and green pepper in order to prevent surplus production.
"If the situation improves and the Israeli siege is lifted, we would be then able to export watermelon," he said.
Rami Almeghari is a journalist and university lecturer based in the Gaza Strip.
Tags