The al-Hajeen family's sun-soaked and verdant orchard in southern Gaza City, planted in an area near the Mediterranean coast famous for its figs and grapes, is idyllic.
But like just about every other patch of land in Gaza it has also been the scene of tragedy. Fifteen years ago, four members of the family were killed by Israeli fire as they rested on their land.
The al-Hajeen orchard is less than a mile away from the former location of Netzarim, an Israeli settlement that was evacuated in 2005.
"Every evening, two Israeli tanks would sit on a hill 200 meters from our land, watching us while we harvested," Khaled al-Hajeen, who goes by Abu Ismail, told The Electronic Intifada.
In early August 2002, on the eve of the annual grape harvest, soldiers in tanks came to the al-Hajeen family's land and there was a short conversation.
"We told them that we would be coming every day with our women and children to harvest our crops. They told us that they watch us and we are safe, as long as no one reaches their hill," Abu Ismail said.
The family, including women and children, began to spend more time on their land for the harvest. But everything changed on 29 August, just a few days before the start of the new school year.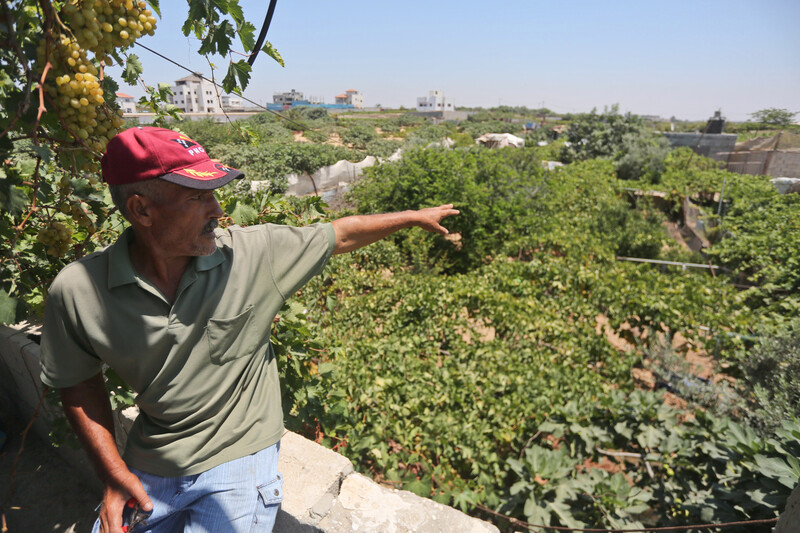 "My nephews wanted to spend their last night [before school] on our land," Abu Ismail explained. "I came here with my brother, his wife and my nephews."
After dinner, Abu Ismail took his younger nephews to sleep in one tent, while the older ones were in a separate tent along with Abu Ismail's brother.
Shortly before midnight Abu Ismail heard a tank shell nearby.
"I stood up and saw the laser of the Israeli tanks on me," he said.
"I quickly lay on the ground. I knew that the shell had hit my nephews' tent. I saw my brother's wife running towards her children. She was directly hit and died immediately. They were shooting at everything that was moving. Shells and bullets were everywhere."
"At that point I knew that I needed to do something."
Abu Ismail told his young nephews to stay put. Then he crawled to the targeted tent.
"I saw them on the ground – wounded and dead. My brother was shivering on the ground and couldn't move from the shock. I started to pull my nephews' bodies from the tent just to make sure that they were not in the range of the tanks."
Abu Ismail, 40 at the time, crawled back to his young nephews and took them to safety.
"We crawled for almost 400 meters until we reached the highway. I called my brothers and friends. Meanwhile, our boys were still bleeding out there."
Tawfiq Abu Zanoona, a retired journalist, was at home at 12:30am when he received a call from his close friend Abu Ismail.
"When my mobile rang, I knew something was wrong," he said.
The only thing Abu Zanoona could hear was: "Ambulance, Red Cross, police, anybody! Send me anybody. They are shooting us."
Abu Zanoona called for an ambulance and waited 15 minutes before calling Abu Ismail.
"Abu Ismail answered my call but he couldn't speak to me. He was telling the paramedics to go into the fields and to evacuate the injured boys."
But paramedics could not access the area without coordinating with the International Committee of the Red Cross, as the Israeli tanks were still firing.
It took more than an hour for the Red Cross to coordinate permission for ambulances to evacuate Abu Ismail's wounded family members.
By that time, four of Abu Ismail's relatives were dead: his brother's wife, Ruwaida al-Hajeen, and her sons Nihad, 16, and Ashraf, 18, as well as the boys' cousin Muhammad, 18, who had a scholarship to study in Russia that year.
Five other cousins were injured.
Abu Ismail was once a fighter with the Palestine Liberation Organization in Lebanon, and Abu Zanoona worked for the PLO's media department. The pair lived through the Lebanese Civil War and Israel's 1982 siege of Beirut. But the bloody night in August 2002 was the most difficult of their lives.
"Despite everything I lived through before, that night was the most perilous. We faced tanks and shells. I won't forget a single detail of it," Abu Ismail said.
Abu Ismail said that while the ambulances were evacuating the dead, Israeli soldiers arrived in a tank to establish that the dead and wounded were all civilians.
It was soon determined that Ruwaida, her sons and their cousin were killed by flechette shells – an indiscriminate weapon that poses great risk to civilians when used in a densely populated area such as Gaza.
The army claimed at the time that it had fired at suspicious figures crawling towards Netzarim settlement.
"The Israeli army apologized and that's it: an apology," said Abu Ismail.
But the army wasn't done turning the family's lives upside down.
"Two months later, in October 2002, my neighbors called me and said, come and look at your land, the bulldozers were here. I didn't understand and came here quickly," Abu Ismail said.
The army had razed his orchard, leaving "nothing but hills of sand," he added.
"What did I do? I cried. I cried as I had never done before."
The Gaza municipality helped Abu Ismail and his neighbors, whose lands were also razed, to delineate the boundaries of their properties.
Abu Ismail and his relatives began digging deep in the sand to excavate and replant the roots of their oldest trees, the ones planted by his father decades ago.
"We worked for four months, from morning to evening, to find our trees. Luckily we found 80 percent of them. And now, this is our new farm – old roots but new branches."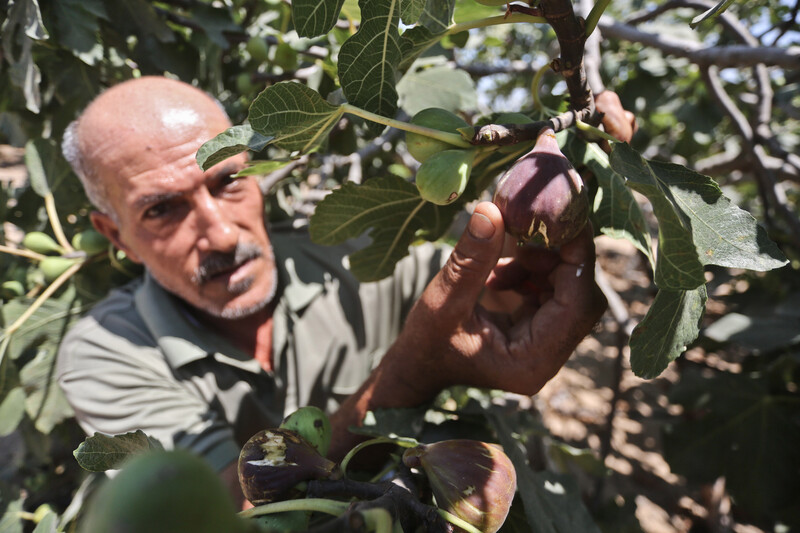 "Its branches were very long and its figs were the most delicious," Abu Ismail said of the tree known as Great Fig.
"My father planted it, the Israelis destroyed it, and we gave it life again. Now it is 60 percent of its former size."
The replanted trees, which quickly regenerated thanks to their strong roots, are a metaphor for all that the al-Hajeen family has gone through.
"Those roots are our history," Abu Ismail said.
After Israel's unilateral withdrawal from Gaza in 2005, "We started to spend a lot of time here without being afraid of the tanks. It was a victory," he added.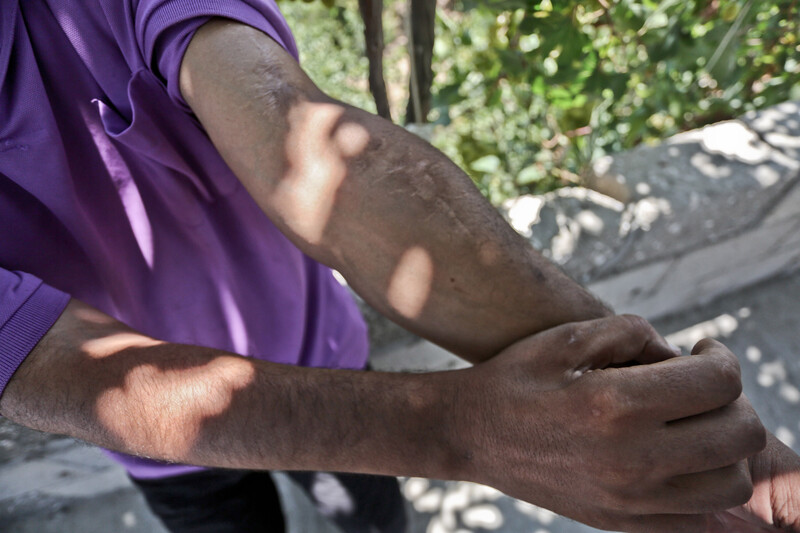 The new generation of the al-Hajeen family vow to remain rooted on the land.
Muhammad al-Hajeen, 35, survived the 2002 attack.
"We were drinking tea," he recalled. "A shell exploded in our tent. I lost consciousness for a while. I remember hearing the voice of my aunt [Ruwaida] shouting: the boys, the boys!"
"A few minutes later, I opened my eyes. They were around me, their bodies. I tried to move and shout, but I couldn't. I was badly wounded. The tanks noticed my movement and targeted me with another three shells."
Muhammad woke up three weeks later in an Israeli hospital, where he stayed for six months, along with his injured cousins.
"After two months, my mother, who was visiting me regularly, told me about the massacre. I was shocked. I'm still in shock today."
"I still have some problems with movement and speaking," he said. "I had shrapnel in my hands, legs and head."
Today Muhammad is married and has five children.
"After getting well, I became more protective of the land and the crops. I come here every day. This land is my past and my future."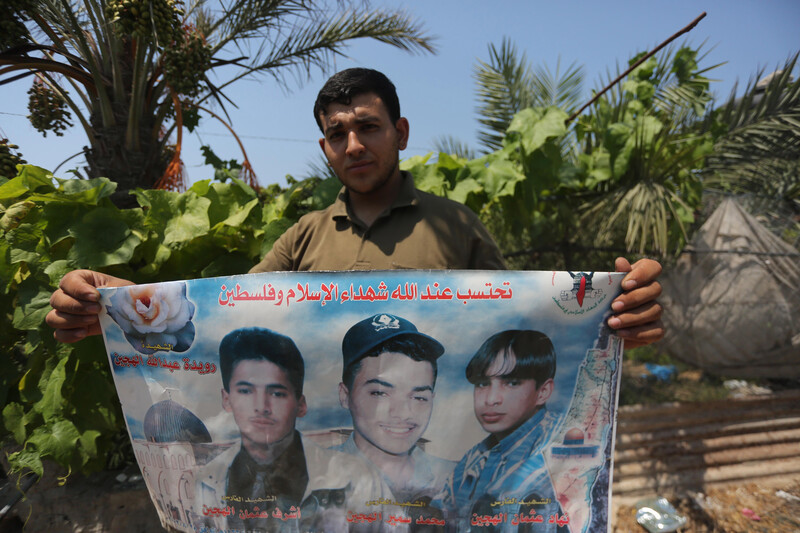 Fadi al-Hajeen was among the younger nephews who was with Abu Ismail that bloody night in August 2002.
"Forget? Such events can't be forgotten," said the engineering student, who was 6 at the time of the attack.
"I crawled with my cousins and uncle across a long street full of thorns and jagged rocks in darkness until we reached the sea. This experience will stay in my mind."
"Every time I come here and walk along the same street, I remember that night. I remember how my grandfather cultivated the land, how my father and uncles look after at, and how we lost our loved ones here."
"We chose to stay here. This land is our destiny," he said.
Reportage by Mousa Tawfiq, a journalist based in Gaza and photos by Mohammed Asad, a photojournalist based in Gaza.
Tags