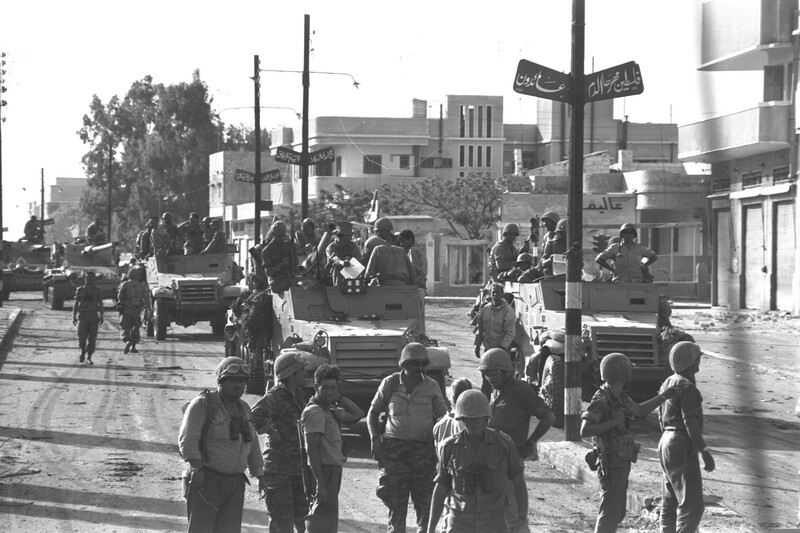 Sarah Ayoub was baking bread. She was putting a loaf into a clay oven when she heard the explosions.
That was on 5 June 1967, the day Israel declared war against Egypt.
As Israel's tanks drew closer, Sarah grew increasingly worried about Munther, her husband. He had gone out to work, transporting goods along with a merchant. After an hour passed, he made it back to their home in Beach refugee camp, part of Gaza City.
The bombs continued that night. Sarah, then aged 24, heard much crying and screaming from neighbors. When she woke the following morning, "Israeli soldiers were spread everywhere and lots of the camp's houses were destroyed," she said.
One day later, the Israeli troops started raiding the homes of people in Gaza, until then administered by Egypt. Numerous men and boys were arrested.
Munther was among those rounded up. An elderly uncle of Sarah's was arrested, too; he fainted after being treated roughly.
The June 1967 war lasted six days. By the time it ended, Israel had occupied the West Bank, Gaza, Egypt's Sinai peninsula and Syria's Golan Heights.
"Miserable"
For the next six weeks, the people of Gaza were subjected to a curfew. "We used to go out for one hour during the day," said Sarah. "Our life was miserable. We were monitored all the time by Israeli soldiers."
Zuhair Ahmad had just graduated as an aircraft engineer in Cairo. He had returned to the Shujaiya neighborhood of Gaza City, where his family was celebrating his graduation.
As Shujaiya came under attack on 5 June, Zuhair rushed frantically to locate his five younger brothers. He managed to find them and bring them home. Then he looked out the window and was hit in the head by the fragments of an Israeli bomb. He died instantly.
"I still keep Zuhair's books and his university certificate," said his mother Mariam Farajallah, now aged 87. "That war tore my heart apart."
Despite her grief, Mariam provided shelter in her home for Egyptian soldiers. Like many others in Shujaiya and surrounding areas, her family had to flee as Israel's bombing intensified. They went to Beit Lahia in northern Gaza.
There, the family had to sleep in the open air for two consecutive nights. "We witnessed death a thousand times," said Mariam.
In northern Gaza's Jabaliya refugee camp, the Israeli military forced its way into the Lubadd family's home, accusing them of hiding weapons for Egyptian soldiers.
When the Israeli troops failed to find any weapons, they arrested 12-year-old Ismail, the family's youngest member.
Ismail was brought to a building in the camp, where he was thrown into a room with many Egyptian soldiers who had been captured by Israel. He was interrogated aggressively – with repeated questions about the weapons he was accused of hiding – and tortured.
"Those days are still in my head," said Ismail. "I remember that they kept me naked for four days in the interrogation room. Each morning, a police officer used to order me to clean his shoes, then kick me and tell me to go back to that room."
His detention lasted around six weeks. Rather than being reunited with his family on his release, the Israelis brought him to a valley in central Gaza and abandoned him there. It took another three days before his family found him.
"I didn't know where I was," said Ismail. "All I could do was cry and walk."
Families divided
Many of Gaza's residents had been uprooted less than 20 years previously. They had fled to Gaza after Zionist militia forces attacked villages in historic Palestine.
The 1967 War had eerily similar effects to the Nakba (Arabic for catastrophe), the 1948 ethnic cleansing of Palestine. Approximately 400,000 Palestinians in the West Bank and Gaza were displaced 50 years ago this month.
The events of 1967 have become known as the Naksa, or setback.
Many families were divided.
Half of the Ghnaim family fled to Egypt. The other half stayed in Gaza.
The family remains divided today.
Tahsin Ghnaim, now aged 60, lives with three of his brothers in Sheikh Radwan, a neighborhood of Gaza City. Because of the Naksa, he had to grow up without his mother. She is still living in the Egyptian city of Alexandria.
"My mother took my eight sisters and escaped to Egypt to protect them," said Tahsin.
Tahsin's father refused to leave Gaza in 1967 – though he moved to Egypt, where he died, when his sons were older. The family has only been able to gather together four times in the past 50 years.
Egyptians living in Gaza were also forced to leave.
Yousif al-Hassani, a 73-year-old living in the Khan Younis area of Gaza, recalls his Egyptian neighbors having to depart in trucks.
"The more I think of that goodbye scene and my friends crying in the trucks, the more I feel that the ground is swallowing me," he said.
Aside from the Sinai, Israel remains in control of all the territories it seized in 1967. The setback has lasted a very long time.
Hamza Abu Eltarabesh is a freelance journalist and writer from Gaza.
Tags