Raed Abu al-Zomar, now a 32-year-old father of four, was uprooted from his home when Israel demolished it in 2003. Located in Rafah, a city in the southern Gaza Strip, the two-story home was where Abu al-Zomar, his parents and his eight siblings lived.
At that time, the Israeli military had already knocked down and bulldozed the houses of approximately 1,500 other families along the Gaza-Egypt border during the second intifada.
For many years, the Abu al-Zomar family rented several homes in different parts of the southern Gaza Strip. More recently, Abu al-Zomar, his parents and his unmarried siblings have been allocated two small apartments, close to a Saudi-funded housing project, run by the UN agency for Palestine refugees (UNRWA). They have been promised a house from that project, once it is ready.
"So far, my children, who are now in school, have not lived in their own home. The Saudi project means stability to me, it means I will now have neighbors," Abu al-Zomar told The Electronic Intifada, standing on his apartment balcony  overlooking the housing project in the Tal al-Sultan area of Rafah.
"For some time, I have been moving from one place to another, which means you cannot develop normal relationships with neighbors. I can say that my dream is about to come true."
No laughter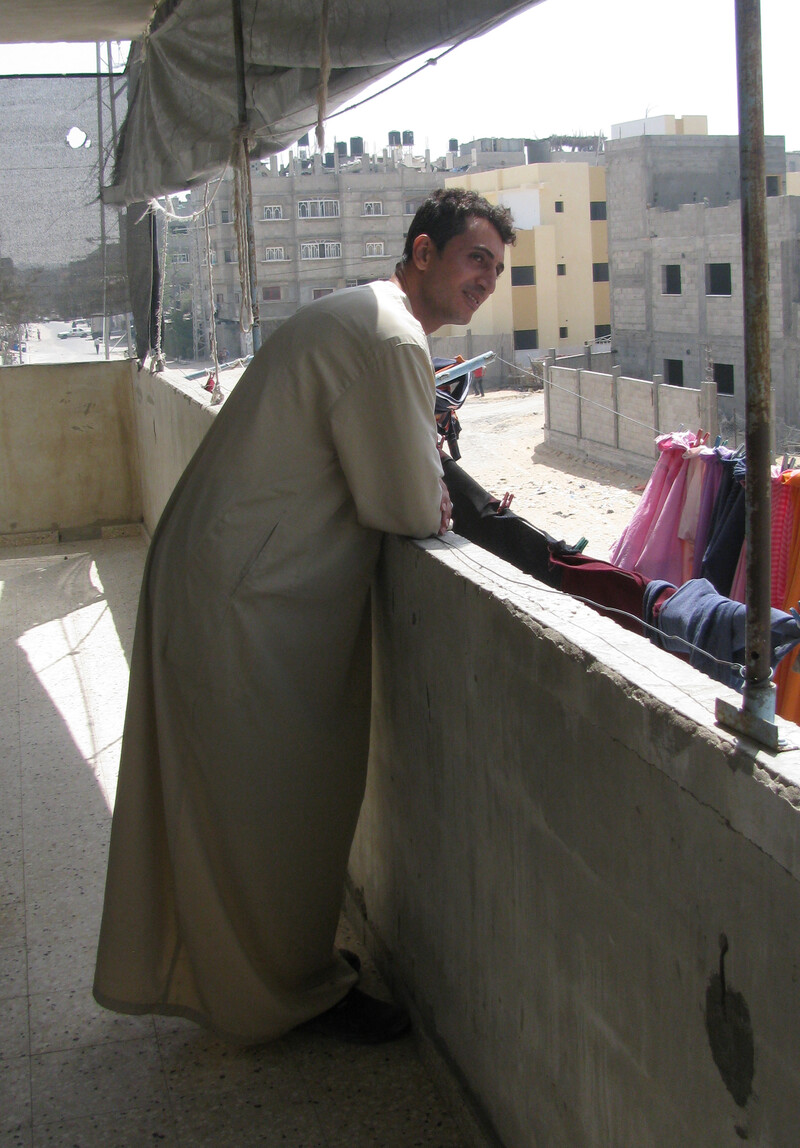 "I cannot recall any time during the past decade when we really laughed. I have been very worried about my four children," Abu al-Zomar said, pointing to his two daughters playing in a small corridor that separates his apartment from that of his parents.
His mother, Umm Raed, a woman in her early sixties, was doing some housework inside her small kitchen.
"We have endured enough over the past ten years," Umm Raed said. "About two years ago, we were made to leave our rented home on Eid al-Adha, the second most important Muslim holiday. While people around us were celebrating the holiday and greeting each other, we were carrying our furniture to yet another apartment. I just hope that my daughter, who is now a high school student, and my two unmarried sons, will be able to lead a better life."
The nearby building site used to be the Israeli settlement of Rafah Yam. Work on building Palestinian homes there began in 2006, the year after Israel withdrew its settlers from Gaza. The work stopped, however, when Israel imposed its siege on Gaza in 2007. By that time, only a clinic, a few schools and part of a market place had been completed. In July 2011, the construction work resumed, after Israel allowed building materials for use by UNRWA to enter Gaza.
Inadequate supply of building material
Zuhair Abu Nahla, an engineer heading the UNRWA housing project, said that about 70 percent of works on 752 housing units has been finished. He expects homes to be delivered to new occupants by the summer of this year.
According to Abu Nahla, the twenty-member Abu al-Zomar family will be given a three-story house, with a total surface area of about 300 square meters.
A second phase of the project is scheduled to commence in a few months' time. Both phases are expected to cost a total of $90 million. But finalizing the project will depend on whether or not Israel allows a sufficient quantity of building material into Gaza.
"There is a delay in getting the construction materials into Gaza," UNRWA spokesperson Adnan Abu Hasna said. "What we have from the Israelis is not enough. The Israelis sometimes allow about twenty truckloads of materials through per day. We need more than fifty or sixty truckloads on a daily basis. We need help — we have a very essential role in relieving the humanitarian crisis here in the Gaza Strip."
According to UNRWA, Israel has also allowed building materials to enter Gaza for a Japanese-funded housing project that will involve the reconstruction of more than 250 homes in Gaza's eight refugee camps. The project has been pending for the past six years.
Israel only began easing its blockade of Gaza in 2010, after it was condemned around the world for killing nine activists taking part in the Gaza Freedom Flotilla in international waters.
"Most of my old neighbors ask me by phone every now and then about the progress of the project," said Abu al-Zomar. "If you come here on Fridays, you will see several of those awaiting houses gather here, as if they were enjoying a beautiful scene on Rafah beach."
Rami Almeghari is a journalist and university lecturer based in the Gaza Strip.
Tags