GAZA CITY (IPS) - "We wanted to do something to bring focus to the plight of Palestinian political prisoners, of which there are around 5,000 in Israeli jails, including hunger strikers, children, women," said Mohannad Barakat, 30, one of seven Palestinians who have made a version of the pop song "Gangnam Style" based on life in Gaza.
The "Gangnam Gaza Style" parodies the video for the chart-topping South Korean pop song "Gangnam Style." Gaza's version the injects sordid realities of Palestinians' lives under Israeli military occupation and a siege that has lasted for a number of years.
"We wanted to tell the outside world about the impossible circumstances under which we live: that our airport has been destroyed, our fishermen are prevented from accessing their sea, that half our population is out of work, that we use tunnels instead of border crossings and donkeys because fuel is scarce."
The Gazan rendition of the Korean dance video highlights some of Gaza's most urgent problems under the siege, including daily power outages, fuel shortages, lack of freedom of movement and unemployment.
Dressed in black, heads wrapped with the traditional black and white kuffiyehs (traditional checkered scarves), five men and two children perform a fusion of "Gangnam Style" moves and dabke, the energetic dance found in many Arab countries. Filmed over a two week period, using a cell phone camera, the clip cost roughly $100 to make.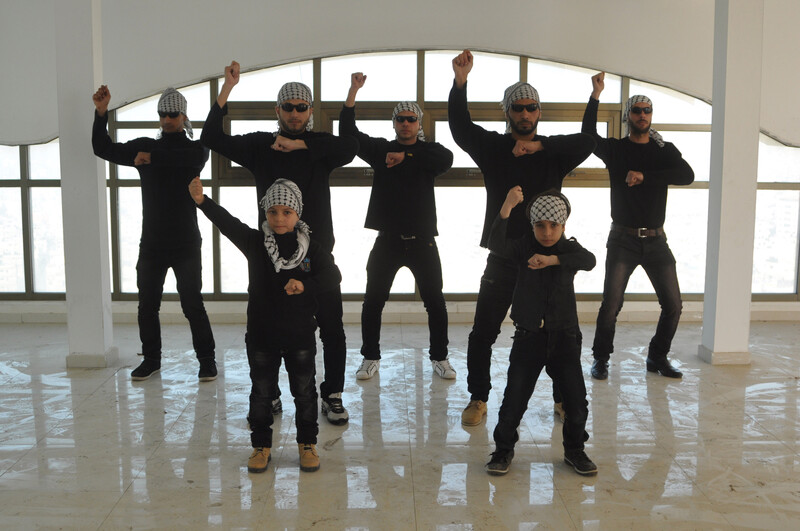 "Everything was destroyed"
The four-and-a-half minute video hops from Gaza's coast, polluted with the untreatable sewage pumped into the sea at the rate of 90 million liters per day, to gas-less filling stations, to the tunnels which serve as border crossings and bring Israeli-banned construction materials into Strip, long devastated by Israeli bombing.
The theatrical bomb explosion in the original "Gangnam Style" video also appears more appropriately in the Gazan version: with two major Israeli offensives on the Strip in the last four years, and numerous other Israeli attacks before and in between, Gaza's Palestinians are all too familiar with bombings.
Wassim Abu Shabaan, 10, one of the two children in the clip, is one of thousands of Palestinians in Gaza whose homes have been destroyed by Israeli bombing and bulldozing in the last four years.
"The whole house was destroyed, everything was destroyed … our computer, my room, our clothes, everything," said the boy of the 2009 Israeli bombing of his home.
"Palestinian children can recognize the difference between an F-15 and an F-16 warplane, and the difference between drones armed with missiles and surveillance drones just by their sound," said Mohannad Barakat.
In the November 2012 Israeli attacks on Gaza, Israeli warplanes bombed Palestine Stadium, one of Gaza's few venues for sports and a place where athletes with disabilities trained. "Gangnam Gaza" depicts this destruction, the five men and two children entering the stadium with soccer balls in hand to find it in ruins.
Trauma
The Gaza Community Mental Health Programme found in 2009 that more than 91 percent of children in Gaza suffer from moderate to severe post-traumatic stress disorder (PTSD). Children make up roughly half the population of Gaza's approximately 1.6 million people.
"All of us are affected by the siege and the various Israeli wars on Gaza. We all have psychological problems from living under these circumstances. We hadn't recovered from the 2009 Israeli war on Gaza when the 2012 attacks occurred."
Gaza's infrastructure had likewise not recovered from the attacks and the siege, with hospitals reporting consistent shortages of essential medicines and medical supplies, and Gaza's schools severely overcrowded, the vast majority of which run double, even triple, shifts to accommodate all of the students.
Since 2006, when Israel bombed Gaza's sole power plant, the entire Strip has been under daily rolling power outages, ranging from 18 and 20-hour outages in the worst years to the current eight-hours-on, eight-hours-off scheduled outages.
"It's the 21st century but Gaza still has almost no electricity," said Barakat. "The use of candles and generators indoors during power outages has caused a number of fires and carbon monoxide poisoning deaths in recent years."
The Strip is currently enduring another crisis of cooking gas shortages, particularly hard during winter months when hot meals and beverages help make up for the lack of heating in Gaza's typically uninsulated homes.
The problem of sewage treatment has yet to be solved, for want of building materials to expand Gaza's outdated sanitation facilities. The combination of power outages and little clean water to begin with contributes to a general water crisis, with 95 percent of Gaza's water undrinkable by World Health Organization (WHO) standards.
A 2012 United Nations report titled "Gaza in 2020: a liveable place?" predicted that Gaza's sole aquifer, already over-tapped and under-replenished, will fail by 2016.
The WHO has reported that at least 81 patients have died due to delayed medical referrals between 2008 and 2012 ("Referral of patients from Gaza," January 2012 [PDF]).
In 2012, more than 400 kidney patients were at risk due to lack of essential dialysis equipment shortages.
Anemia rampant
Medical Aid for Palestinians has calculated that 10 percent of children under five years old suffer chronic malnutrition, while anemia is rampant among pregnant women ("Gaza's children: falling behind," June 2012 [PDF]).
Between 2007 and 2012, the Israeli military killed 2,300 Palestinians, according to the UN Office for the Coordination of Humanitarian Affairs. Many of these deaths, and hundreds of the 7,700 injuries the UN reported (not including the November 2012 Israeli attacks) have occurred in Gaza's boundary regions and on the sea, where fishermen and farmers alike are targeted by the Israeli army as they work.
The Israeli-imposed "buffer zone" cuts Gazan Palestinians off from 35 percent of their agricultural land, having a marked impact on their economy and local food sources.
Produce once exported to the rest of Palestine and to European markets, along with textiles and furniture, have not been exported since 2006, save an insignificant amount. OCHA has also noted that Gaza exports "have dropped to less than 3 percent of 2006 levels."
Some of Gaza's most desperately poor work in the hundreds of tunnels running to Egypt. As of June 2012, the UN noted that "at least 172 Palestinian civilians have been killed while working in tunnels" since 2007.
Although most of the young men in "Gangnam Gaza Style" have studied or are currently studying in post-secondary education, nearly all are unemployed.
All rights reserved, IPS - Inter Press Service (2013). Total or partial publication, retransmission or sale forbidden.
Tags