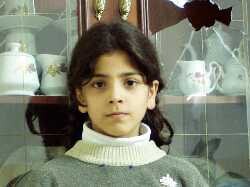 Sundes, an eight year old girl living in Qalqiliya, lead me upstairs to the room where her mother, Suher al Hindi, was killed last fall when shot by Israeli soldiers through a window in their home. Through that living room window I glanced at the setting sun and blazed sky then looked at the plastic pot holder, nicked by the bullet that swept her mother's breast before shattering the glass of a cabinet.

That tragic night, only a few months ago, Suher had been pulling her youngest son away from the window when they heard shooting in the street; Suher was unable to escape the window in time herself.

I asked Sundes where she preferred to have her picture taken, outside, downstairs by her grandmother or on the couch by her mother's framed photo. Sundes responded by walking over to the cabinet of broken glass and turned to stare into the lens of my camera. We exchanged a few gentle words and returned downstairs after shutting the room of the shattered glass, nicked pot, and stained carpet.

Over tea Sundes' uncle, Basam, spoke to me about the heightened fear in Qalqiliya's streets and the situation in Israeli prisons where he has been detained. Someone made a reference to the city's 45,000 residents living in a prison. Basam interjected, "Our life is worse than a prison. In prison one is able to adjust to a certain degree. In prison I know my role and adjust my life to follow this. But here we don't know what the Israelis are going to do. There are no rules. It is especially difficult for the children who should not be forced to learn such a life."

The main topic of conversation throughout the night was the operations of Israeli 'Special Forces' (undercover soldiers) in Qalqiliya. Two weeks ago another family member, Fatih Mahamoud Jabaran, and a ten year old boy walking behind him had been shot and killed on Qalqiliya's main street by these 'Special Forces.' Everyone commented that there is no way to tell when attacks will happen; they came at all hours of the day and night. The level of distrust for outsiders is understandably high since the undercover assassins blend in with community members. Basam explained to me that Qalqiliya residents were 'caged in' by the wall Israel had built around the city, just like 'sitting ducks.'
Saturday morning, my friend Merriam walked me towards the military checkpoint- the sole entrance and exit for the city which Israel has created. The streets were somber and tense as stores closed and people gathered for the funeral of Mohammed Nezar Saleim, a seventeen year old who had been killed by Israeli soldiers last night. Merriam stopped to speak with a few friends and then asked me if I wanted a martyr picture. I was appreciative for the offer and reminded myself to ask the name of the ten year old boy who had been killed two weeks ago; perhaps it would be his poster.

I followed Merriam around a damaged building to a double locked door. A group of men unbolted the door and we entered a small, cold and stale room. Nobody spoke a word and all eyes remained on the ground. From what seemed to be a closet the men pulled out a stretcher with the body of Mohammed Nezar Saleim. I lost all mental capabilities to speak in Arabic; I was completely unprepared for this miscommunication of languages. Mohammed was wrapped in the Palestinian flag and I could see the rust color of his eyes half open. I knew the room was waiting for me to photograph this martyr so I reluctantly pulled out my camera. My camera became exceptionally awkward as it filled the room with the snapping noises in front of Mohammed's still being.

Mohammed was a carpenter and built the bookshelf and cabinets for my friends in Jayyous after their wedding. He had built the shelving, cabinets, and closets for families thought the Qalqiliya area. The night of Friday the 14th he and two friends were walking to their village Azzun through cement barricades, put in place the Israeli military to block cars from traveling though the village's main entrance. An Israeli sniper shot all three boys from a military outpost with a 'Negev', a weapon with a thousand meter range. Mohammed died instantly and one friend remains in critical condition.

A few hours later I passed through the Qalqiliya checkpoint and saw Abd, an old acquaintance from Azzun. He was waiting to enter Qalqiliya with over forty other people delayed at the checkpoint. Abd began to tell me he wanted to help deliver Mohammed's body back to the village for the funeral but our conversation was interrupted as an ambulance blared through the checkpoint. I was thankful it went through without difficulty; hopefully it would reach its destination in time.

In the taxi to Azzun the driver talked about the death of Mohammed. I was frustrated that I could not speak fluently with him. Why did I not know how to respond to such conversations in Arabic by now? How to even explain these realities in my own language?

As we came up the hill to the Azzun barricades I saw that same ambulance blocked from entering the village- there was no way for it to pass the cement barriers. I hopped out of the taxi in time to watch medics swiftly run through the barricade with a stretcher. After twenty five meters they met a father with his daughter, maybe four years old, hanging limply in his arms. The mother ran behind, crying and pulling along a young boy. Was there time? Would the medics be able to bring life back into her small body? Fury came over me…so what the ambulance had not been stopped by soldiers; it was still prevented from reaching its destination within the short window of time people have when dying.

The ambulance was gone after an extensive two minutes. I looked at the military outpost which obnoxiously sat above us on a hill… this was the same barricade Mohammad was killed at the night before. I dragged myself to the village where I heard people rallying as they awaited his body to arrive from Qalqiliya.

Robyn Long is a graduate student completing a one year Compton Fellowship in Palestine where she has been visiting rural communities througout the West Bank and volunteering for Palestinian organizations.