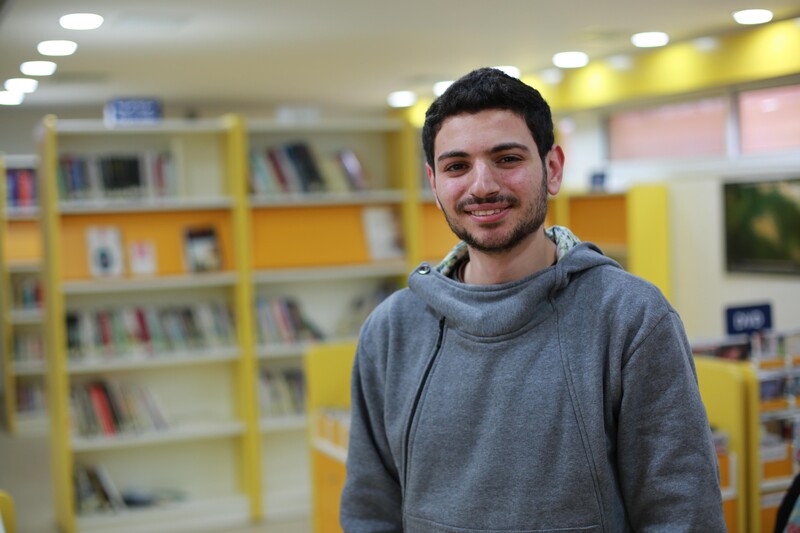 Ahmad Kraira is a self-confessed Francophile.
Sparked by an interest in soccer – he is a fan of the French national team and former great Zinedine Zidane – he decided to study French literature at 18. It was a "risky choice," he said.
"I had never studied French, but I couldn't resist learning more about the culture and the country," said Kraira, now 21, and in his final year at Gaza's Al-Azhar University.
Learning French is unusual for Palestinians in Gaza. Just two universities offer courses: Al-Azhar, which combines English and French literature in one major, and Al-Aqsa University, which teaches French as part of its faculty of education courses.
Only a fraction of government-run secondary schools offer French as an optional subject and the focus is very much on English, leaving limited options for people like Kraira.
Not only are the educational options slim for those seeking to learn French, but Palestinians in Gaza also suffer the usual restrictions, from an inability to travel to take up scholarships to a chronic lack of funds and resources.
In addition, politics also reared its head to make matters more complicated.
Kraira's teachers urged him to go seek help at the French Institute. The French Institute – the official cultural exchange and language institution associated with French embassies worldwide – offers French learners a chance in Gaza to broaden their range and exposure with native French speakers and a library full of French books and movies.
But spending time there proved unexpectedly risky.
In 2014, the institute was attacked twice, once in October and once in December. Jund Ansar Allah, a small Jihadist group, claimed responsibility, citing French participation in airstrikes on the Islamic State group in Iraq and Syria. The attacks caused little damage, but succeeded in closing down the institute.
"The closure of the institute notably affected our students," said Ihab Abumallouh, head of the French department at Al-Azhar University. Students were cut off, he explained, from one of the few resources available to them outside their university courses.
Self-reliance
As in practically everything else in Gaza, necessity has proved a spur to innovation. Shorn of the obvious way to practice and improve, students began to create their own learning environment.
"We had no choice, but to invent our own methods," Kraira said.
A group of 10 students, all from Al-Azhar, created Facebook groups to discuss academic and non-academic issues in French. They began to meet before and after lectures for conversation or to exchange books and movies.
Soon the idea of a French club came up and the students approached Gaza Sky Geeks, a startup accelerator and tech-hub group in Gaza City.
"They generously agreed to give us a meeting room once a week," Kraira said. "We were just 10 students. We tried to focus on academic issues related to language and university."
Then last April, the French Institute reopened its doors. Students re-registered and Kraira's French club participants decided the institute would be a "better frame" for their activities. The club moved to the institute's library and began attracting new students.
Abdulrahman Abu Khussa, a third-year student at Al-Azhar University, was one of the first students to join the club. The 20-year-old already speaks Russian and Arabic and has good English. A budding tourist guide, the choice was between German and French.
"I chose French because France is full of tourist attractions. And I like Charles Aznavour's songs."
Abu Khussa's experience of the club – which now boasts more than 25 members – is as an eclectic talking shop.
"We choose our topics, which are very varied now, and distribute tasks on Facebook" before the two-hour meetings held in French. "It's all about improving our conversation skills."
The location at the French Institute library helps in other ways too. When the club meets on Mondays, there is also the opportunity to talk to native French speakers, those who work for international organizations and the consulate.
Conversations about daily life and the cultural differences between Gaza and France ensue. A fruitful exchange occurs in which guests correct errors and enjoy a cultural interaction, while students enjoy "the experience of speaking with French people" as Inas Mekki, 21, a third-year student at Al-Aqsa University, put it.
Success is hard earned
As much as students have taken matters into their own hands, some difficulties remain out of their control.
Every year, says an official at the French Institute, between three and seven scholarships are offered to students in Gaza to study in France. Travel restrictions, however, mean that taking advantage can be difficult even with a scholarship in hand.
Mahmoud al-Banna is a case in point. The 24-year-old worked hard to secure a scholarship in order to pursue theater studies in France.
"I was very active on social media, especially during Israeli aggressions on Gaza. Posting and tweeting in French helped me create friendships with Francophone people. Those relations helped me improve my language in turn and improve my understanding of French society."
But his dream to study in France almost turned sour. The Rafah crossing controlled by Egypt is opened only intermittently, while getting permission to travel through the Israeli-controlled Erez checkpoint is very difficult.
Along with Rula Mattar – who was waiting to take up a postgraduate scholarship in international business management at the Université Paris-Est Créteil, UPEC – al-Banna saw the date for the semester to start in September pass without being able to leave Gaza.
Mattar, 24, described the period as one in which her life had "completely stopped … I had to reject work offers as I had a scholarship. Meanwhile, I wasn't sure when and how I would leave Gaza," she told The Electronic Intifada.
Eventually, the opportunity to leave Gaza materialized for Mattar and al-Banna.
While al-Banna wound up nearly two months late for his studies, he is determined to make up for lost time at the Université de Franche-Comté in the city of Besançon.
Al-Banna is seizing the delayed opportunity. "With my French friends and colleagues, I collected stories from people I know in Gaza [during the 2014 war]. And we will turn these texts into theater shows," he said.
Mousa Tawfiq is a journalist based in Gaza.
Tags