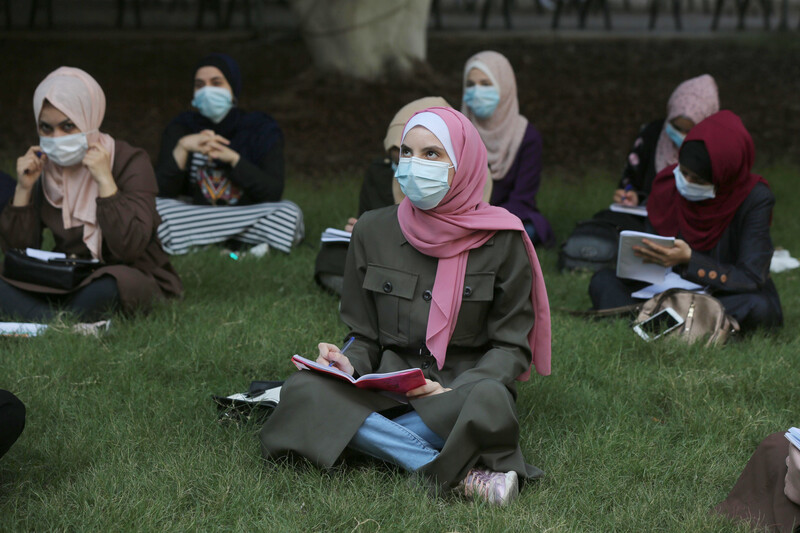 Bahaa Naji felt that he had no choice but to leave college.
Until recently, his family ran a small restaurant in al-Shujaiyeh, a neighborhood of Gaza City. Yet it has gone out of business amid the COVID-19 pandemic.
Unable to pay tuition fees, Naji dropped out of Al-Azhar University in Gaza earlier this year. He had hoped to graduate in physics and then undertake further studies abroad.
He is not sure if those hopes will ever be realized.
"My future is under threat," the 21-year-old said. "That shocks and saddens me."
Naji's tuition fees came to approximately $1,200 per year.
"Weakest link"
Approximately 35 percent of Gaza's students have stopped going to university in the past year.
A campaign for reduced tuition fees was formed in 2015. Ibrahim al-Ghandour, its coordinator, said that the college authorities in Gaza have so far refused to accept the campaign's demands.
He complained that the authorities are proving inflexible despite the severe financial difficulties faced by large numbers of students and their families.
"Unfortunately, the universities blame the students, who are the weakest link," al-Ghandour said. "They also refuse to deal with us [the campaign leaders] or even to respond to our inquiries."
A wider shortage of funds has worsened the situation.
Many teachers at universities have not been paid during the pandemic.
Yet the problems besetting Gaza's education began long before then. Because they do not receive sufficient public funding, Palestinian universities have been hugely reliant on fees paid by students.
Widespread poverty has also taken its toll. Al-Ghandour cited estimates that as much as 40 percent of young people who left school in 2019 were unable to go to university because their families were too poor.
Shireen Hammad, 22, has been trying her best to stay in college.
With her parents unemployed, Hammad borrowed money so that she could study nursing at Al-Azhar University. Yet the money has recently run out and she has left college in her fourth year.
She is hoping to rejoin the university before too long provided that she can find the amount required for her fees.
"Many young women in Gaza are denied the chance to study," she said. "It is very disappointing for me. I like nursing. But I won't be able to go to college for at least another year."
"No hope"
Grants and scholarships are only awarded to the most distinguished students in Gaza.
Samir Hijju had hoped to obtain such assistance. In his latest exams, he finished second in his class.
Yet he was not declared eligible for a grant or a scholarship. Unable to pay fees, he has now left Gaza's University of Palestine, where he had been studying agricultural engineering.
Hijju, 20, said that he has tried to pay university fees himself so that he could reduce the burden on his family. He had a job as a waiter but that work halted amid the pandemic.
"The conditions at the moment are difficult," he said. "There's no hope of finding a job. Everything in our lives has been paused because of the coronavirus."
Families with more than one member at university have had to make painful sacrifices.
Bashar and Muhaned Abu al-Rus have both dropped out of college so that their elder brother Sameh can finish his studies in dentistry. Their family has come under severe financial strain as their father lost his job recently.
"When we were at university, we were fully aware that we wouldn't find a job after we graduated," said Muhaned, who had been studying laboratory analysis. "Yet in these circumstances, we are not even getting a chance to graduate in the first place."
According to the Palestinian Central Bureau of Statistics, the overall unemployment rate in Gaza was higher than 43 percent in late 2020.
For people aged between 25 and 29, the unemployment rate was more than 60 percent.
Salam al-Agha, the head of Gaza University, is arguing for higher public spending on education.
That, he argues, is the only way of reducing the often steep fees faced by students. Budding doctors, for example, have to pay tuition fees of almost $3,000 per year.
"The costs of studying medicine are too high," he said.
"Some universities cannot reduce their fees as it is expensive to run courses. Young people are being deprived of education. We need the government to intervene and make sure that our young people have a future."
Ola Mousa is an artist and writer from Gaza.
Tags