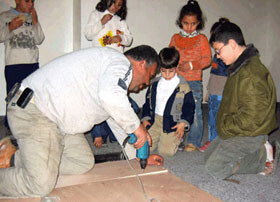 Final preparations are under way for the opening of the Jenin refugee camp Freedom Theatre. The Freedom Theatre, inspired by activities initiated by Arna Mer-Khamis during the first Intifada, was established by residents of the Jenin refugee camp in cooperation with Palestinian activists and artists from Haifa and the Galilee, as well as activists from Sweden and Britain.
The Freedom Theatre, a registered non-governmental organization, is planning on establishing within the near future a community-based cultural center that will house a large theatre, rehearsal rooms, a music studio, and a library.
The Freedom Theatre will be the home of a local theatre group and it will host Palestinian and international theatres and theatre group productions for children, youth, and adults.
The Freedom Theatre will also provide drama and movement workshops, and music classes for children and youth. We will also train youth counselors to work with local children and youth. Furthermore, the Freedom Theatre will provide psychodrama and movement therapy.
Currently the Freedom Theatre is housed in a temporary hall which was renovated by volunteers from the refugee camp. The hall includes a large theatre with a stage as well as a light and sound system. In the coming months, the Freedom Theatre will host The Pessoptimist, featuring actor Mohammed Bakri; Juha and Bahalool, a children's production by the G'beina theatre group of Haifa; Shammas and Nahas, featuring actors Hanna Shammas and Aiman Nahas, and other performances.
In the coming week three children groups will embark on their activities, joined by a drama workshop for youth led by Mahmoud Kaniri and a youth facilitation training group led by Juliano Mer-Khamis.
The Freedom Theatre is joined by an advisory committee that includes among others: poet Mahmoud Darwish, author Elias Khoury, Professor Noam Chomsky, Professor Avi Oz, actor Yussef Abu-Warda and actor-director Mohammad Bakri.
The opening ceremony will host the following speakers: Abd el-Razak Abu-Elheja, head of the Jenin refugee camp committee, Nazmi Mohammad Salem Abadi, head of social service of the Jenin refugee camp, Kadura Mousa, governor of the Jenin region, Juliano Mer-Khamis and composer Dror Filer. The opening ceremony will be followed by a performance of "Diab", donated by its creators. Diab - a play written by Alla Hlehel, directed by Salim Daw, acting by Amer Hlehel, music by Habib Shehade, set and costume design by Ashraf Hanna and lighting by Ne'eme Zaknoon.
On March 19, 2006 a fundraiser will be hosted for the Freedom Theatre in Haifa, highlighted by a performance of "Shukran", donated by its creators.
We call upon all organization, NGOs, cultural institutions and activists to assist with donations, equipment and advice. All donations large and small, will be gratefully received.
For additional information, visit: www.thefreedomtheatre.org, or email juliano@netvision.net.il
Related Links
Film review: Arna's Children, Arjan El Fassed (11 December 2003)